Reader's Digest: Are you considering a career in law but not sure how to prepare for the rigorous Law Entrance exams? You're not alone. A common question comes to mind when embarking on this exciting journey. But fear not, because we've got you covered in this article.
We've compiled subject-wise strategies and exclusive tips from top performers to help you achieve your dreams. Whether you're a first-time test-taker or an experienced candidate, we've got everything you need to know to ensure high-level preparation for the Law Entrance exams.
Best Tips to Prepare for Law Entrance Exams 2023
Law is a vital profession, and lawyers often play an essential part in safeguarding the legislature and law of the country by helping people to adhere to laws created by the government and legislature.
There are different law exams like CLAT, AILET, and SET law exams, to name a few. Most exams follow a similar examination pattern and syllabus.
You should be smart enough while creating the Study Plan for Law Entrance Exams, as all subjects play a vital role in qualifying for the exam.
You should divide your Law Entrance Exam Preparation 2023 into two parts:
Concept building: 75% time
Practising question papers and analyzing your performance: 25% time
Remember, following a timetable to help you achieve good results is a myth because your preparation strategies may vary.
Hence, we recommend you prepare your timetable based on your convenience and the hours you can study.
You can follow our experts' simple tips that help build your confidence and enhance your preparation levels for the Upcoming Law Entrance Exams.
Time Management
Time management is significant in passing any competitive exam. Begin your preparation by allocating a specific amount of time to each subject.
It will help you learn how to analyze questions in the final exam without wasting much time.
Don't stick to the question if you don't know; skip that particular question and solve the other easy questions.

Know Syllabus
Before starting your preparation, it is vital to know the detailed syllabus, as it will help you understand the complex topics and easy topics as the point of the exam.
Prepare a study plan per the CLAT Syllabus 2023 and start preparing accordingly.
Make Short Notes
Ensure to make notes that include essential points and basic formulas during studying. These notes will help in the revision period.
Scheduling is Important! Most Important!
Plan your study schedule with divisions of "Subject," breaking it down to the topic and then the medium of study.
The medium can be sample papers, mocks, modules from the Online Coaching for Law Entrance Exams, or your study notes.
Know Weaknesses and Strengths
During the preparation, knowing your weaknesses and strengths is essential; it will help build up solid areas and focus on the weaker areas to work hard.
To analyze the preparation level, you can list topics you have learned on the most productive day and compare them with the issues you have known on subsequent days.
Find the Best Study Material
Finding the best study material is crucial while preparing for competitive law entrance exams.
You can opt for the Best Books for CLAT that cover all topics per the latest syllabus. Choose the books carefully, as the entire preparation depends on them.
Read Newspaper Daily
Reading newspapers will keep you updated on the latest events worldwide, which is fundamental for passing the General Awareness section of the law entrance exam.
It would help to spend at least one hour reading newspapers on improving your vocabulary.
Analyze Previous Year's Papers
Solving CLAT Previous Year Question Papers will help you know the type of questions asked in the exam, the difficulty level of the paper, the marking scheme, etc.
You must practice as many sample papers as possible to crack the exam easily. In addition, some questions from the previous year's papers will be asked in the exam, making it easy to score marks.
Practice Mock Tests
Practising mock tests will help you improve your time management skills and problem-solving techniques, and it will also help improve your speed, accuracy, and confidence.
Practising more and more CLAT Mock Tests would allow you to solve the problematic questions in the exam quickly.
Revision
Without revision, it is difficult to remember the concepts. So, we advise you to revise all the topics weekly, and it will also help you focus more on issues that you are feeling difficulty.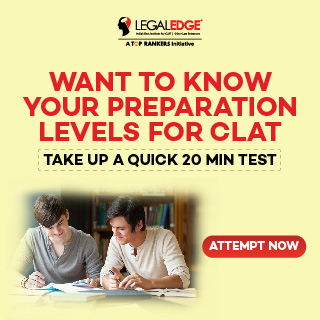 Maintain Good Health
Last but not least, maintaining good health is very important during preparation. Maintain a proper diet during the CLAT Preparation.
Take fresh fruits and vegetables at the time of preparation for the exam. Avoid oily and greasy foods.
Do Meditation and yoga in your free time that helps you concentrate and focus on your studies.
Subject-wise Preparation Tips for Law Entrance Exams 2023
In the Law Entrance Exams, you will be tested mainly on English Comprehension, General Knowledge, Current Affairs, Numerical Ability or Elementary Mathematics, Legal Aptitude, and Logical Reasoning.
Hence, Spending less time on mathematics and logical reasoning sections is advisable as more emphasis will be laid on Legal aptitude, General Knowledge, and English.
How to Prepare for Law Entrance Exams English Language Section?
Please remember that English plays a significant role in a test. Their scientific knowledge is tested, unlike those who study for the Engineering and Medical Entrance exam.
Over, here language will be tested. Go through the CLAT English Preparation Tips below and better prepare for the exam.
Proficiency in English will be higher than in most exams. Therefore, you need to develop an increased ability in English for a law entrance exam.
In reading comprehension, you need to understand the context of the English passage.
Also, improve your vocabulary by taking on new challenges like reading the dictionary, using a thesaurus, and using dictionary apps on mobile.
Strengthen your grammar with the help of reading grammar books. Solve mock tests and exercises that will improve your grammar. Improve the basics of grammar.
How to Prepare for Law Entrance Exams General Knowledge and Current Affairs Section?
The law entrance exam will test your general knowledge of current affairs. Read Newspapers every day. It is good to read Editorials and opinion columns on politics, economics, and international issues that matter. Do focus on issues like human rights, Politics, and legislation passed in recent history.
Avoid Bollywood and gossip columns, as this won't help you in the law exam. Also, follow the CLAT GK Preparation Tips to prepare for the exam better.
How to Prepare for Law Entrance Exams Mathematics Section?
Do not worry about mathematics when it comes to the law entrance exam. The law entrance exam only intends to test your mathematical ability up to school.
Following CLAT Maths Preparation Tips will help you score marks quickly in this Section.
It would be best to be well-versed in school-level and high-school-level mathematics. There is less impetus in mathematics since it is a law exam.
Memorize tables up to 20 and squares up to 30 regularly.
Going through NCERT Mathematics textbooks of classes 9 and 10 is more than enough.
Identify the relevant topics and have a clear understanding of each concept.
So relax. Rewind and go back to your school textbooks a bit.
How to Prepare for Law Entrance Exams Legal Aptitude Section?
CLAT Legal Aptitude preparation tips will help you understand how to ace this topic and score well. This Section in the exam will test your inclination and interest toward law, research aptitude, and problem aptitude. You must be well versed in legal terms to improve your legal aptitude.
Read basic jargon and terms in law that are used in everyday law.
Not all propositions may be true and need to be applied accordingly. You have to assume the truth of the proposition and use it accordingly.
You do need to have in-depth knowledge. Do read the Glossary of terms used in law. Focus on the following topics in law.
Criminal Law: Learn about essential sections in IPC.
Law of Tort: This is one of the essential laws in law. Do not miss out on this.
Contract Act: The contract act is integral to the company or corporate law. Do learn this Section well.
Indian Constitution: Learn about critical and popular articles in the Constitution of India.
How to Prepare for Law Entrance Exams Logical Reasoning Section?
The Logical Reasoning section consists of passages within 300 words, and this passage will be followed by more than one question and will be scored accordingly.
Logical Reasoning intends to test your ability to identify patterns, logical links, and illogical arguments. Go through the CLAT Logical Reasoning Tips from the below post.
You also need to understand syllogism, logical sequence, and analogy questions.
A critical assessment of Reasoning, along with the analysis of how the conclusions can alter, depends on specific evidence
Refer to good books that are well-approved.
Deduce inferences from the passage and apply them to different situations
Advantages of Mock Tests in Law Entrance Exam Preparation
Mock Tests are essential for any exam as mock tests will help you test your preparation level. As you solve more mock tests, you will understand your weak areas.
The performance charts will let you know where you lack. It helps you to work on your weak areas.
The mock tests are beneficial to know where you stand. Please do not underestimate the power of mock tests and take them seriously.
Since most entrance exams are conducted online, solving online mock tests will help you get real-life exam experience in an exam-like environment.
It is helpful for all those who are attempting online entrance exams.