Studies show the number of students appearing for the law entrance exams in India has increased over the years.
After the 12th grade, the law is an appealing career choice that assures a bright future for a law aspirant, and this reminds us that career options do not end with Medicine or Engineering.
When you decide to pursue a career in law, the first and most obvious question that comes to mind is What to study for Law Entrance Exams in India?
Well, no need to worry! Read through the post that will give you a complete insight into important topics, subject-wise preparation strategies, and more.
Tricks to Prepare for Law Entrance Exams 2023 in India
As we all know, the CLAT Entrance Exam (Common Law Admission Test) is one of India's most popular Law Entrance Exams. But there are many Law Entrance Exams other than CLAT in India, such as LSAT India, MAH CET, AILET, SLAT, DU LLB, CU SAT, etc.
Most of these entrance exams follow a similar paper pattern and syllabus. Therefore, knowing what to study for Law Entrance Exams plays a vital role in qualifying for the exam.
You should divide your Law Entrance Exam Preparation 2023 into two parts:
Concept building: 75% time
Practicing question papers and analyzing your performance: 25% time
Download FREE Study Material for Law Entrance Exams by LegalEdge
Also, we recommend you prepare your timetable based on your convenience and the number of hours you can study in a day.
Let's go through the post below to know how to study and what to study for Law Entrance Exams in India.
What to Study for CLAT Entrance Exam 2023?
The Common Law Admission Test is considered India's most famous, important, and difficult competitive exam.
Understanding the syllabus is always important to enhance your CLAT Exam Preparation and score good marks in the entrance exam.
Though there have been significant changes in the exam, the CLAT syllabus remains almost similar, with a few changes introduced. Check out the table below to know the important topics that need to be studied for the CLAT exam.
| | |
| --- | --- |
| Subjects | Syllabus |
| English Language | There is a 450 words passage given based on contemporary or historically significant fiction and non-fiction writing. Based on the passage, 5-6 questions will be asked that test candidate's comprehension and language skills. |
| Current Affairs, including GK | This section also includes a 450 words passage followed by questions. The passage is based on news, journalistic sources, and other non-fiction writing. |
| Legal Reasoning | You need to read the 450 words passage based on facts, situations, and scenarios related to legal matters, public policy questions, or moral philosophical inquiries. Even if you don't have knowledge of the law is fine, general awareness of contemporary legal and moral issues is desirable. |
| Logical Reasoning | This includes many short 300 words passages, each followed by one or more questions after each passage. |
| Mathematics | This section includes short sets of facts or propositions, graphs, textual material, pictorial material, or diagrammatic representations of numerical information. Each of these includes questions that require applying mathematical operations. |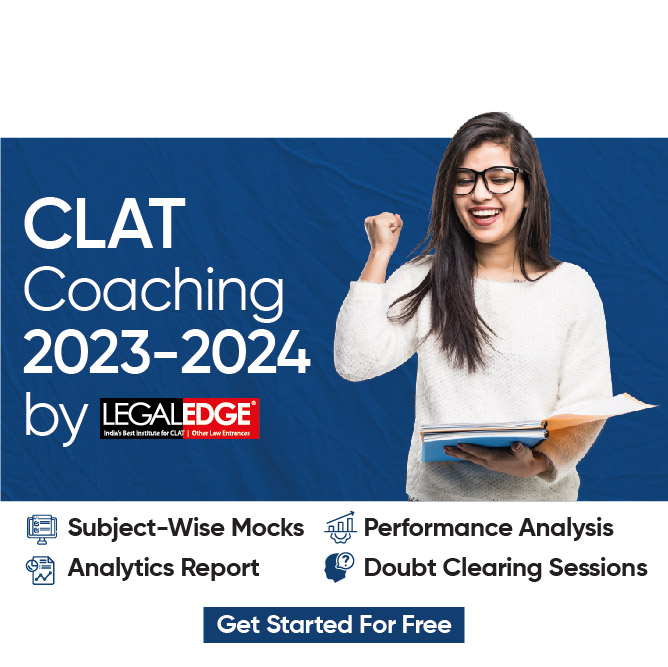 Current Affairs
CLAT GK Questions carry a weightage of around 35-39.
Be well versed with last year's current affair topics and related static issues with the law.
Basic knowledge of History, Geography, and Science will be preferred as a great advantage.
One of the best

CLAT GK Preparation tips

is making a habit of reading the newspaper daily.
Legal Reasoning
Focus on Current legal issues and related terms, and this is the must-do topic for the Legal Reasoning section.
Also, the pattern has been changed a bit, but the base is the same since Knowledge of Legal Knowledge is crucial not only for the law entrance exam but also for the entire law profession.
So, consider practicing old pattern legal reasoning questions, as it will help enhance your CLAT Legal Reasoning Preparation.
Logical Reasoning
This section carries a weightage of 28-32 marks. Hence, the must-do topics include paragraph-based critical reasoning questions.
It would be best if you also practiced data arrangement questions and other analytical reasoning questions. Also, practicing questions from the previous year's papers will help enhance your CLAT Logical Reasoning Preparation.
English Language
This section carries a weightage of 28-32 marks. CLAT English, including Comprehension, carries the entire focus.
Start reading newspapers daily to improve your reading & comprehension skills and vocabulary. For Law examinations, having a good command of English gets you an edge over others.
Quantitative Techniques
This section carries a weightage of 13-17 marks.
The most critical topics in the quant section are data interpretation & supportive topics like percentage, ratio proportion, etc.

AILET Entrance Exam 2023
AILET is legal aspirants' next choice for Law Entrance Exams 2023 in India. The competition is very high for this entrance exam since more than 18,000 aspirants compete every year for 110 seats.
To stand out from the crowd requires a lot of dedication, hard work, and preparation strategy. The first step to enhancing your AILET Exam Preparation 2023 is knowing the syllabus and pattern.
| | |
| --- | --- |
| Section | Syllabus |
| English | English comprehension passages and grammar. You will be tested on your understanding of the given English passage. You have to understand the central theme of the passage, the meaning of the words, make correct use of grammar, fill up the blanks and use appropriate words wherever necessary. |
| General Knowledge and Current Affairs | General awareness and static general knowledge, national and international current affairs, People in courts, Famous people in law, countries, capitals, and currencies. |
| Logical Reasoning | The logical reasoning section tests identifying patterns and logical links and rectifying illogical arguments. The syllabus includes syllogisms, logical sequence identifying patterns, and logical links. |
| Legal Aptitude | Law of Torts, Jurisprudence, International Law, Family Law, Law of Contracts, Property Law, Criminal Law, Intellectual Property Law |
General Knowledge
Earlier, roughly 50% of questions in the GK section were asked from the Static GK Section, while the other 50% were from the other part. However, For the last three years, AILET has shifted its focus more on Science & Technology, geography, and Modern History.
Legal Aptitude
To aim this section, you should enhance your legal knowledge since, in AILET, very Lengthy legal reasoning questions are asked. The best way to approach this section is to work on reading and comprehension skills to improve your speed and legal knowledge to easily decode such questions.
Reasoning
Data arrangement questions and critical reasoning questions should be your priority while preparing for the AILET reasoning section.
English
For the AILET exam, give more focus on grammar. Since it is the foundation of entire English, working on grammar makes your English section strong.
Brush up on your basic grammar skills to tackle sentence corrections, idioms, and phrases, fill in the blanks, and others during your AILET English Preparation.
Elementary Mathematics( Numerical Ability)
SC-CI, ratio proportion, probability, Profit, and loss are the most important topics that you should focus on in Elementary Mathematics.
What do you Study for other Law Entrance Exams in India?
Time management is a significant component in passing any Law Entrance Exam. Begin your preparation by allocating a specific amount of time to each subject, as it will help you learn how to analyze questions in the final exam without wasting much time.
We have provided the tips below to help you better understand what to study for Law Entrance Exams in India.
Following these tips will help you score good marks in the Upcoming Law Entrance Exams.
Read Newspaper Daily
General knowledge and current events are the two categories wherein awareness will be evaluated.
It would be best if you read the newspaper daily since it is the best way to keep up with current events and enhance your knowledge.
Improve English Language Skills
Reading newspapers daily is the best way to improve Language skills.
Elementary school English books can aid in the revision of fundamental concepts.
Also, improve your vocabulary by taking on new challenges like reading the dictionary, using a thesaurus, and using dictionary apps on mobile.
Strengthen your grammar with the help of reading grammar books. Solve mock tests and exercises that will improve your grammar. Improve the basics of grammar.
Prepare Maths from Elementary Books
The law entrance exam is not just limited to Legal knowledge; and it is a combination of various skills and abilities. Aptitude is one such skill that is evaluated in the law entrance exam.
Before you begin intensive

Maths preparation for Law Entrance Exams

, learn everything about the mathematics section in law exams.
Typically 11th and 12th-grade mathematics is asked in the law entrance exam.
Some of the important topics you need to prepare for law exams are Percentages, Profit & Loss, Average, Ratio & proportion, Time Speed and Distance, Time and Work, Mensuration, and Area.
Logical and Analytical Aptitude
Logical and analytical aptitude is another area in the law entrance test which requires constant practice.
In the logical reasoning section, the questions are designed to test your critical thinking and reasoning ability skills. Therefore, having knowledge of fundamentals alone is not enough to clear this section unless there is sufficient practice.
Understanding the basic concepts and gaining conceptual knowledge ought to be at the base of your Legal Reasoning Preparation for Law Entrance Exams.
Also, logical reasoning questions can be a little tricky. Therefore, learning simple techniques would help you manage your time while solving logical reasoning questions.