Legal Reasoning is one of the most common and important sections in the CLAT and other law entrance exams.
The questions in this section are designed to test your research aptitude, problem-solving skills, and interest in the study of law. To crack this section, you require a sound knowledge of judgment and amendments while solving legal facts.
Are you wondering how to prepare for the legal reasoning for law entrance exams? Well, no need to worry!
Read through the post that will give you a complete insight into tips and tricks to score well in the upcoming law entrance exams, preparation books, and more.
How To Study Legal Reasoning For Law Entrance Exams?
Firstly, as per the new change in CLAT Exam Pattern, the Legal Aptitude section has become lengthy. Instead of direct questions, the question paper includes comprehension-based passages followed by questions.
So, if you are not good at reading, this might take most of your time. Reading is the key to cracking law entrance exams.
To score good marks in this section, you should be thorough with all the Judgements, laws, amendments, and constitution articles.
You can apply a time management strategy while solving legal aptitude questions based on legal matters, public policies, and moral philosophies.
In this section of the CLAT Exam, you should aim to solve a question in 45 seconds and a legal knowledge question in 12 seconds.
Download Free Study Material For CLAT Exam by LegalEdge
Legal Theory
You might be wondering why it is necessary to study Legal Theory when the pattern is changed. But, to understand the passage correctly, you need to be aware of Legal Theory.
Passages in the question paper of CLAT can be picked from legal issues. So, it is important to go through the legal theories. Don't ignore the theory.

Legal Current Affairs
This is similar to current events in GK but in the legal domain. It would be beneficial if you were well-versed in last year's current legal affairs.
Make sure you are up to date on the most recent legal developments, such as a new Supreme Court appointment, a new commission, or any new recommendations.
We recommend you refer to our Legal Edge Study Materials, which provide all the latest legal issues specific to law entrance exams.
Legal Maxims, Foreign Phrases, and Legal Terms
For CLAT, you may not get questions from this topic directly, while for other exams, this is not the same. You need to study and practice Important Legal Maxims for the law entrance exam.
You need to study at least 5 to 10 Legal Maxims daily for better preparation. Mugging up is the correct way to remember this topic, as you may end up forgetting everything. Instead, practice as much as you can to score full marks.
How to Prepare for Legal Reasoning?
In the CLAT exam, a total of 35 questions will be asked from the legal aptitude section in the exam.
Here are a few tips that can help enhance your legal reasoning preparation for the Upcoming Law Entrance Exams.
Daily reading
Make a habit of reading at least one hour every day.
Since you have enough time for examination, you can begin by reading magazines and newspapers.
This aids in the development of your vocabulary as well as your understanding of current legal issues.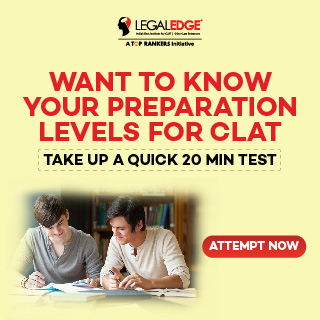 Weekly Practice
Ensure to practice legal reasoning and comprehension-based questions at least twice a week.
Solve

previous year's question papers for law entrance exams

to know the type of questions asked.
Do a thorough analysis of the answers. This lets you know where you're going wrong and how you can improve.
Fortnight Revise Theory
At least revise the theory every 15 days. This shall be a short-term plan, and you can inculcate it in your regular plan.
This helps in remembering what you have studied for the long term.
How to Attempt Legal Reasoning Questions in Law Entrance Exams 2023?
Here are a few CLAT Legal Aptitude Preparation Tips you can follow to quickly answer all the questions asked in the Legal Aptitude section.
From this year onwards, facts and principles will not be given separately.
Make sure to read the passage and the Legal Aptitude questions thoroughly to identify the principles.
You do not have much time to spend reading questions again and again. So, make sure you read it focusing on the first time.
After a thorough reading, try to relate the facts drawn with the question and analyze if they fully support/ justify the argument without any assumptions.
Please pay attention to the small details and identify all the principles and roles in the passage.
Beware of the minor tweaks given in the statements or questions. Hence, paying attention to detail is key here.
Try to keep your assumptions outside the principle facts and stick to the theories that the principle is always correct.
Do not waste more time on a single question if you cannot identify the correct answer.
Best Books for Preparing Legal Reasoning for Law Entrance Exams 2023
The following are some of the best books for legal reasoning preparation for the CLAT and other law entrance exams
Legal Aptitude for CLAT and other Kaw Exams: Workbook by A. P Bhardwaj
Our Judiciary Book by National Book Trust
Legal Aptitude (CLAT) by R. K Gupta and Samiksha Gupta
Legal Awareness and Legal Reasoning - For the CLAT and LL.B. Entrance Examinations by Bhardwaj