In the law entrance exams, the GK section plays an important role. Around 20-25% of the question paper comprises GK questions. In the GK section, you will come across questions from static GK and current affairs.
Most of you might be wondering what is asked in static GK and how to prepare static GK for law entrance exams. Well, this post shall provide you with tips and tricks to crack the static GK section with a high score and important static GK questions.
Go through the complete post to know the important topics and frequently questions asked from static GK for Law entrance exams.
Important Topics in Static GK for Law Entrance Exams 2023
Static GK is a portion of General Knowledge that includes topics that are static facts and do not change.
The following are some of the important topics from static GK for the Upcoming Law Entrance Exams.
Awards & Honours
Important Historical Events
Science & Technology
National & International Events
Sports
Download FREE Study Material for Law Entrance Exams by LegalEdge
Weightage of Static GK Questions in Law Entrance Exams 2023
As said above, around 25% of the question paper includes questions from a general knowledge subject.
In all the Law Entrance exams, the GK subject is very important. The importance of this section lies in the fact that you can save a lot of time in this section, wherein you can utilize this time in relatively challenging areas like legal aptitude and logical reasoning.
With the right preparation strategy, you can easily score anywhere between 28-32 marks in the exam.
How to Prepare Static GK for Law Entrance Exams?
Though the subject might look easy, you need a proper study timetable and preparation strategy to crack this section.
Gear up your Static GK Preparation for CLAT and other Law Entrance Exams by following the quick tips and tricks listed below:
Reading Newspapers: Make a habit of reading newspapers regularly. This helps in staying updated about the latest events happening across the globe.
Refer to Right Study Material: You can refer to General Knowledge by Arihant Publications while preparing for the Static GK, as this book covers all the topics as per the syllabus.
Watch News Channels: In case you don't like to read the news, you can watch the news regularly.
Keep a note on important historical events & dates: You can note down important dates and events in separate study notes, which can be helpful during the revision period.
Take up Mock Tests: Taking up CLAT Mock Tests regularly will help you know the difficulty level of the paper and the type of questions asked under static GK.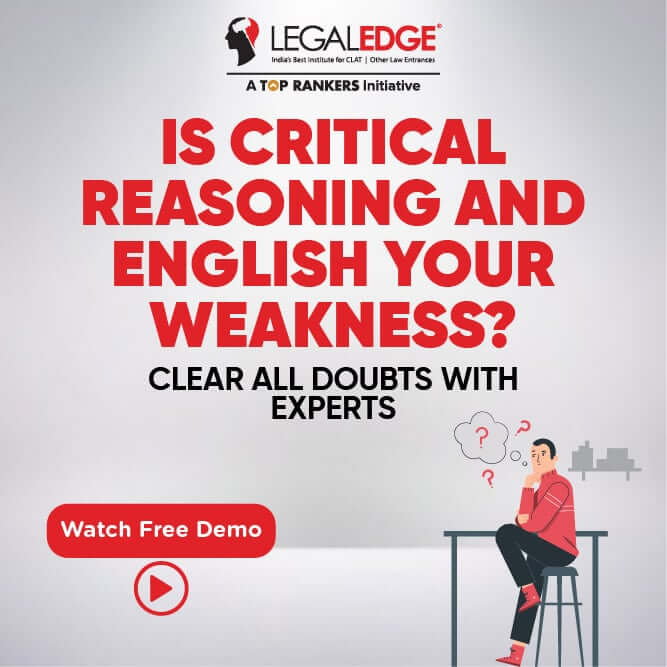 How to Answer Static GK Questions in Law Entrance Exams 2023?
The questions in the static GK are easy and straightforward. You can easily solve around 90% of questions if you prepare from reliable sources.
It will help if you focus more on topics like books, awards, and national & international events as most of the questions are asked.
While attempting the

Static GK Questions in Law Entrance Exams

, you must carefully read the information given in the passages and answer the questions accordingly.
You need not worry about memorizing the passage but the ability to comprehend it and find out the focus points and important pieces of information.
Try to avoid guesswork in the exam.
Do not spend time on a single question in case you are unaware of the answer.
Sample Static GK Questions for Law Entrance Exams 2023
Since GK is a vast subject with many topics included, various questions are asked in the GK section. We have provided some sample questions for reference to help you get an idea about the important topics.
These questions are curated from the Previous Year's CLAT Question Papers and other Law Entrance Exams.
Q. Which city is known as the "Electronic City of India"?
A) Hyderabad
B) Bengaluru
C) Chennai
D) Pune
Q. In which months is the Rabi crop sown?
A) March-April
B) June-July
C) October-November
D) January-February
Read more: Short tricks to crack the CLAT exam on the first attempt
Q. Main crop cultivated in India under plantation agriculture is
A) Tea, Rubber, Coconut, Coffee
B) Tea, Rubber, Sunflower, Soyabean
C) Tea, Banana, Grapes, Coconut
D) Tea, Rubber, Coconut, Soyabean
Q. Which elements are the best conductor of electricity?
A) Silver
B) Copper
C) Aluminium
D) Iron
Q. The reason for mirage is
A) Interference of light
B) Diffraction of light
C) Polarization of light
D) Total internal reflection of light
Read more: Short tricks to prepare Maths for Law Entrance Exams
Q. What kind of digital files can be attached to the e-mail?
A) Music
B) Documents
C) Photos
D) All of the above
Q. Cryogenic engines' final application in
A) Sub-marine propulsion
B) Frost-free refrigerators
C) Rocket technology
D) Researches in superconductivity
Read more: Short tricks to study logical reasoning for Law Entrance exams
Q. "GIF" stands for:
A) Geographical Image Format
B) Global Image Format
C) Graphical Interchange Format
D) None of the above
Q. Dry ice is:
A) Solid water
B) Mountain ice
C) Solid CO2
You can enhance your preparation with the help of the best Law Entrance Exam Coaching.
D) Solid carbon mono oxide
Q. Earth's escape velocity is:
15.0 km/sec
21.2 km/sec
7.0 km/sec
11.2 km/sec