Summary: Have you looked at a piece of fabric and appreciated its design work? Thank the fashion designer! And if you are a creative head and want to pursue a career in fashion design, get started by reading this blog!
Fashion design involves creating designs, picking fabrics, and crafting patterns to create unique pieces that are visually appealing, comfortable to wear, and suitable for different occasions and seasons.
This ever-evolving art requires designers to stay updated with the latest trends, fabrics, and techniques. You must possess both a creative vision and technical expertise as per the latest market trends.
This article covers everything related to What is Fashion designing and how to become a fashion designer?
Happy Reading!
What is Fashion Design?
Fashion design is a form of art deeply rooted in all cultures.
It is a multi-faceted industry encompassing everything from trend forecasting to garment construction, branding, and retail.
In simple words, fashion design is the art of making garments and accessories. This stream draws students from various academic fields, including business, history, art, and technology.
Check: How to Get a Scholarship in NIFT
Fashion Designing Course
Fashion Designing courses teach students the necessary skills to become fashion designers. They cover fashion history, trends, fabric selection, pattern making, draping, sketching, garment construction, and more.
Students learn to create fashionable, functional, and aesthetically pleasing designs. They also learn how to market their creations and make them commercially viable.
These courses are offered at colleges and universities, as well as online.
All fashion design courses will mainly teach students;
-> Fundamentals of fashion design
-> Concept development
-> Fabric selection
-> Garment construction
With this knowledge, you can create collections in demand in the marketplace.
Here is a list of Fashion Designing Courses listed below:
Bachelor of Fashion Technology
BA (Hons) Communication Design
BA (Hons) Jewellery Design
Master of Design (MDes)
Master of Fashion Management (MFM)
MA Fashion
Master of Fashion Technology (MFTech)
MBA in Fashion Merchandising and Retail Management
MBA in Fashion Design and Business Management
MBA in Textile Management
Read more: Types of Fashion Designing
Here are our rank holders who achieved excellent scores in the design entrance exam with the guidance of the Creative Edge team! Have a look.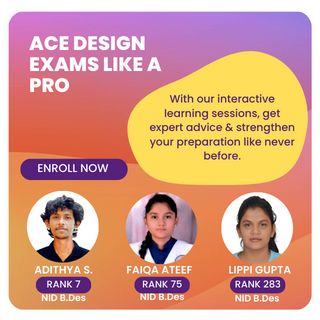 Best Fashion Designing Colleges in India
Check out the best Best Fashion Designing Colleges in India:
NITs
Symbiosis Institute
National Institute of Fashion Technology, Shillong
Army Institute of Fashion and Design
Amity School of Fashion Technology
JD Institute of Fashion Technology
Manipal School of Architecture and Planning
Vogue Institute of Arts and Design
IMS Design and innovation academy
How to become a Fashion Designer?
The field of fashion design is competitive and fast-paced.
To become a successful fashion designer, you must have a good eye for colour and shape, a strong knowledge of fabrics, and an understanding of design principles.
You'll need to gain experience, develop your portfolio, and build your brand to enter the field.
You'll also need to stay on top of the latest trends and be willing to take risks. With hard work and dedication, you can become a successful fashion designer.
Develop your fashion design skills: Study different fashion designs and trends, and familiarise yourself with fabrics and materials. Take sketching, pattern-making, and sewing classes to develop your design skills and techniques.
Make a portfolio: Design and create a portfolio of your work and send it to fashion schools and potential employers. This will help you get noticed and help you stand out from the competition.
Attend fashion shows and events: Attend fashion shows and industry events to stay updated with the latest trends and network with potential employers.
Get an internship: An internship is a great way to gain experience and knowledge about the industry.
Get certified: Consider getting a fashion design certification to demonstrate your knowledge and skills.
Stay organised: Create a portfolio that includes sketches, notes, and fabric swatches. This will help you stay organised and efficient and be able to reference ideas quickly.
Stay creative: Make sure to stay creative and always be on the lookout for new trends and ideas.
Check: NIFT MFM Eligibility Criteria 2024
So what do designers do?
Fashion designers produce clothing in response to consumer demand or their own creative vision, and when customers like the designs, new trends are created.
Fashion design is an ever-evolving art requiring designers to stay updated with trends, fabrics, and techniques. With the right combination of skills, fashion designers can make their mark in this exciting and ever-changing industry.
Check: What does fashion designers do?
Fashion Designing Eligibility Requirement
The eligibility requirements for fashion design programs vary depending on the institute you seek to apply to.
The cutoff percentage in 10+2 for applications to fashion design again varies; however, you can aim to score at least 50% marks.
For PG courses: Most institutions favour applicants with a bachelor's degree in fashion design.
Colleges occasionally require different qualifying tests that applicants must complete to be accepted.
Check: NIFT MFM Exam Pattern 2024
Meet our experts from Creative Edge, helping you ace your design entrance exam prep!
Scope of Fashion Designing in India
Fashion design is a rapidly growing industry in India with great potential for success.
The growing demand for fashionable clothing, accessories and lifestyle products has opened up numerous opportunities for fashion designers in India.
Fashion designers can specialise in different areas, such as apparel design, textile design, accessory design and pattern making.
Indian fashion designers are sought after internationally, and the country has become a major hub for fashion-related activities. With the increasing demand for high-end fashion products, there is a great scope for fashion designers in India.
Check: Fashion Technology from NIFT
Average Fashion Designing Fees
Average fees for fashion designing in India vary per specialisation and college.
The fees may depend on the institute and the course duration too. Most of the institutes also offer part-time and correspondence courses.
The average cost of a fashion design course is between INR 9,000 and INR 3,000,000.
Check: NIFT Colleges 2024
Conclusion
In conclusion, fashion design is a constantly evolving field that provides opportunities to express personal style and unique ideas. While hard work and dedication to the craft are essential to success in fashion design, the creative possibilities are endless. Aspiring designers can make their mark in the fashion industry with careful planning and a creative eye.