Summary: Pearl Academy is one of the top design institutes in India, providing various design courses from fashion to UI/UX. Pearl Academy, Delhi, has 2 campuses, and this article aims to familiarise you with the admission, exam process, and all the courses provided here.
Pearl Academy is a private design institute in India that provides undergraduate, graduate, and certificate programs in various design fields, including fashion, communication, media, and business. In 2017 and 2018, BoF (Business of Fashion) placed the academy among the top 25 fashion schools worldwide.
Pearl Academy has 2 campuses in Delhi, one in Delhi West and another in Delhi South. Delhi South campus is located in New Friends Colony in New Delhi, and the Delhi West campus is located in Rajouri Garden, New Delhi.
Both campuses offer many courses in undergraduate and postgraduate programs. This article will give you a complete overview of Delhi campuses and their admission process, courses offered, and placement opportunities.
Admission Process in Pearl Academy Delhi 2023
The admission process is the same irrespective of the campus. The admission process for Pearl Academy involves filling out an online application on their official website, writing the exam, followed by a personal interview for selection at the institution.
Here are the complete dates for the admission process.
| | |
| --- | --- |
| Last Date to Apply | April 17, 2023 |
| Admit Card | April 18, 2023 |
| Written Exam | April 21, 22 and 23, 2023 |
| Personal Interview (Online) | April 26-27, 2023 |
| Personal Interview (Offline) | April 28-29, 2023 |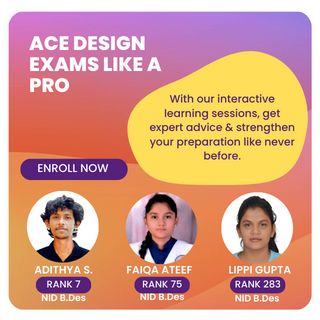 The examination will be online, but the personal interview can be online or offline at the campus, depending on your preferences and convenience.
Check: How Should Beginners Prepare for Design Entrance Exams?
Application process
Applying for the entrance test to get into Pearl Academy is very simple and straightforward.
Fill out the registration with your basic details.
After you fill out all the details, you must pay a small fee for the application online.
After successful payment, you can log in to the student portal to check your application status, exam date and such details.
This concludes the application process. Next, you have to appear for the entrance examination.
Check: What to study for Design Entrance Exams?
Pearl Academy Delhi 2023 Examination details
The examination pattern for Pearl Entrance Exam is as follows:
All Fashion & Design Courses
Exam: General Proficiency Test (GPT), Design Aptitude Test (DAT), Personal Interview & Portfolio Showcase
Duration: 90 mins of GPT and DAT + 30 mins of Personal Interview & Portfolio Showcase
Format: Multiple Choice Questions (MCQ)
Mode: Online
All Business Courses
Exam: General Proficiency (GPT) Test and Personal Interview
Duration: 60 mins of GPT + 30 mins of Personal Interview
Format: Multiple Choice Questions (MCQ)
Mode: Online
You can check the sample GPT paper here.
You can check the sample GPT and DAT paper here.
Also, the portfolio presentation and conversation will be part of the interview process. Please be aware that the entrance exam does not include negative markings.
Eligibility and Selection Criteria
After your application is successfully submitted, you will appear for the examination, which will be conducted online and will be MCQ based. The exam pattern will contain two sections; GPT and DAT.
GPT is a General Proficiency Test that will evaluate your proficiency in the English language, logical reasoning, quantitative ability, and data interpretation.
DAT is a Design Aptitude Test evaluating your aptitude for creativity, drawing, design, observation, imagination, and sensitivity to the environment and communication.
| | | |
| --- | --- | --- |
| Course Type | Eligibility Criteria | Selection Criteria |
| Undergraduate | 10+2 Pass from any registered institute | Written Exam, Personal Interview and Portfolio Presentation |
| Postgraduate | Graduation From a recognized University in any stream | Written Exam, Personal Interview and Portfolio Presentation |
Results 2023
The results for the January 2023 cycle are already out. The results for the April 2023 cycle will be declared shortly after completing the written exam and interview dates.
The official date for results for April 2023 cycle isn't declared yet.
Check: Pearl Academy Admission Procedure 2023
Counselling Process for Pearl Academy
The counselling process happens after the written examination in the form of a personal interview. The interview can be online or offline at any of the campuses.
For design students, you need to have a portfolio of your designs ready for the interview. For business students, a portfolio isn't necessary.
Programs offered at Pearl Academy Delhi 2023
The courses offered at both Delhi campuses are the same. The courses available at Pearl Academy Delhi 2023 are as follows:
Undergraduate programs
Fashion Design & Technology
Fashion Styling & Image Design
Textile Design & Technology
Fashion Fabrics
Interior Textiles
Smart Textiles
Communication Design & Technology
Graphics Design & Technology
Animation & VFX Design & Technology
UX / UI Design & Technology
Game Design & Technology
Interior Design & Technology
Landscape Design & Technology
Residential Design & Technology
Commercial Space Design & Technology
Lifestyle Products
Jewellery
Fashion Communication
Fashion & Lifestyle Business Management
Global Luxury Brand Management
Check: Best Books for Design Entrance Exams
Postgraduate programs
Fashion Design & Technology
Fashion Styling & Image Design
Interior Design & Styling
Communication Design & Technology
Interaction Design(UX/UI)
Accessory Design
Fashion Communication
Fashion Business

Marketing & Merchandising
Fashion Entrepreneurship

Luxury Brands
Delhi campuses also offer 11-month-long professional certificate courses
Styling for Interiors
Fashion Design for Women's wear
Advertising and graphics
Personal Styling and Image Consultancy
Costume Styling
Fashion Design for Menswear
Fashion Buying and Merchandising
Check: Career in Fashion Designing
Pearl Academy Delhi 2023 Placements
The job campaign at Pearl Academy Delhi is over for the class graduating in 2023. According to the report, the institute has a 99% placement rate for the academic year 2022–2023. The highest package bagged by a student was INR 20.27 LPA.
Moreover, the second-highest package available was INR 17 LPA. Accenture, Walt Disney, Capgemini, Balenciaga, IBM, TCS, Myntra, Flipkart, and other prominent employers were among Pearl Academy Delhi's top employers in 2023.
Many top companies visit the Pearl Academy Delhi campus for placements, whether it is for fashion, design or media graduates.
Top recruiters for Fashion include
Myntra
Aditya Birla
Future Group
Walt Disney
PearlGlobal
Moksha
Ridhima Bhasin
Shantanu & Nikhil
H&M
Urbania
Divani
Apparel Resources
ITC
Arvind
Pero
Shades of India
and more
Check: Blood Relation Questions for Design Entrance Exams
Top recruiters for Design include:
Capgemini
NH1
IBM
WDC
Loco
Evok
Accenture
Itu Chaudhuri Design
The Times of India
Co-Design
Red Chillies Entertainment
Milestone Films
FabIndia
Eventwala
Fables
The Entertainment Design Co
Studio HBA
Livspace
and more
Top Recruiters for Media include:
NDTV
Zee TV
Red FM
Big FM
Scoopwhoop
Outhouse
PR Pundit
Radio One
Fever FM
Carma
Ogilvy
Radio Indigo
Colours
BBC News
Bloomberg
Dharma Productions
Sony
and more
Alumni of Pearl Academy Delhi are reportedly employed in various fields, including business development, arts & design, operations, and more.
Of all the industries, the Arts & Design sector employs 46% of graduates.
In addition, graduates working in the business development and marketing fields make up 22% and 19% of the workforce.
Check: List of Design and Architecture Entrance Exams in India
Pearl Academy West Delhi Address: No. 31, Residency Road, Next to Opera House, opposite of the Gateway Hotel, Bengaluru, Karnataka 560025.
Conclusion
Both the Pearl Academy Delhi campuses are great for design courses.
The level of quality of their programs is top-notch, attracting top recruiters in the industry. It is no surprise that most of the graduates get placed in a good company with really good packages.
The examination process to get into the Pearl Academy isn't that difficult. You can easily crack the exam and get into the academy with practice.
If you want to study at one of the Delhi campuses, you will have a great time!