Readers' Digest: The syllabus at NIFT is designed to give students a comprehensive understanding of the field of fashion through a combination of theoretical and practical courses.
As we all know, various UG and PG courses are offered through the NIFT entrance exam. Having insight into the NIFT syllabus will help you understand which topics you must focus on for the exam.
The NIFT 2023 entrance exam will be divided into two parts:
Step 1: Written exams (GAT and CAT) (only B.Des and M.Des candidates need to take CAT)
Step 2 - Situational Analysis (B.Des) / PI (All PG programs)
Each section's syllabus is available in this article. Continue reading for more information about the NIFT Syllabus 2023.
NIFT 2023 Highlights
Lets take a look at the NIFT highlights in the table below:
| | |
| --- | --- |
| Exam Name | NIFT 2023 |
| Full-Form | National Institute of Fashion Technology |
| Courses Offered | Bachelor of Design, Bachelors of Fashion Technology, Master of Design, Master of Fashion Technology, Master of Fashion Management |
| Exam Type | Undergraduate & Postgraduate |
| Exam Level | National Level |
| Conducting Body | National Institute of Fashion Technology, Delhi |
| Total seats | 3,590 (including UG & PG courses, excluding NRI students) |
| Participating Institutes | 16 campuses |
| Mode of the exam | Offline (Pen and Paper) |
| Application Mode | Online mode |
NIFT Syllabus for Creative Ability Test (CAT) 2023
In the CAT exam, you will be tested on your imagination and illustration skills. Some of the factors underlying the assessment in the NIFT Exam are as follows:
| | |
| --- | --- |
| Creativity | Observation Power |
| Innovation in the Development of a Concept | Design Ability |
| Innovative Use of Colours | Illustration Skills. |
You must note that no official NIFT Exam syllabus was released by the National Institute of Fashion Technology for the CAT exam. However, we have compiled a list of essential topics based on the NIFT previous year's question papers.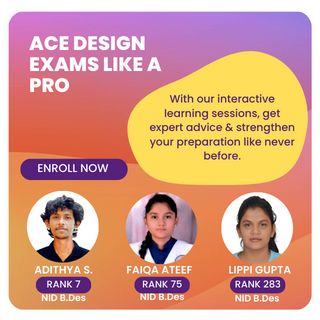 Go through the essential topics from the table below and prepare well for the NIFT 2023 Exam.
| | | |
| --- | --- | --- |
| Design Theory | Colour Terminology | Inspiration & Design Development |
| Colour Psychology & Optical Illusions | Elements & Principles Of Design | Mood, Theme & Colour Inter-relationship |
| Natural & Geometrical Form | Innovation in Design | Principles of Composition |
| Creative thinking & writing | Optical Illusion | Understanding Light & Shade |
| Visual Logic | Form & Function | Colour, Pattern & Texture |
| Theme Development | Drawing Fundamentals | Picture Analysis |
| Memory Drawing | Inspiration & Creativity | Ornaments & motifs |
| Use of Measurements, Scale & proportions | Optical Illusion | Foreshortening & Perspective |
| Developing Themes & Colour Associations | Usage of Colour in Compositions | Imagination & Doodling |
| 3D Visualization | Presentation Techniques | Expression & Emotion |
| Exercises on imagination | Lateral Thinking | Story Pictures |
| Graphics & Pictograms | Innovation & Creation | Design Awareness |
Read more: NIFT Exam Day Instructions
NIFT Syllabus for General Ability Test (GAT) 2023
The NIFT Syllabus for GAT covers quantitative ability, communication ability, English comprehension, analytical ability, general knowledge, and current affairs.
Practising NIFT Mock Tests will help improve your time management skills and speed.
Section

Objective

Topics

Quantitative Ability

This section tests your quantitative ability skills

in Addition, Multiplication, Division, Fractions, Percentage, Rate of Interest, Work and Task, Ratio and Proportion, and Distance.

Communication Ability

You will be tested on language skills and their use in day-to-day communication in English.

Synonyms, Antonyms, Words with corresponding meanings, Singular, Plural, One-word Substitutes, Idioms and Phrases, Spelling correction.

English Comprehension

Your reading and comprehension abilities of a given situation in the unseen passage are tested in this section.

English language skills through the questions based on the course

Analytical Ability

The questions are designed to test your capacity for the ability to infer and logic from the given information.

Questions from the areas of logical reasoning where you are supposed to draw logical conclusions from the analytical reasoning questions

General Knowledge and Current Affairs

Questions are designed to test your general awareness and current affairs.

Current affairs section and general knowledge.

Case Study

This test is based on an industry environment where you have to analyze and provide solutions to the questions. This test is designed primarily to test your managerial skills.
NIFT Syllabus for Situation Test 2023
This assessment is a hands-on test for assessing your abilities for material handling and the ability to innovate on a given set of materials. The test helps determine the creative dimension of your mind, and you are asked to prepare a prototype from the materials received.
In this test, you are evaluated based on the below-mentioned parameters:
Conceptualization Skills,

Aesthetic appeal,

Colour scheme,

Working methodology,

Innovative ideas,

Overall presentation,

Composition of elements,

Neatness

Creative use of materials provided.
Read more: Life at NIFT
NIFT Syllabus for Group Discussion (GD) 2023.
The panel of experts will assess your leadership qualities, conceptual clarity, problem-solving skills, etc., in the group discussion.
| | |
| --- | --- |
| Conceptual clarity | Knowledge of the topic assigned |
| Contribution to the case | Interpersonal skills |
| Ability to generate new ideas | Problem-solving approach |
| Leadership qualities | Effective communication |
NIFT Syllabus for Personal Interview (PI) 2023
You will be tested on the following parameters during the personal interview for the NIFT 2023 Entrance exam.
| | |
| --- | --- |
| Career orientation | Aptness for the field |
| Good Communication Skills | General awareness and aptitude |
| Overall personal achievements in academics and co-curricular activities | Creative and lateral thinking |
Read more: NIFT Exam Pattern 2023
NIFT Preparation Books 2023
It is choosing the right books that cover all topics per the latest Fashion Designing Syllabus NIFT to score good marks in the exam.
You may consider referring to the following NIFT Preparation Books listed in the table below:
| | |
| --- | --- |
| Name of the Book | Name of the Author |
| NIFT, NID, and IIFT Entrance Exam Guide | D Mittal |
| NIFT, NID/ IIFT Admission Test | By Surendra Kalimantan |
| Guide to NIFT/ NID for Group A, B, and C | RP Datson |
| NIFT EntranceRPm Mock Papers | D Mittal |
| NIFT entrance exam preparation course | Prashant Kumar |
Read More: NIFT Preparation 2023 in 6 months
How can CreativeEdge benefit you for NIFT Preparation 2023?
Creative Edge, a TopRankers initiative, is one of the top online NIFT coaching centres. Here, we make your NIFT preparation more fun and easier to process. We help you to shape your skills and nourish your qualities to excel in the exam.
Get to communicate with our top faculty.
Live classes with separate doubt-clearing sessions.
Online Mock Tests are available for self-assessment.
Get access to valuable study materials through PDF formats.
Stay focused on the subject with interactive visuals and sample papers.
Learn more: NIFT Online Coaching