What to expect in this article: Verbal Ability NIFT Previous year's papers are essential for better exam preparation. You will be able to solve the verbal ability questions asked in recent years with the help of NIFT's previous years' question papers. These papers are also available in PDF format, allowing you to download and practice at your leisure. In this article, we compiled a list of verbal ability questions and discussed how they can help you prepare.
Yearly, the National Institute of Fashion Technology (NIFT) holds an entrance exam for undergraduate and postgraduate design courses. Study materials such as sample question papers, NIFT previous years' question papers, and NIFT 2023 reference books are essential for preparing for the entrance exam.
Because of the variety of options available, you can score higher but lose points in the verbal ability section. You can improve your score in this section by studying NIFT verbal ability previous year's question paper.
Read more to know about NIFT's verbal ability previous year's question paper along with their solutions to it.
NIFT 2023 Exam Pattern
You must prepare for the exam by consulting the NIFT previous year's question paper and NIFT 2023 syllabus. Using the exam pattern, it will be very easy for you to grasp the entire layout of the NIFT entrance exam question paper and the marking scheme.
The exam is divided into two sections: the General Ability Test (GAT) and the Creative Ability Test (CAT). You must also pass the Group Discussion (GD) and Personal Interview (PI) rounds.
Read more: NIFT 2023 Exam Analysis
Download NIFT Previous Year Question Papers PDF Here
NIFT Verbal Ability Previous Year Question with Solutions
Study the passages below to answer the questions that follow each
passage.
Passage—I
Economists, ethicists, and business sages persuade us that honesty is the best policy, but their evidence is weak. We hoped to find data that would support their theories and thus, perhaps encourage higher standards of business behavior. To our surprise, our pet theories failed to stand up. Treachery, we found, can pay. There is no compelling economic reason, to tell the truth, or keep one's word. Punishment for the treacherous in the real world is neither swift nor sure.
Honesty is, in fact, primarily a moral choice. Business people do tell themselves that, in the long run, they will do well by doing good. But there is little factual or logical basis for this conviction. Without values, without a basic preference for right over wrong, trust based on such self-delusion would crumble in the face of temptation. Most of us choose virtue because we want to believe in ourselves and have others' respect and belief in us.
And for this, we should be happy. We can be proud of a system in which people are honest because they want to be, not because they have to be. Materially, too, trust based on morality provides great advantages. It allows us to join in great and exciting enterprises that we could never undertake if we relied on economic incentives alone.
Economists tell us that trust is enforced in the marketplace through retaliation of reputation. If you violate trust, your victim is apt to seek revenge and others are likely to stop doing business with you at least under favorable terms. A man or woman with a reputation for fair dealing will prosper. Therefore, profit maximizers are honest. This sounds plausible enough until you look for concrete examples. Cases that demonstrate the awful consequences of trust turn out to be few and weak, while evidence that treachery can pay seems compelling.
What did the author find out about the theory that honesty is the best policy?
It is a useless
It is correct on many occasions.
It is correct for all businessmen.
It is correct only occasionally.
Answer: (3)
Why does the author say that one can be proud of the present situation? Because people are
respectful
honest without compulsion.
unselfish.
Self-respecting.
Answer: (2)
What do economists and ethicists want us to believe?
Businessmen are honest only at
Businessmen should be honest at all
Businessmen cannot be honest at all
Businessmen turn dishonest at
Answer: (2)
The material advantage that the author sees in being honest is that it permits one to
undertake activities that may not be economically
be honest for the sake of honesty
make a lot of profit in various
None of these
Answer: (3)
Which of the following is the same in meaning as the term 'persuade' as used in the passage?
Try to convince (2) Cheat (3) Motivate (4) Give assurance
Answer: (1)
Which of the following is false according to the passage?
People are generally honest because it pays in the long
Virtuous behavior earns the self-respect of
Economists believe that all businessmen are
Generally, people are honest to earn self-respect.
Answer: (3)
According to economists, businessmen remain hoñest because dishonest businessmen
are flogged in the marketplace
are always prosecuted.
can make more money.
cannot stay in business for long.
Answer: (4)

The phrase 'stand up as used in the passage means
hold (2) get up. (3) supported. (4) get established.
Answer: (1)
Which of the following means the same as the word 'compelling' as used in the passage?
Reverent (2) Binding (3) Forceful (4) Mandatory
Answer: (3)
In each of these questions, out of the given group of words, choose the correctly spelled word.
(1) Sporadic (2) Sporiadic (3) Spordiac (4) Spordaic
Answer: (1)
(1) Agreggate (2) Agregate (3) Aggregate (4) Agreegate
Answer: (3)
Choose the option which best expresses the meaning of the idiom/phrase in the sentence.
(i) Stir up a hornet's nest
(1) avoid problems
(2) make a lot of friends
(3) create trouble
(4) annoy others
Answer: (3)
(ii) Midas touch
(1) touch softly
(2) please somebody
(3) ability to succeed in all projects
(4) ability to destroy anything
Answer: (3)
Read more: 6 months Preparation Strategy for NIFT Exam
Benefits of Solving NIFT Verbal Ability Previous Year Question Paper
You will be well aware of the NIFT exam pattern and marking scheme.
The structure of the verbal ability section is also cleared while solving NIFT entrance exam previous years' question papers.
By solving NIFT verbal ability in previous year's question papers, you can find the tricky questions and be quick in solving them.
You can also analyze your weaknesses and strengths while solving NIFT entrance exam previous years' question paper.
You will be able to experience the real-time scenario of the NIFT entrance exam and gain confidence in yourself.
Getting the best out of NIFT Verbal Ability Previous Year Question Paper
To get the best out of the NIFT entrance exam previous year's question papers, put a timer on. This way you will be able to track how much time you are taking to solve a problem. Also, NIFT's previous year's paper with the solution should be made a part of the NIFT 2023 preparation package from the start. This way you will be able to test your learning and progress from very early on.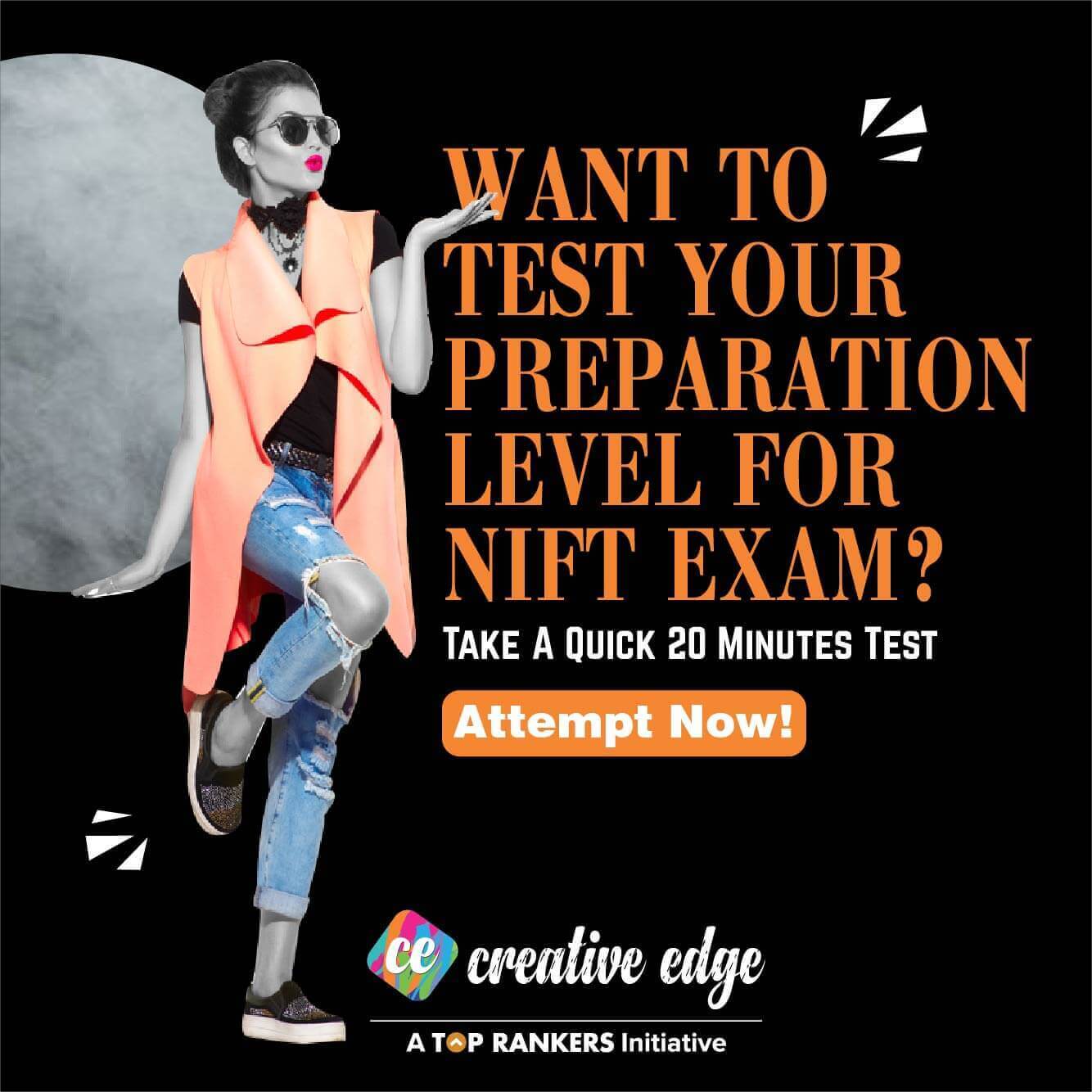 What can CreativeEdge do to Improve Your NIFT 2023 Preparation?
We at CreativeEdge provide expert preparation facilities for NIFT 2023 and other design entrance exams. Not making the NIFT exam feel tough is our primary aim. Through our online courses, we always try to build a stable preparation plan for you.
We provide NIFT online coaching with study materials in PDF format.
Live online classes with doubt-clearing sessions.
Sample Papers and Question Papers are available.
Self-assessment materials such as Test series, Mock Tests, etc, are available.
Self-paced learning.
Learn more: NIFT Online Coaching