Summary: By beginners, we refer to the ones amongst you who are preparing for the design entrance examination for the first time. Some of you must be targeting NIFT, NATA, and UCEED 2023 as your next goal. However, around those exams, there are much confusion and questions about how to prepare for the design entrance examination. Many of you must have felt perplexed by the syllabus and what material you should incorporate in your preparations.
It is evident that to crack your most awaited examination and receive admission, you have to score well in Your examination. There are chances that you will feel clueless at times about where to start. A question must have arisen about how to prepare for any design entrance exam. There's where we come in the frame. We will provide you with one of the best guides for Design Entrance Exams preparation by providing you with some of the best tips and plans to follow. But first, let us tell you a few things about the examinations which you are going to attend.
Get familiar with the examination
Before we move ahead with the guide of preparation planning, first let us brief you about something else. That thing is the examination, how well do you know your examination? Do you have a clear vision of the examination you are going to take? If not then first read what things you need to do for dealing with a competitive examination.
Download Free Study Material for Design Entrance Exams by CreativeEdge
Exam date
The very first thing you must know about your exam is when it is going to be conducted. It is critical because the date will help you draw a plan based on how much time you are going to get for preparation. So, always gather information about the important events of exams like Application form date, Date of Admission Application Submission. Date due to download verification and admit card and finally conduction of examination.
Check the exam pattern
Always check for information regarding how many parts the examination is divided. How many papers do you have to face before you qualify for admission? Understanding the exam pattern will help you understand how you should plan your preparations. It will also help you prioritize the segments and help you in identifying the major section you need to prepare for.
Read more: UCEED Exam Pattern 2023
Assemble the best books for preparation
Have we told you to source the best resource available out there for your preparations? You need to identify the best books which can help you by providing maximized insights on examination patterns, questions pattern, and marking schemes. Also, it must help you cover a prominent section of your syllabus without having to search multiple resources to acquire ultimate knowledge.
Read more: Best Books for Design Entrance Exams
Make a timetable
If you do not have a routine enlist all your priorities and your learning plan then you will have a hard time managing things. Creating and following a proper timetable not only reduces the excessive labor but saves your time and makes you more productive. Also, it will help you cover your syllabus effortlessly.
Read More: 6 months Preparation Strategy for UCEED 2023
Solve past year's question paper/ Samples
Always refer to the 10-year question set containing all the question papers from the last 10 years. If you can't get access to this at least go for the 5 years' previous question papers. It will help you to develop a better understanding of the difficulty level of questions. And also, help in getting an idea about the kinds and concepts of questions that you are likely to face in the upcoming examinations. For example, you can look for the Interior designing entrance exam sample paper if you are going for industry design courses.
Read More: UCEED Question Papers (Last 5 Years)
Get proper rest and stay positive
Becoming exhausted by long hours of revision and classes is not going to increase your productivity or preciseness. You need to get that fair share of rest for yourself before hitting the examination center. Also, you have to build that sheer amount of confidence in yourself that yes "Whatever I have studied is enough to take me through this challenge". If your body receives proper rest and your state of mind remains positive then you will see enhanced performance while attempting questions in the examination hall.

Different career options in the field of designing
When you hit the design domain as your career, you will find many options in which you have to select your niche before you appear for the examination. Choosing your niche and stream will help you focus on your ultimate goal and how you can prepare for that particular stream.
Architecture

Fashion

Industry

Communication

Lifestyle Accessories

___________

Fashion Design

Textile

Apparel

Styling

Knitwear

Fashion Tech

Interior

Furniture

Product

Ceramic

Glass

Transport

Automobile

Toy and game.

Photography

Graphics

Film & Video

Animation

Exhibition

Web

Fashion Communication

Application

UI/ UX

Luxury brand

Jewelry

Leather

Bag

Purse

Footwear

Lifestyle products
Read more: Design As Career
Admission Process in NIFT and other Colleges in Design Courses
Now let's shed some light on how the selection is done in some of the top-notch colleges like NIFT, IIT, etc. With this, you will develop a further understanding of how to prepare for fashion designing entrance exams. These design Examinations have a bit different pattern than other Competitive examinations. They are not limited to the written test but have situational tests too. These students have to showcase their creativity and thinking skills as well as their presentation skills. To summarise they have two parts:
Pen & Paper based/ CBT on general topics (reasoning, maths, gk, etc.- GAT) as well as drawing tests. (CAT)
Portfolio/ Studios test and Situation test.
Note: Second round will be open for candidates who have qualified in the first round.
Seat distribution in NIFT, UCEED, and NID
Just like every highly accredited institution the NIFT, NID, and UCEED have very limited numbers of seats to offer to you all. These limited numbers of seats and relatively higher numbers of students make it a very tough competition to deal with.
| | |
| --- | --- |
| Name of the Exam | Seat distribution |
| NID | 841 (BDes 475 MDes 366) |
| NIFT | 5023 ( BDes 3873 MDes 1150) |
| UCEED | 199 ( BDes only) |
Eligibility Criteria for Writing Design Entrance Exams
Who is eligible to take the design entrance examination? Do you fulfill that criterion? What is the requirement for a suitable candidate to acquire a seat in top design colleges? Well here is the catch.
If you have completed your higher Secondary (+2) or if your 12th results are due to be published then you are eligible to apply for the design entrance examination for Undergraduate Programmes.
For the PG programs, you must be a Graduate or you must have completed your 3rd year with your results awaited.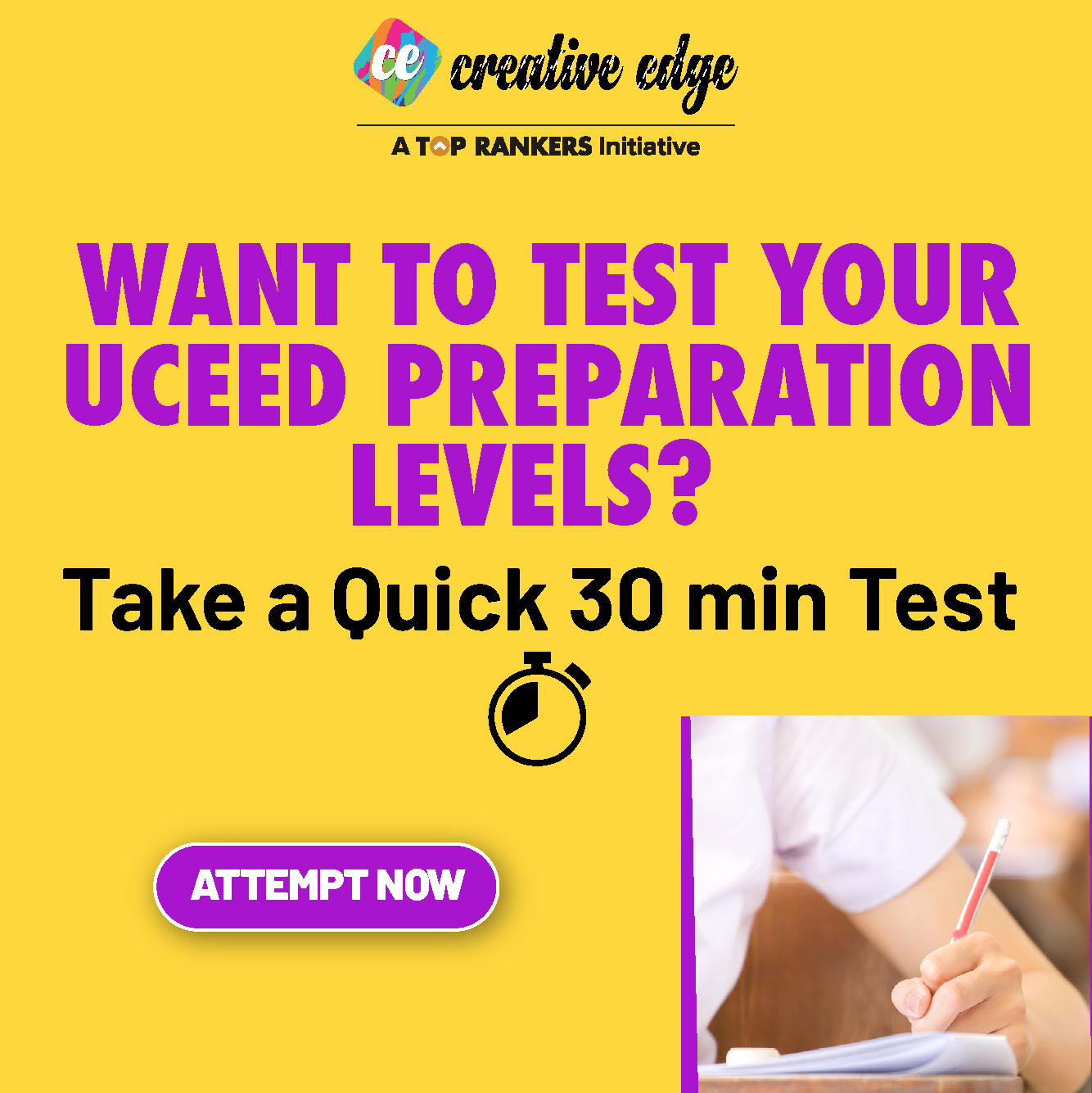 Strategic planning to prepare for Design Entrance Exam
In this section, you will find all the information encapsulated which will make your preparation journey smooth and fruitful.
Supportive Mentors
Find the best mentors for yourself. This you can do by searching for the industry's best coaching. It can be available in both online and offline coaching. So, it depends on you what kind of mentors you are looking for. The mentors will guide you through your preparation journey and help you by providing the required materials to aid your preparation.
Study materials
As we have always said, without good study material your chances of success get reduced by 60%. So if you want a whopping score in your entrance then make sure to land on the authentic Study materials which carry essential notes, facts, and figures.
Practice sheets
Practice sheets are the real gem to be found out there. The primary aim of the practice sheet is to accommodate students according to the upcoming examinations. It will help to develop an understanding of the Questions structure, its type, marking scheme, and how much time you can ideally spend on each question.
Sense of competition
With this phrase, we refer to healthy competition, where you focus on growing up your competency and zeal to score best. It is to work on enhancing your caliber and accuracy while you deal with questions or when you are investing yourself in memorizing. Always try to spend that extra bit of your time to add value to your knowledge.
Regular current affairs update
Regular current affairs update via open news sources and current affairs, weekly and fortnightly books will help you acquire Information about all the major events which are of great importance. They will help you score the maximum number in the GK and Current affairs sections.
Participate in competition related to design workshop
The inevitable part of the design examination is the drawing section. You have to bag a decent score in the drawing section too or else your chances of admission will decline. To achieve proficiency and expertise in drawing you must participate in the design workshop regularly. It will help you familiarise yourself with contemporary designs and also guide you by letting you practice Industry based design.
Read more: 6 months Preparation Strategy for NIFT Exam