Summary: A Bachelors of Design (B.Des) degree is a professional degree that prepares students for a career in the design field. Those with a B.Des are also well-suited for roles in the public sector, such as museum curators and urban planners. Let's check other possible Career After B.Des!
After earning a B.Des, several employment options are available in the private and public sectors. With this degree, you can work abroad as well. You can take part in worldwide exhibitions and auctions of your artistic creations.
After completing a B.Des program, you can pursue higher education, work as an industrial designer for organizations like Samsung and Reebok, and use your creativity and talent to solve design issues, enhance people's daily lives, and more.
Additionally, you may work as a graphic designer, producing images for publications, advertising agencies, and other organizations. Most of you may be curious about what to do after earning a B. Des, the potential for designing courses in India, and other things.
Career after B.Des Course
As we all know, Design as a Career is one of the most sought-after career options among students after completing class 12.
The Bachelor of Design (B.Des) program opens numerous job opportunities for those willing to become professional designers in various fields and sectors.
The following are some prominent sectors you can choose as a career after the B. Des course.
Graphic Designer
Design Managers
Textile Designer
Teachers
Outside Sale Representative
Costume Designer
Fashion Stylists
Fashion Forecasters
Weaving Consultant
Fashion Merchandiser
Cutting Assistant
Interior Designer Entrepreneur
Career After B.Des as Graphic Designer
These professionals create designs for market collateral, brand identities, product illustrations, and websites using computer software like Adobe Creative Suite.
They can merge technical skills with artistic ability to create a design that communicates with their desired audience.
Graphic designers may work independently as freelancers or contractors in an in-house, company, or agency setting.
Career After B.Des as Fashion Designer
A Career in Fashion Designing is a comprehensive industry where you learn new things daily.
Fashion designers are inextricably associated with the fashion designing business, a career that needs no introduction.
A skilled fashion designer handles everything from drawings to textures and patterns, from outfit styling to looks.
Career After B.Des as User Experience (UX) Designer
UX designers make websites, mobile applications, software, and video games easier to navigate and more intuitive for users to interact with.
They also study and evaluate how users feel about a particular system and design their products to cater to the user's needs.
They can analyze the system's components, such as usefulness, value, creditability, and accessibility.
Read more: Thinking awareness questions and answers for design entrance exams.
Eligibility to Pursue B. Des Course
To study B. Des at top colleges, you need to crack the entrance exams conducted by respective organizations.
Two top examinations are conducted nationwide for admission into B. Des courses: NID and NIFT.
According to the

NID Eligibility Criteria

, the BDes program is open to students who have completed Class 12th or an equivalent qualifying examination.
Furthermore, at the 10+2 level, there are no stream restrictions. Thus, students from all streams, including Science, Commerce, Arts, and Humanities, can pursue the course.
Admission to BDes courses requires a minimum age of 19 or 20 years, as determined by the institutes at the time of admission.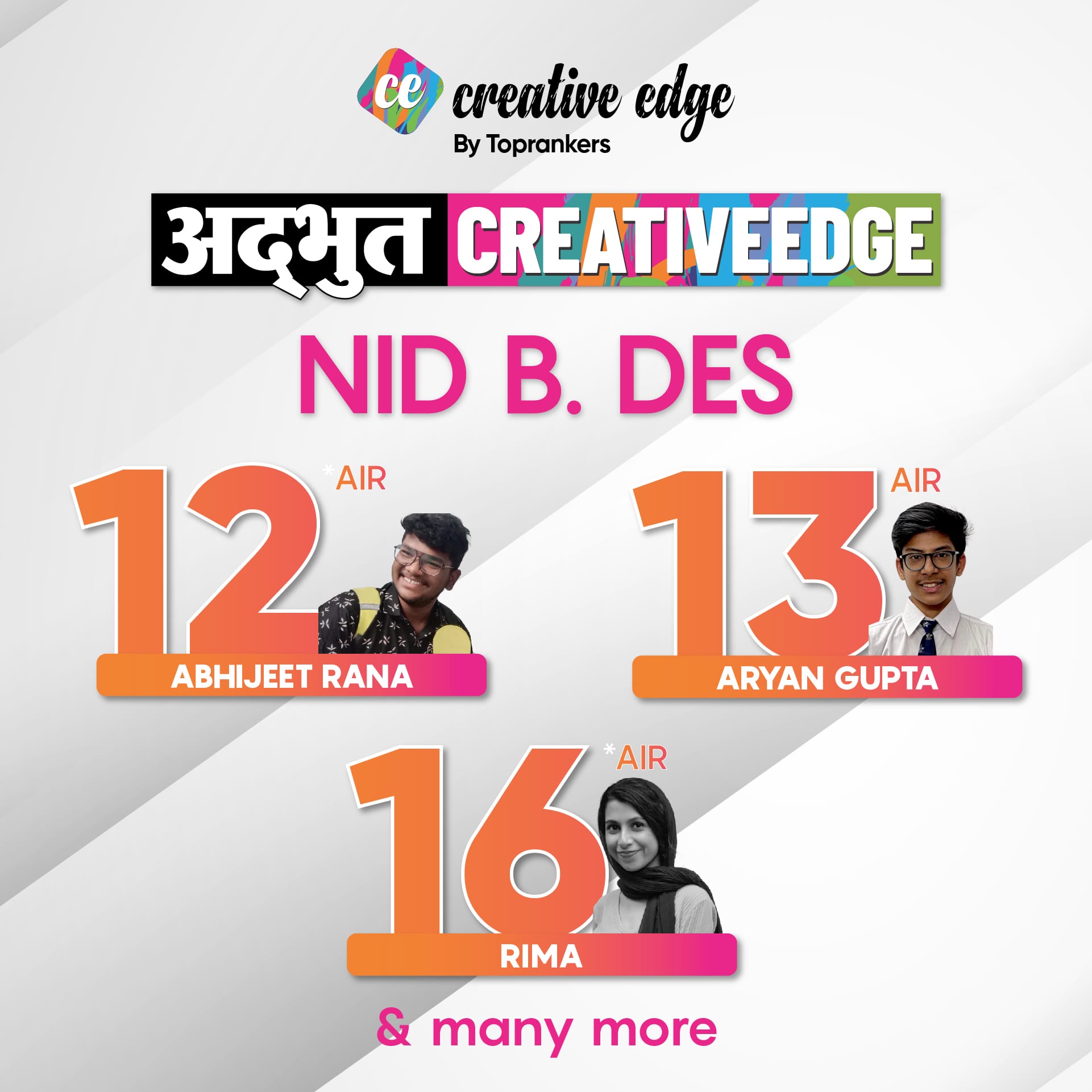 B.Des Course Syllabus
The bachelor in Design course includes various subjects and concepts. The below table lets you understand the syllabus for the B.Des program.
| | | |
| --- | --- | --- |
| Subjects | Topics Covered | Description Design |
| Design | Basic Design skills, Strategy for Innovation, Conceptual Skills, Creative Mobilization Process | This course seeks to teach students the fundamentals of design, including its concepts and components. |
| Technology | Production processes, Basic Design skills, Tools and Equipment Material Sciences, Research, Trade, and Professional Practice | New and emerging design technologies are examined in depth in this subject. This topic focuses on current trend research and sales strategies. |
| Management and Marketing | Marketing, promotion, Merchandising, Industry Orientation, Business Management | Topics include retail and merchandising. |
Read more: Important blood relation questions for design entrance exams
Employment Areas after completing B. Des
Corporate Houses
Shopping Malls
Fashion Marketing
Design Production Management
Homes
Offices
Furniture Manufacturing Units & Accessories
Fashion Media
Boutiques
Fashion Accessory Design
Fashion Show Management
Garment Manufacturing Unit
Check: MIT Institute of Design Placements 2023
Popular Design Entrance Exams
The following are some of the most popular Design Entrance Exams conducted in India for providing admissions to various design courses.
UCEED (Undergraduate Common Entrance Exam for Design)
NID Exam (National Institute of Design)
FDDI AIST (Footwear Design and Development Institute All India Selection Test)
SOFT CET (School of Fashion Technology Common Entrance Test)
NID Design Aptitude Test (National Institute of Design Entrance Exam)
SEED (Symbiosis Entrance Exam for Design)
UID Design Aptitude (Test United World Institute of Design, Design Aptitude Test)
Expected Salary after B. Des Course
B. Des competent students throughout the world are awarded attractive salary packages.
A beginning pay as a Fashion Designer is from Rs. 2 to 3 lacs annually. You can earn Rs. 6 to 7 lacs annually if you have a solid job and expertise.
Each position has a unique compensation package for various expertise and qualifications. A fashion designer's compensation is determined by several criteria, including the location of the job, the candidate's qualifications, recruiters, experience, and working skills.
"Once you've established a reputation and gained sufficient expertise in this profession, you may earn much beyond your wildest dreams."
Read more: Short tricks to prepare aptitude for design entrance exams
| | |
| --- | --- |
| Job Profile | Average Salary (per annum) |
| Graphic Designer | Rs. 2,99,000 |
| Interior designer | Rs. 3,05,00 |
| Automobile designer | Rs. 6,50,000 |
| Web designer | Rs, 2,74,000 |
| Textile designer | Rs. 4,00,000 |
| Jewellery designer | Rs. 4,50,000 |
| Product designer | Rs. 6,20,000 |
| Game designer | Rs. 6,00,000 |
| Industrial designer | Rs. 6,00,000 |
| Fashion Designer | Rs. 6,50,000 |
| Leather designer | Rs. 4,00,000 |
| Animation designer | Rs. 3,50,000 |
| Knitwear designer | Rs. 4,00,000 |
Career after B. Des: Top Recruiters
Some of the top recruiters hire aspirants who have completed the Bachelor of Design program from the Top Design Schools in India.
Wipro Technologies
Whirlpool of India Ltd.
VIP Industries Ltd
Trident Group
Titan Industries
Toshiba, Japan
Philips
Adobe
Ashok Leyland
Cognizant
Hindustan Unilever
Honda R&D
IBM India Research Lab
Infosys Technologies
HP Labs
Conclusion
Those with a B.Des can pursue various career paths, including product design, graphic design, interior design, fashion design, and digital media design.
They can work in various industries, including fashion, architecture, advertising, and entertainment.
Many graduates find employment in the corporate world, while others use their degrees to start their own businesses.