Summary: Searching for the best design schools in India, you'll discover a handpicked collection of top-notch institutions. From renowned establishments to hidden gems, these schools offer exceptional design education and the platform you need to cultivate your creative talents. Explore the diverse programs and opportunities they provide, and pave your way to a successful career in the dynamic world of design.
Design in India has developed over the years, and the Government of India has offered increased support for design education. The future of Design Education in India looks bright, and if you are in a dilemma about the college you want to study the design course, here is a list of the Best Design Schools in India and why you choose them.
Read more: Why Design as Career by Prof.A.Bala Subramaniam
List of Best Design Schools in India
Here is a top 10 list of Best Design Schools in India.
1. NIFT
NIFT has several campuses spread across the country with excellent infrastructure and qualify of education to offer. This makes it a dream come true institute to pursue your studies. It was granted statutory status under the Act of Parliament of India in 2006. The college offers B.Des, B.FTech, Foundation Programme, M.Des, M.F.M, M.FTech, and doctorate programs on qualifying the NIFT entrance exams. Tentative cutoff for 2024 are as follows:
Read more NIFT Interior Designing Course Complete Details
Download NIFT 2024 Syllabus PDF
| | |
| --- | --- |
| Campus | NIFT Expected Cut-Off 2024 (Tentative) |
| NIFT Gandhinagar | 240 |
| NIFT Kolkata | 301 |
| NIFT Delhi | 64 |
| NIFT Hyderabad | 255 |
| NIFT Mumbai | 145 |
| NIFT Jodhpur | 467 |
| NIFT Bengaluru | 134 |
| NIFT Kangra | 520 |
| NIFT Chennai | 325 |
| NIFT Bhubaneswar | 530 |
| NIFT Patna | 560 |
| NIFT Kannur | 590 |
Fact Check
For years, NIFT has established itself as a premier fashion designing college in India, consistently regarded as one of the finest institutions in the field. As you explore your options for pursuing a career in fashion, consider the reputation and legacy of NIFT Entrance Exam, which has solidified its position as one of the top choices for fashion education in the country.
Read more: Similarities and Differences Between NID and NIFT
2. NID
NID colleges are distributed on campuses like Ahmedabad, Gandhinagar, Bangalore, Kurukshetra, Vijayawada, Jorhat, and Bhopal. It is an autonomous institute functioning under the ambit of the Ministry of Commerce and Industry, Government of India. To study in NID college, you must qualify with excellent scores in the NID Design Aptitude Test. The courses offered are BDes, GDPD, MDes. The tentative cutoff scores for 2024 are as follows:
Read more: Design As Career
| | |
| --- | --- |
| Campus | NID Expected Cut-Off 2024 (Tentative) |
| NID Ahmedabad | 97.35 |
| NID Andhra Pradesh | 93.26 |
| NID Haryana | 88.71 |
| NID Madhya Pradesh | 89.80 |
| NID Assam | 86.87 |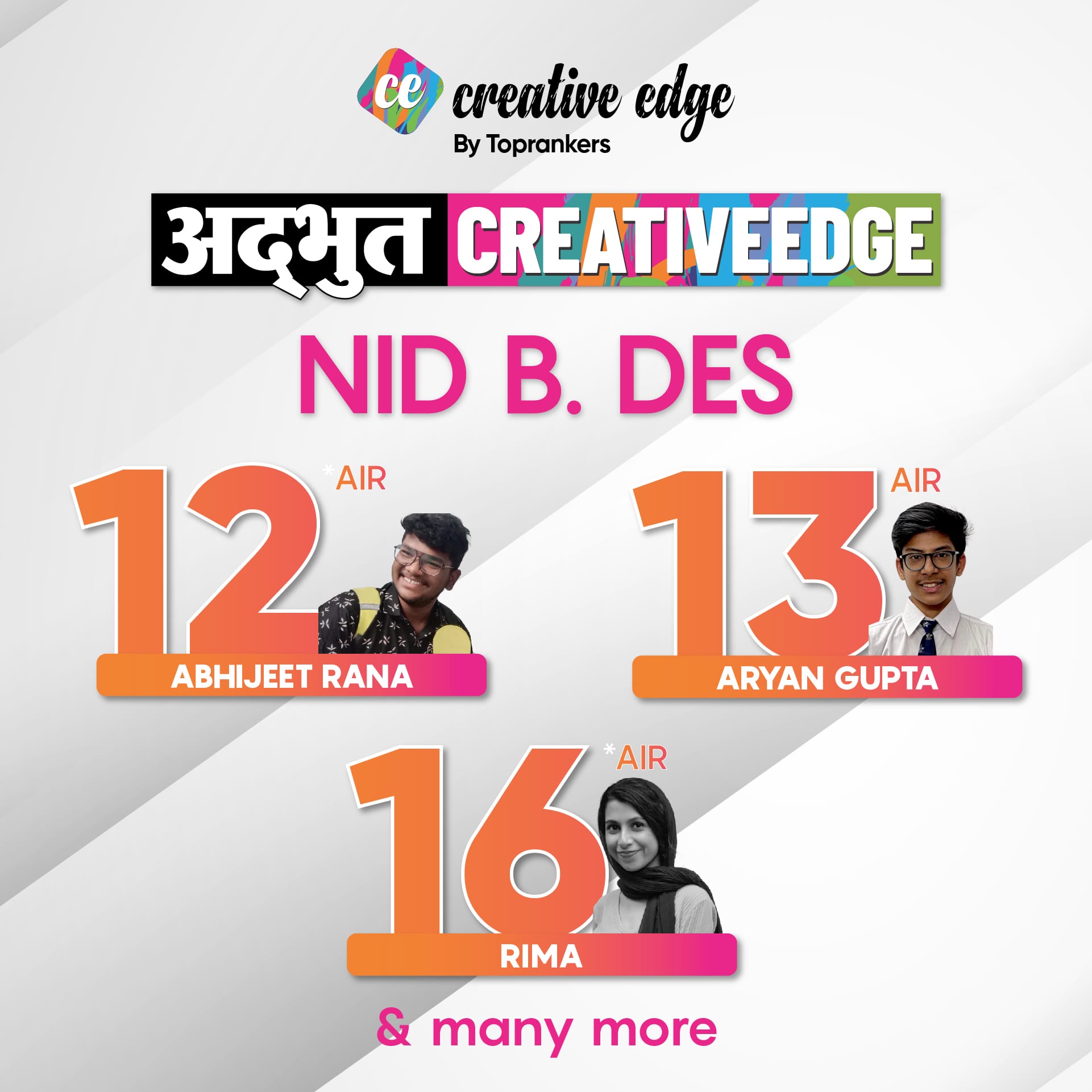 3. Industrial Design Centre, IIT Bombay
Read more: Practise UCEED Drawing Questions
Industrial Design Centre or IDC School of Design, is one of the oldest design schools in India that was established in the year 1969. The college offers B.Des, M.Des, Ph.D. courses based on the scores of UCEED and CEED scores.
UCEED 2024 expected cutoff scores are as follows:
| | |
| --- | --- |
| Category | UCEED Expected Cut-Off 2034 |
| General Candidates | 69.89 |
| OBC/EWS | 62.90 |
| SC/ST/PWD | 34.95 |
4. MIT Institute of Design, Pune
MIT Institute of Design has been at the forefront of design education in India since 2006, established by the government of Maharashtra through ACT XXXIV 2015. The college has received prestigious 2 Red dot awards from alumni and more than 20 design registrations. They work closely with the national & international design community, being a member of CUMULUS, WDO (World Design Organization), and collaborations with more than 10 reputed Universities across the world to enhance the quality of education. The college offers a Bachelor of design, master of design, and MITID Innovation program based on the entrance exams conducted by the college.
Read more: MIT Institute of Design Placements 2024
The college is a private educational entity established in 1993 under the presidency of Nandita Abraham. The college provides a variety of UG and PG programs in several specializations. The college is well-reputed, and its campuses are distributed in Mumbai, Jaipur, and Banglore, New Delhi.
The college is run by the group Global University Systems, with excellent infrastructure and training programs.
6. UID Ahmedabad
UID, commonly known as the Unitedworld Institute of Design, is a constituent institute of Karnavati University. The college is recognized by UGC and collaborated with several organizations, including the World Design Organisation (WDO), Cumulus, IFFTI, and the Association of Commonwealth Universities. The college offers B.Des, M.Des, and global design certificate programs in several specializations based on the UID DAT entrance exam that is expected to be conducted in January 2024.
7. Symbiosis Institute of Design
SID Pune, or Symbiosis Institute of Design, offers BDes in Communication Design, Industrial Design, Fashion Design, and Fashion Communication to candidates who have passed class 10+2 or Diploma with valid scores.
The college provides several scholarships like SIU Scholarships, Central Scholarship Scheme and has tie-ups with many like ADP, Deloitte, Omnie Solutions, Kochartechand more to provide good placements to deserving candidates.
8. J.D Institute of Fashion Technology
Several UG, PG, Diploma, and short term courses are offered on various campuses across the country. The college conducts its own test to admit deserving candidates. The courses offered here can vary from 6 months to 5 years. The college has 30+ years of legacy that has contributed more than 20K students with a dynamic industry network for hostile design education.
9. Srishti Institute of Art, Design, and Technology, Bangalore
The college is a multi-disciplinary approach design school established in the year 1996 under the administration of Ujwal Trust in Bangalore. The founder of Srishti Manipal Institute of Art, Design, and Technology is Geetha Narayanan. The courses offered at the college are B.Voc., B.Des., and B.Cr.A. at the UG level, MA, M.Des., M.Cr.A and M.Plan at the PG level and PhD at the Doctoral level based on Srishti Entrance and Aptitude Test.
10. Amity School of Design, Noida
It is one of the premier institutions, administered under Amity University Uttar Pradesh, and offers its studies in Bachelors and Masters course in Interior Design. The college offers ample opportunity to the students to explore unlimited design possibilities to create appealing interiors with scientific inputs.
Read more: Which is Better: UCEED vs NID
Conclusion
As you explore the list of best design schools in India, you'll find a diverse array of institutions that excel in fostering creativity and providing exceptional design education. Whether you choose a renowned establishment or an emerging gem, these schools offer the platform you need to develop your skills and pursue a successful career in the dynamic world of design. All the best, and choose wisely!
Also read: Design Thinking And Awareness.