What to expect from this article: As we know, a graduate from a well-known NID has a pretty decent career in the design field. The salary after NID is known to be a decent pay. This article will help you understand the salary after NID students are graduates and what companies offer them.
The National Institute of Design (NID) is one of India's top design schools. It provides courses in a variety of disciplines, including
B. Des Graphic Design
B. Des Textile Design
M. Des Film and Video Communication
B. Des Exhibition Design
B. Des Furniture, and Interior Design
M. Des Ceramic and Glass Design.
If you are unable to be placed through campus placements, you should not be concerned because there are numerous opportunities in the market. There are numerous companies that recruit NID graduates and offer a good salary after NID.
In general,
Salary after NID range between 17 and 50 lakhs.
An employee who has graduated from NID earns an average salary of 18 lakhs.
This article will go over job profiles and salaries after NID. Continue reading to learn about the companies you can work for and the salaries they offer.
Download Free Study Material for NID Exam 2023 by CreativeEdge
Top Companies at NID Placements 2023
NID will provide students with training in interview techniques, group discussions, personal interviews, online tests, soft skills, and personality development. Life at NID is an unforgettable experience. The top companies that come for NID placements are listed below.
| | |
| --- | --- |
| Wipro Technologies | Whirlpool of India Ltd. |
| J.P. Morgan | Adobe |
| VIP Industries Ltd | Trident Group |
| Toshiba, Japan | Titan Industries |
| MindTree | Logitech |
| Bombay Design House | Philips |
| Cognizant Technology Solutions | Citrix R & D India Pvt. Ltd |
Read more: How To Prepare For NID 2023 In 6 Months?
NID Job Profiles and Career Scope 2023
Do people label you as a creative person because of your love of color, artistic eye, and impeccable sense of style—and do you wear that label well?
Look no further; we've compiled a list of various NID job profiles and career scopes that will be available to you once you graduate.
Graphic Designer
Graphic Designer is one of the most in-demand design professions. Graphic designers are skilled at creating design material for promotional products, product illustrations, brand identities, and websites, among other things, using computer software such as Adobe Creative Suite.
User Experience (UX) Designer
UX designers create websites, mobile apps, software, or video games that are easier to navigate and more intuitive for users to interact with. They research and evaluate how people feel about a particular system, and then design their product to cater to the user's preferences.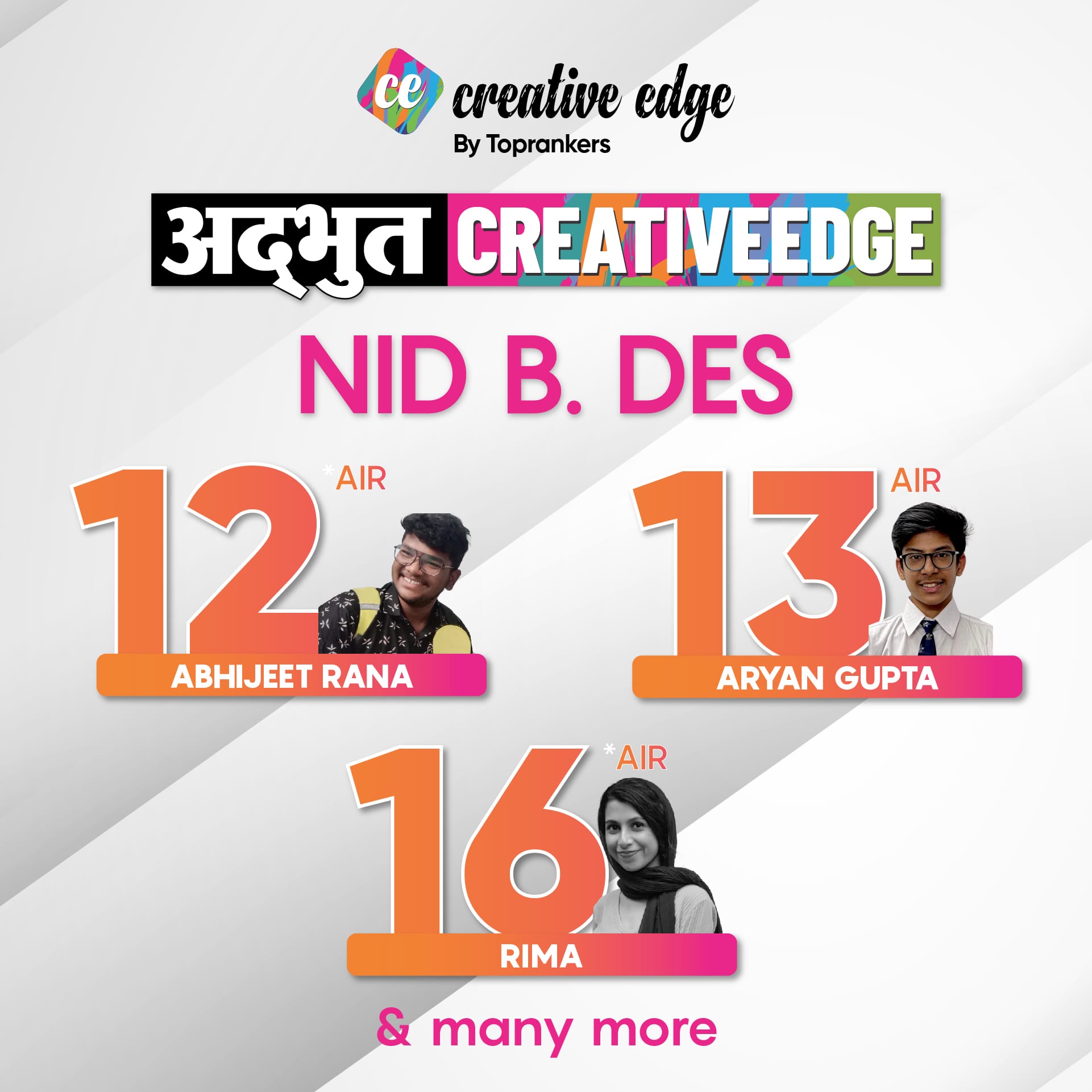 Interior Designer
Professionals in this line of work are good at sketching their ideas. They also deal with interior spaces, their aim is to improve the safety & functionality of a structure while improving the aesthetic appeal as well. For this, they may select color schemes, modify furniture, and flooring, and experiment with the lighting & any other elements of a room or building available to them.
Multimedia artist & animator
These individuals are involved in the creation of animations and special effects for films, television, video games, and other forms of digital media—both 2-D and 3-D. They typically work in groups of animators and artists to bring ideas to life through the use of computer software or coding.
Fashion Designer
Individuals working in this field create new clothing and accessories. The colors, materials, and textures of the final product are defined after the designs are sketched on paper.
Read more: Career Opportunities After NID
Salary after NID 2023 in India
After NID, the average salary ranges between INR 1.5 and 18 LPA. The table below shows the pay proportion of NID graduates in India:
| | |
| --- | --- |
| Salary after NID | Amount |
| Highest Salary | INR 18 LPA |
| Lowest Salary | INR 1.5 LPA |
| Average Salary | INR 4.91 LPA |
Read more: NID 2023 Preparation Books
Offered Salary After NID 2023
The table below shows the various job profiles by specialization and their annual average salaries after NID:
| | |
| --- | --- |
| Job Profile | Average Salary |
| Fashion Designer | INR 4.28 LPA |
| Graphic Designer | INR 3.54 LPA |
| Interior Designer | INR 3.08 LPA |
| Product Designer | INR 5.51 LPA |
| Industrial Designer | INR 5.27 LPA |
| Textile Designer | INR 4.33 LPA |
How can CreativeEdge benefit you in your NID Preparation 2023?
Creative Edge, a TopRankers initiative, is one of the top online NID coaching centers. Here, we make your NID preparation more fun and easier to process. We help you to shape your skills and nourish your qualities to excel in the exam.
Get to communicate with our top faculty.
Live classes with separate doubt-clearing sessions.
Online Mock Tests are available for self-assessment.
Get access to valuable study materials through PDF formats.
Stay focused on the subject with interactive visuals and sample papers.
Learn more: NID Online Coaching