What to expect from this article: NID is a top design college, and the best part about studying here is how well-trained and sociable the faculty is. Aside from that, students from all backgrounds come here to study design, which enriches the learning experience even more. Look through the article below for a more detailed description of life at NID.
Being a national institution, NID allows you to meet individuals from all states of the country. The place is loaded with fascinating and inspiring individuals who inspire you with their creative energy.
The campus is lovely, calm, and peaceful in the middle of the city. The National Institute of Design has an extensive library, multiple workshop spaces, and more.
Do you want to get more information about campus life? Read through the post that will give you a complete insight into life at NID.
How Life is at NID Ahmedabad
As we all know, the National Institute of Design (NID), Ahmedabad, is globally recognized as one of the best multi-disciplinary establishments in the field of design education as well as research.
The establishment functions at NID are a self-governing body under Industrial Policy & Promotion, Ministry of Commerce & Industry, and India.
NID has been proclaimed 'Organization of National Importance by the Act of Parliament through the National Institute of Design Act 2014.
Download Free Study Material for NID 2023 Exam by CreativeEdge
This article will explore the factors that revolve around a student's life at NID Ahmedabad.
How do I get Admission to NID Ahmadabad?
In India, various Design and Architecture entrance exams are conducted by different colleges to offer admission to design and architecture courses every year.
To get into the National Institute of Design University, you need to appear for a written test conducted by the university.
The written test follows a Studio Test, which additionally has audio-visual media questions, and finally, you have to appear for the Interview round.
To apply for the NID Entrance Exam, you must have completed your class 12 from any recognized university, and your age should be below 20 years.
How is Education at NID?
The fundamental goal of NID is to educate students like you on how you can meet advanced design needs by modernizing the overall quality of life by making them knowledgeable about various products, frameworks, materials, design, and creative processes. Also, the institute aims to provide multiple career opportunities after completing the B. Des course for the students.
NID Ahmedabad offers courses identified with different disciplines, including undergraduate and postgraduate courses in Animation Film Design, Graphic Design, Product Design, Textile Design, Ceramic and Glass Design, Film and Video Communication Design, Furniture and Interior, and Interior Exhibition Design.
The institute offers PhD courses both full-time as well as part-time.
The faculty resemble a parent figure, and they know how to fuel the fire of innovativeness among even the shyest students.
NID regularly screens incredible old and new films in the theatre to evoke a sense of film appreciation.
You will comprehend the language of movies and figure out how to literally 'appreciate' them for all the difficult work spent on making them.
You have the opportunity to watch a ton of good quality cinema. French, Italian, and art movies are often screened at the theatre.
There are numerous studio spaces on the campus where you will work with wood, metal, styrofoam, texture, glass, and pottery; that is just the tip of the iceberg!
The first year is when you investigate and explore everything. You learn how to draw, paint, finish and cut wood, develop your designs on paper, appreciate the value of movies, and understand the culture, psychology, and humanities.
In the second year, you have to pick your specialization and acquire more specific abilities.
In the subsequent years, you draw closer to the industry requirements and are ready to jump-start your professional journey by the end of graduation.
How is the Infrastructure at NID?
The NID campus is beautiful and located in the heart of Ahmedabad city. You will find many facilities such as transport connectivity, excellent infrastructure, and a well-maintained campus.
The college is next to the Sabarmati river; you can see the picturesque river from the top floors.
The campus is one of the city's most delightful, quiet, and serene spots. Lush trees, beautiful birds such as peacocks, and other animals freely wander around the campus.
A small basketball court inside the hostel is a great place to hang out after class and start conversations with your batch mates.
The whole campus has been wonderfully designed with the successive unfolding of spaces. No designated way to reach a particular spot; each individual can choose their path.
A few years ago, every classroom and studio space was air-conditioned. Plus, the entire campus is Wi-Fi enabled.
There is a gymnasium, mess, canteen, and chain zone full of magnificent green rooms, lush courtyards, etc.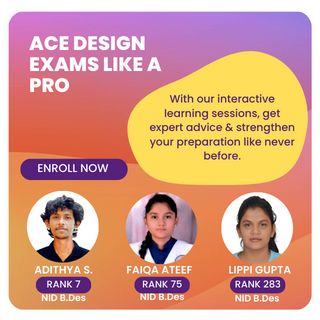 Are There Extracurricular Activities at NID Campus?
There are many opportunities at NID, and there is no limit to the growth you can have at NID.
It is limited by your potential, ability to work hard, and hunger to showcase your hidden talents.
There are a lot of cultural festivals and events throughout the year. It depends on your type of person, and you can participate in them to have immense fun and learn new skills along the way!
There is an exciting event called – 'The Poster Wars', where the entire college gets divided into four teams competing to create the best poster. These vast posters are painted for 2-3 days and then hung across the campus for everyone to see.
There are lots of international competitions happening throughout the year where you can win great prizes. The price is generally a good internship abroad, so you can work overseas even during your NID semesters.
The overall culture at NID encourages you to celebrate all the festivals throughout the year in the same fashion, with the same enthusiasm and participation level.
As it is in Ahmedabad, the institute organizes Navratri Garba, which is highly renowned.
Everybody wants Navratri! Aside from this, other festivals are likewise celebrated here, like Onam, Lohri, Ganesh Chaturthi, etc.
Annually, NID conducts a 'Monsoon Fiesta' fest, which incorporates various games, art competitions, and other events. There is also a music room in NID for students inclined to music.
Read more: Highly recommended books for the NID exam
How is Faculty at NID Campus?
The course curriculum is intricate, and the faculty vividly addresses every perspective. At NID, learning starts by doing.
Thus, when individuals soak up this methodology - they learn for eternity.
The NID faculty supports hand-driven work. This creates appreciation towards processes and teaches the value of time to students. It empowers craft-driven methodologies and pursues the conservation of artworks through design developments.
The faculty are immensely qualified and possess many years of experience working and teaching in the design field. Their perspectives empower students to achieve excellence.
The faculty at NID is your companion as well as your guide. The learning environment of the NID is inspiring, and it is an exceptionally welcoming feeling.
An auditorium highlights films, students' films, talks, and so on. Students display their work at the end of each course to receive feedback from their faculty members and peers.
Are there any Internship Opportunities at NID?
There is a huge opportunity to receive internships in various design fields and firms at NID.
Countless individuals have received entry-level positions or internships at various prestigious organizations like Microsoft, Aditya Birla, and different vehicle organizations, and that's just the beginning!
Are Placements Provided at NID Ahmadabad?
Regarding getting placed, NID is undoubtedly one of the best institutes in the country where organizations from various fields come to hire bright and talented individuals.
The demand for the design profession is gradually increasing, increasing the number of organizations visiting the campus to engage students.
Read more: Important questions with answers for the NID CAT exam
Are Internships Mandatory at NID?
Yes. Indeed, you have to work as an intern during your college years, and after the third year, you have to work as an intern, an essential part of the educational curriculum.
These internships genuinely help you when you seek out a permanent job.
Workshops And Collaborative Projects at NID
NID organizes short programs and workshops to create mindfulness, sharpen students' inventive thoughts, ideas, and innovation, and help them become better designers in their respective fields.
Annually, during January/February, NID organizes Open Electives on its campus, which are fourteen-day workshops offered to senior students from various disciplines to empower them by teaching them multi-disciplinary skills effectively.
How is the Hostel facility at NID Ahmedabad?
The National Institute of Design, Ahmedabad, offers hostel accommodation to all the out-stationed undergraduate students. The total is assigned just for one year, and students must re-apply for reallocation regularly.
The hostel section is designed well. Because of the hot climate of Ahmedabad, the hostels are designed to remain very cool even during summer. A lot of exposed brick architecture is used to achieve this.
The hostel may look old, but it is beautiful as it has its architectural reasons for being designed in this manner.
Membership to mess facilities is mandatory for all the hostel occupants, and local students can't apply for hostel accommodation. The rooms are outfitted with a bed, a work area, a seat, and extra storage space for every student.
Read more: How To Prepare For NID 2023 In 6 Months?
How is Lab Facility at NID?
There are various labs at NID: Computer Lab, Design Lab, Skill Development Lab, Innovation Lab, Ceramics and Glass Lab, Leather and Plastics Lab, Printing Lab, and Industrial Design Lab.
Similarly, there are various studios at NID: Textile Design Studio, Apparel Design Studio, GRIDS Studio, Design Vision Centre with Rapid Prototyping, High-Performance Visualisation, Design Gallery, and Seminar Hall.
Read More: Salary After NID 2023
Is there a Library at NID Ahmedabad?
The Knowledge Management Center (KMC) at the National Institute of Design, Ahmedabad, has various print, computerized, available media resources.
It has the best variety of books, periodicals, and other non-book resources.
Aside from this, it also features many student projects, documentation reports, and other research projects. The KMC additionally features a plethora of design prototypes.
It provides access to e-information databases like ACM Digital Library, EBSCO: Art and Architecture, EBSCO: Communication and Mass Media, Euromonitor International Passport GMID, Grove Art Online, Jstor database, etc.
It also provides various digital books from Cambridge University Press, Cengage, CRC press, Intellect, and Oxford Handbooks.
NID is connected with The National Digital library of India (NDLI), a venture under the Ministry of Human Resource Development, India. It enables access to several global and national libraries on a single web-based interface.
Read More: Design As a Career
Conclusion