Summary: Design Aptitude Tests are important because they provide valuable insight into a person's ability to think creatively and solve problems. Let's explore more about DAT!
The National Institute of Design (NID) administers the NID Design Aptitude Test (NID DAT) to students seeking admission to B.Des and M.Des programs at NID campuses and other result-sharing institutes.
One of the most important sections of NID is the Design Aptitude Test (DAT).
The DAT section of Design entrance exams may go by different names, such as CAT in NIFT Entrance Exam and NID DAT Mains in NID Entrance Exam.
The goal of these sections, however, is the same! It's to assess your design abilities.
NID DAT 2023 Highlights
NID includes a variety of drawing, sketching, and model-making questions that assess candidates' design and creative abilities.
| | |
| --- | --- |
| Full Exam Name | NID Design Aptitude Test |
| Short Exam Name | NID DAT |
| Conducting Body | National Institute of Design |
| Frequency of Conduct | Once a year |
| Exam Level | National Level Exam |
| Languages | English |
| Mode of Application | Offline / Online |
| Application Fee (General) | 3000 Rs [Offline] +1 More |
| Mode of Exam | Offline |
| Mode of Counselling | Offline |
| Participating Colleges | 12 |
| Exam Duration | 3 Hours |
| Number of Seats | 225 Seats |
NID DAT 2023 Eligibility Criteria
Candidates must meet the age limit, educational qualifications, and qualifying exam accepted by NID to be eligible for the NID DAT. Candidates who meet the eligibility requirements should only apply for the entrance exam. The NID eligibility criteria are explained in the table below.
B.Des - Candidates must have completed Class 12 in any subject (Science, Humanities, or Commerce) from a recognized board such as CBSE, IB, ICSE, or their equivalent. Candidates taking their Class 12 exams in 2022 are also eligible to apply.
M.Des - Candidates must have a bachelor's degree from a recognized college or university. Candidates must be no older than 30 years.
NID DAT 2023 Important Topics
In the table below, aspirants can review the topics they should study for the NID DAT:
Design Outline for Beginners

Colour Terminology

Inspiration & Design Development

Mood, Theme & Colour Inter-relationship

Design Theory

Elements & Principles Of Design

Natural & Geometrical Form

Innovation in Design

Principles of Composition

Lettering

Optical Illusion

Understanding Light & Shade

Colour Psychology & Optical Illusions

Form & Function

Colour, Pattern & Texture

Theme Development

Creative Thinking & Writing

Picture Analysis

Visual Logic

Good Design vs Bad Design

Drawing Fundamentals

Use of Measurements, Scale & proportions

Optical Illusion

Foreshortening & Perspective

Developing Themes & Colour Associations

Inspiration & Creativity

Ornaments & Motifs

Memory Drawing

Usage of Colour in Compositions

Expression & Emotion

Exercises on Imagination

Lateral Thinking

Story Pictures

Presentation Techniques

Imagination & Doodling

3D Visualisation

Graphics & Pictograms

Innovation & Creation

Design Awareness

Developing Observation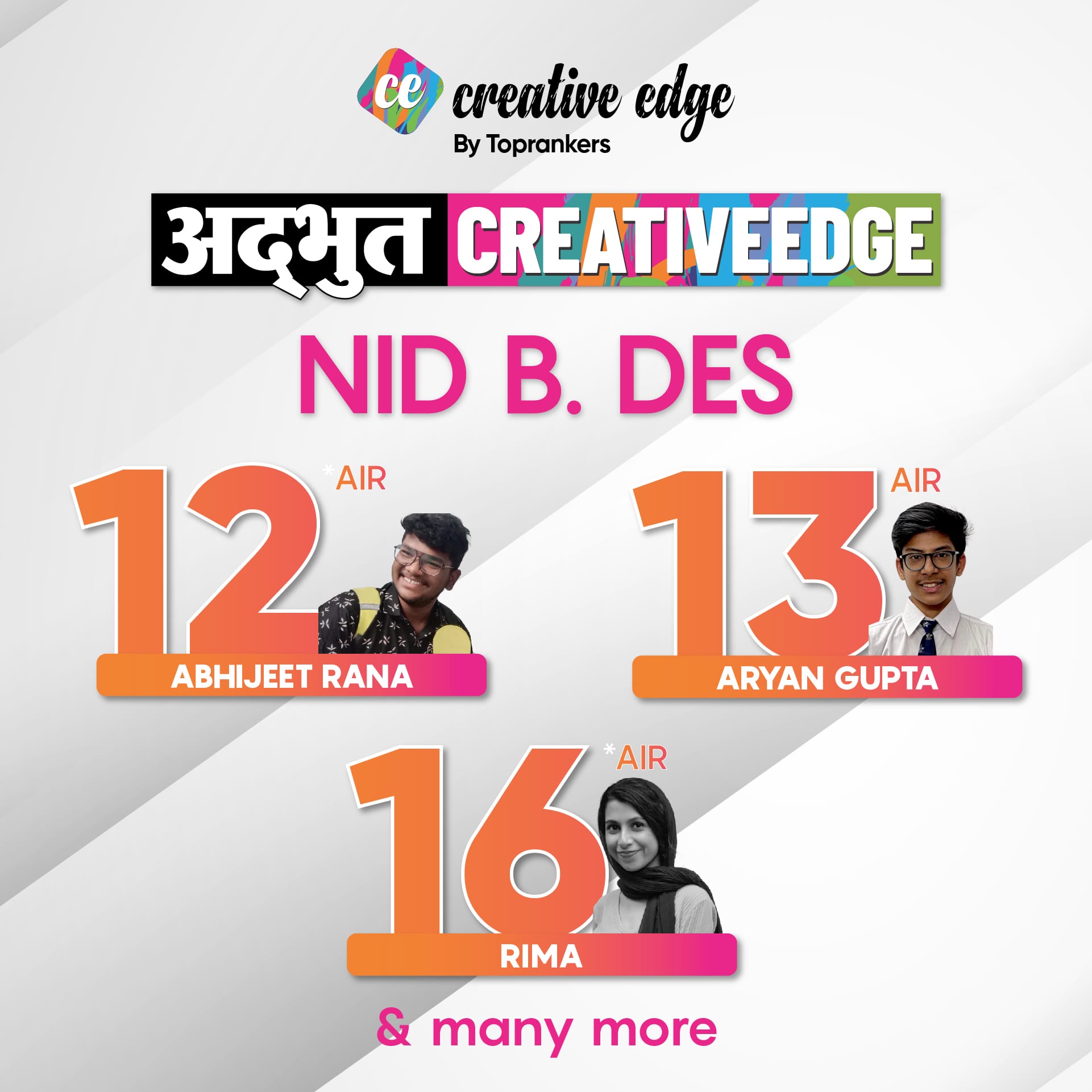 NID DAT Types of Questions
A Design Aptitude Test typically includes two types of questions, as explained below:
1. Drawing/ Sketching Test
You must draw or sketch on the provided paper in accordance with the details in the question. Following that, you may be required to explain the drawing/sketching in writing. As an example:
Design and colour a T-shirt print based on the theme "Music is the Soul of Life."
Imagine and draw a real-life situation that represents "All that glitters is not gold" meaningfully. In 5 lines, draw and explain your interpretation in the space provided. There will be no use of colour.
2. Situation Test
Design Aptitude Test includes the Situation Test, a practical exam assessing your ability to use given material creatively and innovatively. In most Design Situation Tests, you will be given materials such as ivory sheets, coloured papers, thermocol, clay, and cardboard. Following that, you must create a 3D model based on the specifications provided in the question. As an example:
Create a headgear based on a mythological character.
Create a fashion designer's diary.
Create a puzzle-inspired play area for children.
Once completed, you must write about your model, explaining how you were inspired to create it, using the provided materials, and so on.
Read More: NID 2023 Sample Papers
Preparation Tips for NID DAT 2023
There is no easy way to ace the Design Aptitude Test because there are no right or wrong answers.
However, you must develop as an artist and be passionate about your work. Besides that, consistent practice is essential for honing your exam skills.
You must continue to observe what is happening around you and try to remember it by gathering more information and putting it into practice. Some pointers to remember when preparing for the DAT section of the Design entrance exams are as follows:
Take inspiration from everything around you, such as leaves, tables, chairs, and cars.
Try to think outside the box and create a sketch depicting the given item's mood, look, and feel.
Take a common object and list various other uses for it every day. It will help you see things differently and be more creative.
Concentrate on honing your technical skills in a 3D sense, proportion, detailing, perspective, space design, etc.
Learn about paper folding and origami. This may assist you in producing a wider range of items.
As many previous year DAT and situation test questions as you can.
When drawing, sketching, or creating a model, try to time yourself and finish it within a certain amount of time.
Read More: Tips to Improve Drawing Skills for NID 2023
NID DAT 2023 Sample Questions with Answers
The following are some of the most important NID exam creative ability questions. To improve your creative abilities, try to answer these questions regularly.
Q1.Add a visual to the empty square to complete the following story using a pencil Line Drawing.
Write out the story you portrayed through the image in not more than 150 words
Q2. Observe the objects and re-draw them according to the instruction below.
Redraw the car with a human figure.
Q3. Study the image carefully. Draw a photo frame in the visual to create a story which is expressing the feeling of either happiness or anger
Q4. Identify the below-mentioned logos:
Q5. Which of the below-mentioned is not a member of SAARC:
Pakistan
Afghanistan
Iran
Maldives
Q6. Which of the following would lead to a lowering of your carbon footprint?
Purchase of NIKE T-shirt
Frequent use of cars
Purchase of locally grown vegetables
Purchase of refrigerated vegetable
Q7. Draw any three objects that cause global warming.
Q8. In the space given below, a part of the scene is already drawn for you. Complete the scene by drawing two adult human figures in relevant postures and correct proportions, using only a single line.
Q9. Observe the given object and re-draw them according to the instructions mentioned. Re-draw the bike with a human figure.
Q10. Find out the odd one from the figures given below:
Q11. a) Study the image carefully. Draw an umbrella in the visual to create a story which is expressing the feeling of either anger or humour.
b) Mention the title of the story. Communicate your story in 5 sentences.
Conclusion
Preparing for the Design Aptitude Test cannot be done overnight.
To crack the section, you must practice consistently for at least six months and think outside the box.
Examine all of the nuances of the Design Aptitude Test, including the required eligibility criteria, the types of questions asked, the syllabus, the exam pattern, preparation tips, design aptitude test questions with answers, and much more from this article before you start your preparations.