What to expect from this article: To crack NID 2023, you must have a strong awareness of your surroundings and extensive drawing practice. Check out the following tips and tricks to help you improve your drawing skills for the NID entrance exam 2023.
The NID DAT entrance exam is a three-hour marathon written test that assesses your reflection and use of shapes and colour, analytical thinking, the concept of size and proportion, clever ways to view everyday occurrences, imaginative power, and paper expression.
First, you should know that the Design Institute's entrance exam is not looking for artists but for attentive minds with an eye for detail.
We are here to sharpen that 'eye for detail' with tips on improving your drawing skills to prepare you for the NID DAT exam.
Tips to Improve Drawing Skills for NID 2023
The NID Prelims 2023 question paper will be divided into two sections: aptitude (30%) and design (70%). The Aptitude section will include questions on Quantitative Aptitude, Logical Reasoning, General Knowledge and Current Events, and English. While the NID drawing section will include questions about rendering, sketching, human figures, colour schemes, scale, proportion, design solutions, and other topics.
Balancing Skills
You should not be concerned if your sketching is poor. NID seeks a diverse set of skills. Those with high DAT scores did not always have excellent sketching skills. They did, however, generate out-of-the-box ideas. You do not need to focus all your energy on sketch mastery for NID preparation; it is sufficient if your sketches express your thoughts.
Show Your Creativity
Be prepared to tackle unexpected questions that require incredible creativity. There are questions to put your sketching abilities to the test. Make sure you've had enough practice drawing strange things. A creative solution should be found for the given situation. Maintain a high level of creativity throughout your NID preparatory work.
Choose Your Media Carefully
Sketch pens and watercolours should not be used for NID preparation. Use coloured pencils and pastels. Only use ball pens and fine liners if you are sure of the outcome. Use A4 paper for practice sessions. Drawing on large paper fosters the habit of drawing with broad strokes.
Learn more: How to prepare for NID Studio Test 2023
Practice Own Sketching Technique
Most of the previous year's candidates who qualified in NID had distinct sketching styles. It is simple to develop your style. Practice more NID drawing questions. Get out of the habit of copying great designers and experiment with different types of shading using pencils instead of markers, using broad pencil strokes to make your design look dynamic. During your practice session, you will learn a variety of techniques. Please create a point of developing one style and honing it until it is perfect.
Grow Observation
NID also assesses your ability to interpret situations from the users' point of view. It asks direct questions about current events. Keep up with what's going on in the world of design. Learn about the products considered brilliant design examples—reading popular design blogs will teach you how to critique designs. Learn to analyze your design while practising NID drawing questions to develop your skills.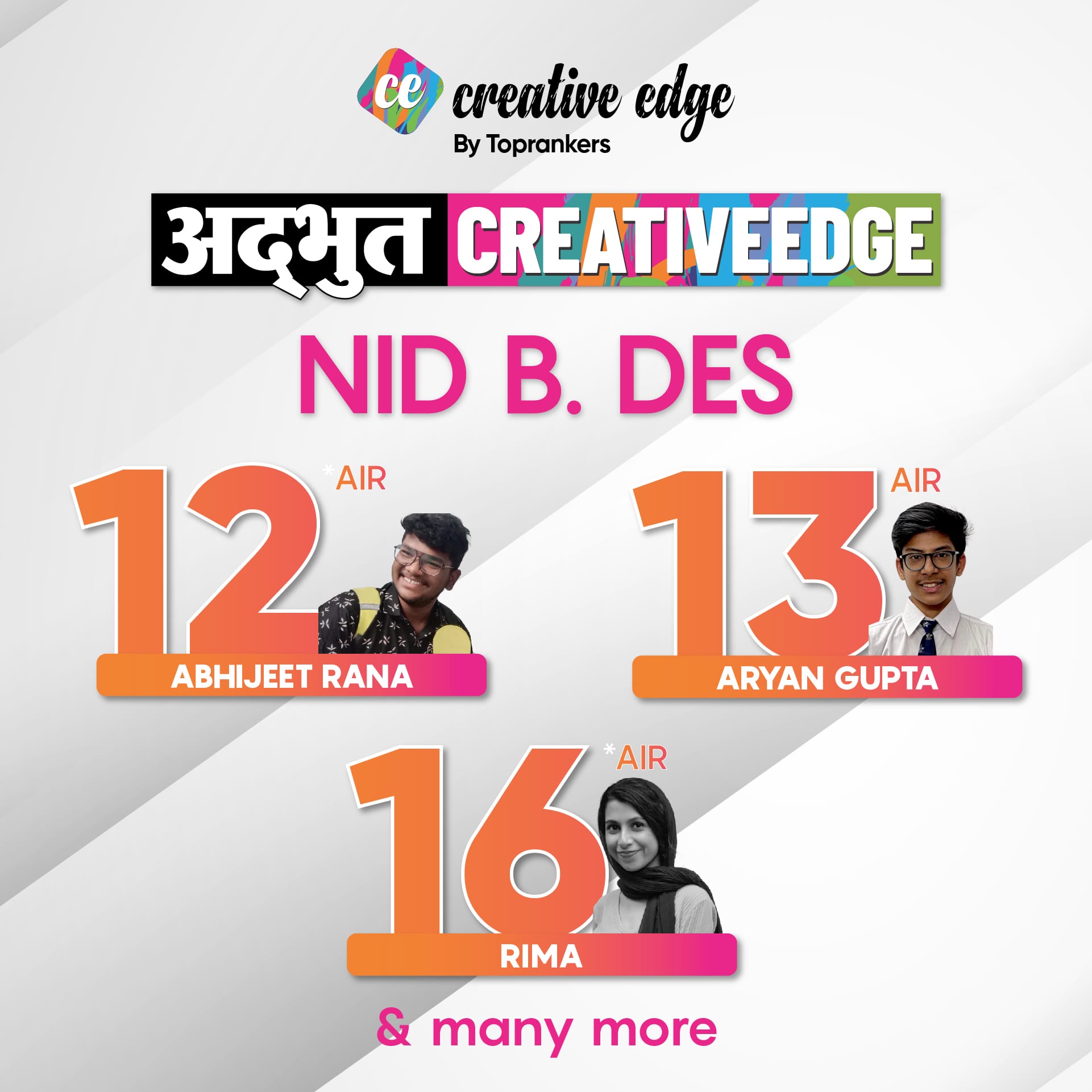 Plan And Sketch Fast
The paper is too long for NID applicants. During NID preparation, think carefully before sketching. A straightforward answer to the question is advisable. First, determine how much space you require. Save time by drawing, erasing, and drawing again. You are likelier to succeed with great ideas, excellent but quick sketching abilities, and a romantic style.
Practice Previous Year's Papers
Examine all NID previous year's papers. Solve at least ten past articles in the allotted time. Determine a comfortable method of answering the form. If you get stuck, take a deep breath, relax, and start the test during the NID preparation.
NID Drawing Test 2023 Study Materials
The NID drawing test has no stipulated syllabus. However, we have compiled a list of recommended NID Books and test papers to help you understand the NID Drawing Questions 2023.
Rendering in Pen and Ink by Robert W. Gill
Basic Rendering by Robert W. Gill
Design Drawing by Francis D.K. Ching
NID Entrance Exam Question Papers
Arihant's Ultimate Guide for NIFT/NID/IIFT Entrance Exam by Arihant Publications
Sample Questions for NID Entrance Exam
NID Entrance Exam: Sample Questions for DAT (Prelims)
Learn more: NID Online Coaching
Conclusion
Improving your drawing skills may seem daunting, but you can become a better artist with some patience, practice, and determination.
Start by understanding the fundamentals of drawing, developing a practice routine, and utilizing helpful resources. You can learn to draw more accurately, expressively, and confidently with time.
Never forget to have fun with the process, no matter how much you learn. Drawing should be a creative, fulfilling adventure, so enjoy the journey!