T.A. Pai Management Institute (TAPMI), located in south Bangalore, is one of the prestigious B-schools in India.
TAPMI is consistently ranked within the top 20 B-Schools and among the top 5 private B-schools in the country. The institute has an unbroken 35 years of placement record with around 300 industry partners.
Also, the institute has international collaborations with various universities and institutes such as Rennes School of Business, ECS Rennes, University of Dubai, Emporia State University, Macquarie University, and more.
Sukriti Gagrani, Alumni IIM Indore, who is working as a capacity growth analyst at Toprankers, had a conversation with Aditya Mohan Jadhav, Associated dean at TAPMI, to learn more about the courses offered by the institute, admission process, placements, etc.
Here are the insights of the conversation with Aditya Jadhav,
Question: What made you start UG programs for students at TAPMI?
Answer: Thank you for this question because this is one of the questions that many people have asked. Many people ask this question because if you look at BBA programs across the country, they are introduced by the Commerce and management department of universities. Very rarely, B-Schools decide to join the list. We have had a very fantastic run since it started in 1980. We will receive around 10,000 applications for our MBA program, and it is one of the most sought-after MBA programs. We have a strong placements cell.
Read more: Best study timetable for the IPMAT exam
Few students applying for MBA programs from BBA or B.com backgrounds will have work experience. That is why we always thought a good undergraduate management program was necessary for this country.
Question: Why BBA (Hons) is a 4-year program?
Answer: As you all know, the BBA (Hons) program also has an exit option per the National Education Policy for the third year. In the first year, we will teach foundations of society, and at the end of the first year, we will place them in NGOs for six months. In the second year, we will teach management courses and elective subjects in the third year. In the fourth year, we will provide placements, help them apply for the Ph. D program abroad, or help them devise a plan to start their family business. Students who want to exit after the third year can exist but will only be provided a BBA degree.
Question: How about the residential provisions and campus? Is there everything ready to welcome the first batch of students?
Answer: Yes. The campus is in Yelahanka, and it is basically the Manipul Institutes of higher education. Our building is almost ready and the program starts on 01 September 2022, and the whole building will get completed by 15 July 2022. Anyone who wants to visit the campus can certainly come and visit. Hostels are available in the camps, but staying in the campus hostel is not mandatory. Good facilities are available if you really want to stay in a hostel.
Also Read: When To Start Preparing For IPMAT 2022
Question: Is there an alternate way of admission apart from the IPMAT? Will the college conduct a separate examination?
Answer: We accept six entrance exam scores for providing admission to the BBA (Hons) program. We will accept IPMAT Indore, IPMAT Ranchi, IPMAT Rohtak, JIPMAT, JEE, and SAT scores. We will be looking at these scores only as a cut-off.
Question: What is the selection process for TAPMI?
Answer: The selection process is very simple. We will conduct the first round of admission interviews to understand whether you can think on your feet.
Read more: Short tricks to manage IPMAT exam with board exams
Question: What questions are asked during the admission interview?
Answer: We do not ask any general knowledge questions during the TAPMI admission interview. We just ask questions related to the candidate to understand better what is his own vision for himself, why he is looking for a program, and what he thinks about the program. Also, we will make efforts to clarify things if they are not clear about something. We are replacing SOP with a face-to-face interview.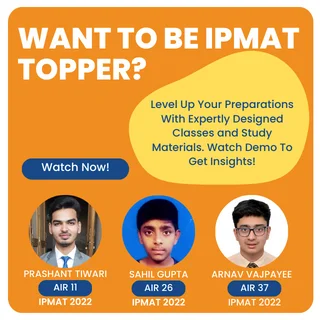 Question: What is an SOP?
Answer: The SOP is nothing but the Statement of Purpose. Suppose you apply to any international university for admission. In that case, whether it is in undergraduate or post-graduate programs, you must submit an SOP document on why you are interested in the program and why you should be admitted.
Question: What is the seat intake for this particular program at TAPMI?
Answer: We are offering 126 seats for BBA (Hons) program at T.A. Pai Management Institute.
Read more: Short tricks to prepare for IPMAT exam in one month
Question: Some students are already given the interview. When they receive the mail whether they get shortlisted or not?
Answer: Students will receive a mail within one week after completion of their interview. We will create a waitlist and shortlist, and their offers will be confirmed only when we get 12th standard scores and IPMAT scores.