Reader's Digest: Are you aspiring to crack the CLAT exam? Look no further! Discover the ultimate guide on how to prepare for the CLAT exam from the comfort of your own home. Whether you're a beginner or need to refine your skills, this article will provide you with invaluable tips and strategies to boost your chances of success.
Preparing for CLAT preparation. However, preparing for the CLAT 2024 exam at home is not difficult. With a proper preparation plan and time management, it is easy to crack the exam.
Are you still worried about how to prepare for the law entrance exam at home?
Well, to ease your preparation, we have curated some tips and strategies provided by our experts at LegalEdge (a pioneer in providing the best online guidance for law entrance exams) here.
Following these tips would help you better understand how to prepare for the CLAT exam at home.
Download FREE Study Materials For CLAT 2024 by LegalEdge
Tips for CLAT Preparation at Home
Preparing for the CLAT exam at home is not all difficult if the strategies and moves took you are right. With a proper study plan, the right study resources, hard work, and time management, you can easily crack the exam on the first attempt by sitting at your home.
Here are some tips to help you prepare for the CLAT exam at home.
Start Your Preparation Early
Starting your preparation early is the best plan that you must not ignore.
You must make sure to start your preparation early, at least 6 months in advance, so that you will have sufficient time for your preparation as well as revision.
With enough time at hand, you will be able to cover all the topics as per the syllabus and practise mock tests.
Wondering how to start your preparation? You can check out CLAT Preparation Tips provided by our experts, which will help you understand where to start and how to start your preparation.
Join Online Coaching
During this pandemic, opting for online coaching is the best solution.
With the help of online coaching, you can understand all the fundamentals that will help you score good marks in the exam.
You can watch our free

CLAT Online Coaching

demo class to understand how our experts will help you understand the concepts easily.
Also, our subject matter experts will guide you throughout your preparation.
Make a Study Plan
Making the best study plan is most important to crack the CLAT exam.
Make sure you prepare a

CLAT Study Plan

that includes all the topics per the syllabus and studies each subject per the schedule.
If you are already well versed in any topic, give yourself less time. Instead, allot more time for the topic you are weak in.
If you are comfortable studying at night, you should distribute more study hours.
Know Syllabus
Going through the CLAT Syllabus and exam pattern is a must.
As well know, the questions asked in the exam are now comprehension-based. So, being aware of the syllabus and pattern make it easier to pay additional attention to topics that carry more weightage.
Make sure you know the complete syllabus before making a study plan.
Time Management
Preparing for the CLAT exam at home requires a lot of hard work and time management skills,
Knowing your strengths and weakness is a must to manage your time for the preparation.
Also, taking breaks between studying sessions is important as it will help keep your mind fresh.
Practice Previous Year's Papers
Practising the previous years' papers is one of the best preparation methods for the CLAT exam.
With the help of previous papers, you will get an idea about the difficulty level and the type of questions asked in the exam.
Solving

CLAT Question Papers

will help improve your time management skills and problem-solving skills.
Also, you can improve your speed and accuracy.
Attempt Mock Tests
After completing studying all the topics as per the syllabus, try to attempt at least 2-3 mocks per week.
Solving

CLAT Mock Tests

will help analyze your preparation levels.
The detailed analysis report lets you know your errors and work on them. Your analysis is what makes a mock fruitful, otherwise its just a test that you gave.
Revision
Without revision, it is difficult to remember all the topics that you have studied earlier.
Maintain a notebook to write key points that you want to revise one day before the exam.
During revision, you can brush up on all the concepts that you read.
Timely revision is very important while preparing for the CLAT entrance exam.
Subject-wise Tips for CLAT Preparation at Home
To ease your preparation, we have provided section-wise preparation tips for CLAT 2024. You can follow these tips to enhance your preparation and score better on the exam.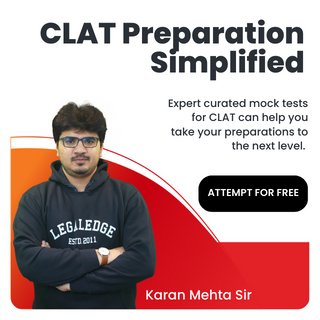 Logical Reasoning
Most of the questions are asked from topics like Critical and Verbal Reasoning, Analogies, Number Series, and Fact inference judgment.
Clear your concepts and understand the foundation of the topics that are included in the syllabus.
Follow CLAT Logical Reasoning Preparation Tips to know how to attempt questions from this section.
Practice as many questions as possible from the previous year's papers.
Legal Aptitude
The questions in the legal aptitude section are designed to test your problem-solving ability in legal issues.
Make sure you allocate 2-3 hours of your daily time for the legal aptitude section.
Improve your legal vocabulary by reading the newspaper or watching the news.
Check CLAT Legal Aptitude Preparation Tips for scoring good marks.
Practice mock tests to improve your speed and accuracy
English
A good command over reading and the english language are preferable skills to have for this section, so if you see yourself lacking in those portions, you should ensure that you are consistent with reading the editorials of the paper, and are reading competent english write ups as reading and comprehension improvement.
Ensure that you solve questions regularly to check your progress.
Solving the Daily Quizzes on synonyms, antonyms, and the meaning of words will help improve your vocabulary.
Try to learn at least 20 new English words daily.
Also, make a habit of reading the newspaper daily.
Follow CLAT English Preparation Tips to enhance your preparation levels.
Practice questions from previous year's papers to know the type of questions in the exam.
Mathematics
Elementary and intermediate-level mathematics is all you need to clear this section.
Practice is the key to enhancing your preparation.
Ensure that your concepts are clear, and that you are engaging yourself in daily practice.
Go through the CLAT Maths Preparation Tips to improve your problem-solving skills.
Solve more and more questions from previous year's papers.
Attempt at least one mock per week.
General Knowledge and Current Affairs
For current affairs, prefer major newspapers and monthly magazines.
The sources you should be making use of are Legal Edge's CLAT Post, and GK fiesta, which are really comprehensive sources of GK, and The Hindu is a great newspaper to refer to.
Having knowledge of sports, History, Art & Culture, economics, and awards will help you fetch more marks in this section.
Make sure to acquire a sound knowledge of what's happening in the country.
Follow CLAT GK Preparation Tips that will help to stay updated about all the happenings around the world.
Conclusion
Preparing for the CLAT exam at home is not only feasible but also advantageous.
By following the tips and strategies discussed in this blog, you can create a structured study plan, utilize online resources, and engage in mock tests to assess your progress.
Remember to maintain discipline, consistency, and self-motivation throughout your preparation journey. With dedication and perseverance, you can overcome the challenges and excel in the CLAT exam.
So, roll up your sleeves, set up your study space, and embark on this rewarding journey from the comfort of your home. Good luck!