Reader's Digest - Are you ready to know how to excel in your Chhattisgarh Judiciary Prelims preparation? This blog has everything to guide you with the best preparation strategy. So, let's get started!
The Chhattisgarh High Court and Chhattisgarh Public Service Commission (CGPSC) jointly every year conduct this examination for the post of Chhattisgarh Civil Judge (Junior Division Cum Junior Magistrate).
The notification of the examination is released on their official website. This examination is divided into 3 levels, Prelims, Mains and Interview. A candidate needs to qualify through all the levels to be selected as a Civil Judge.
The last Preliminary Examination for the Civil Judge post was conducted on 26th February 2023.
Tips to Prepare for Chhattisgarh Judiciary Prelims
Focus on Bare Acts:

During your preparation for Chhattisgarh Judiciary Prelims, keep a consistent focus on understanding and memorizing the bare acts.
Bare acts are the fundamental laws that form the basis of legal concepts. They hold significant importance in the exam.

Understand the Syllabus:

Before diving into your preparation, make sure you thoroughly understand the syllabus of the Chhattisgarh Judiciary Prelims.
Having a clear idea of what topics are covered will help you organize your study plan effectively.

Create a Blueprint:

Develop a well-structured blueprint or study strategy right from the beginning of your Judiciary Preparation.
Having a plan in place will ensure that you cover all the necessary topics and manage your time efficiently.

Guided Approach:

Seek guidance from various sources, such as seniors, batchmates, mentors, and teachers who have experience with the Chhattisgarh Judiciary Prelims.
Talking to those who have already gone through the process can provide valuable insights and tips.

Avoid Wasting Time and Money:

Lack of proper guidance can lead to wasting both time and money in your preparation journey.
Ensure that you have access to reliable resources and guidance to make the most of your efforts.

Choose the Right Coaching Institute:

Consider enrolling in a reputable coaching institute that specializes in Chhattisgarh Judiciary Prelims preparation.
A good coaching institute can provide structured study materials, expert guidance, and a competitive learning environment.

Stay Consistent:

Consistency is key to success in any competitive exam. Dedicate a specific amount of time each day to study and revision.
Regular and focused efforts will yield better results compared to last-minute cramming.

Practice with Mock Tests:

Alongside studying theory, practice solving mock tests and previous years' question papers.
Mock tests help you familiarize yourself with the exam pattern, improve time management, and identify weak areas.

Revision is Crucial:

Allocate time for regular revision of the topics you've covered. Revision reinforces your understanding and helps you retain information.

Stay Updated:

Keep yourself updated with any changes or updates in the exam pattern or syllabus.
Staying informed ensures that you're well-prepared for any modifications that might occur.
Check: CGPCS J Eligibility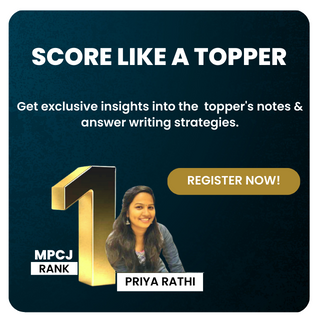 Step-By-Step Guide for Preparation
Here's a step-by-step guide to help you prepare for the Chhattisgarh Judiciary Prelims:
Know the Pattern and Syllabus:

Familiarize yourself with the syllabus, which includes important laws and acts:

Indian Penal Code
Code of Civil Procedure
Code of Criminal Procedure
Indian Evidence Act
Constitution of India
Transfer of Property Act
Contract Act
Limitation Act
The Chhattisgarh Rent Control Act, 2011
Court Fees Act
Specific Relief Act
Registration Act
Chhattisgarh Land Revenue Code
The Negotiable Instruments Act, 1881
The Chhattisgarh Excise Act, 1915

Understand the pattern:

100 Multiple Choice Questions (MCQs)
Time limit: 2:00 hours
Maximum marks: 100 (No negative marking)

Identify Weak Subjects:

Make a list of subjects you feel less confident about.
Prioritize these weak areas for focused attention from the beginning.

Create a Daily Timetable:

Develop a study schedule for your daily preparation.
Consider seeking guidance from a mentor for an effective timetable.

Important Sections and Areas:

Study important sections and topics from all subjects.
Refer to previous year's papers to identify high-weightage areas.

Prepare for Mains and Prelims Simultaneously:

Create your own comprehensive notes and ready reckoners for quick revision.
This approach helps you cover both Prelims and Mains effectively.

Practice Papers:

Obtain practice papers to simulate the exam environment.
Solve previous year's papers to understand the exam pattern.

Regular Practice and Strategy:

Consistent practice is the key to success.
Work on weak areas regularly and adjust your strategy accordingly.

Effective Revision:

Revise regularly using your self-made notes and index of the bare acts.
Keep all sections fresh in your memory through periodic revision.

Initial Focus Areas:

Begin with the following subjects:

Code of Civil Procedure
Indian Evidence Act, 1872
Indian Penal Code, 1861
Code of Criminal Procedure, 1973
Indian Constitution
Contracts Act, etc.

Guidance and Mentorship:

Seek guidance from mentors for a well-structured study plan.
Mentors can offer valuable insights and strategies for success.
Read Also - Complete Syllabus of Chhattisgarh Judiciary
Preparation Material for Chhattisgarh Judiciary
For your major chunk of preparation, you should read your bare act and can choose prep books from the following list:
| | |
| --- | --- |
| Textbook on Indian Penal Code | K.D. Gaur, Ratanlal |
| The LK.D.of Evidence | Batuklal |
| Indian Contract Act | R.K. Bangia, Dr Avtar Singh |
| Limitation Act | J.D. Jain |
| Civil Procedure with Limitation Act | C.K. Takwani |
| Criminal Procedure | R. V. Kelkar's Criminal Procedure |
| Introduction to the Constitution of India | Durgadas Basu, Prof. M.P.Singh & V.N.Shukla |
| Specific Relief Paperback | Dr Avtar Singh |
| Chhattisgarh Civil Judge Exam Guide | R.Gupta's |
| Chhattisgarh Rent Control & Tenancy Law | Dr Rajendra Kumar Sinha |
Check Out: Best Books for Judiciary
Sample Schedule to Kick-Start Your Chhattisgarh Judiciary Preparation
Given below is a set made out of all the subjects in Chhattisgarh Judiciary, you can make your own sets or follow the one mentioned below. Start with the Bare Acts and then further go into detail with reference books.
Subjects

How to start

Indian Penal Code

Contract Act

Property Act

Court Fees Act

Start with a mix of subjects you find easy and difficult. Do not take all easy or all difficult subjects. You can start with this set for the first 30-40 days. Make sure you make all the notes while reading bare acts

Evidence Act

Limitation Act

Specific Relief Act

Negotiable Instruments Act

Bare Acts are a must for preparing any subject. Do not rely only on books and PYPs. Index of Bare Act can be really helpful in memorizing the sections, keep a note if it. Also, mark important sections and previously asked sections for your reference in the bare acts.

CrPC

Registration Act

Chhattisgarh Land Revenue Code

The Chhattisgarh Excise Act, 1915

Subjects like CrPC can take a lot of toll on your time and efforts. Ensure that you break it down in parts while learning and memorizing. Pair it with easy subjects while learning so that it does not feel burdensome.

The Chhattisgarh Rent Control Act, 2011

Code of Civil Procedure

Indian Evidence Act

Spend time in revising the subjects you have already covered
Make sure that you always keep yourself updated on all the legal news and important recent judgments. It will play a vital role in your interview later and will help you understand the law better.
Special Tips Judiciary Gold's Faculty
Most questions in Chhattisgarh Judiciary Prelims are direct, therefore it is a must to read everything from the Bare Acts.
Students can refer to other books for concepts and note making.
Start making notes from the first day itself, it will help you in understanding the concepts better and you will be able to remember the sections easily.
Making tables and charts can also be helpful in simplifying the sections, orders and acts.
Make a timetable for yourself, follow a schedule given by your mentor or faculty and keep track of your progress in preparation by giving regular mocks and tests.
You cannot cover everything at once. Make a mix of difficult and easy subjects for your preparation. Keep track of legal updates by reading the newspaper regularly.
Mock tests are a must. Mocks help you in getting into the feel of the exam and your score in mock tests also give you a clear image of your preparation progress.
Ask as many doubts as possible. Do not shy away from asking doubts from your teachers and mentors, no matter how silly they sound, asking will help you grow and learn better.
Do not stress, stress will pull your confidence down and will affect your preparation adversely. Keep yourself motivated, do not stress, stick to your preparation and stay away from unnecessary distractions.
Mock tests give the real picture; therefore, it is a must to solve as many mock tests as possible. And if you are unable to solve the mocks, you can also practice questions. Make a target to solving at least 350-400 questions per day after completing your syllabus thoroughly or if only a few days are left for your exam.
Nothing beats the power of consistency. If you are regular with your studies and follow your timetable properly, you can easily crack Judiciary in a single attempt. Remember that consistency can be a game changer.
Nothing beats the power of consistency. If you are regular with your studies and follow your timetable properly, you can easily crack Judiciary in a single attempt.
Why are PYPs (Previous Year Papers) Important?
PYPs help you in understanding the Chhattisgarh Judiciary syllabus a lot better.
It develops a better understanding of the more important and less important areas of any subject.
You also get a fair idea of the directness of questions while getting into the feel of the examination when you solve the paper.
Analyzing all the previous year's papers can make you understand how the pattern might have evolved in all the years and will give an insight on how the upcoming exam can be.
Do not forget to discuss all the important areas with your Mentors for a better approach towards your examination.
Preparation can be overwhelming at times and the vastness of the syllabus can scare you, but don't worry, we have your back. Stick to the tips given in this article and if you need personalized help, our mentors are here to help. Enroll now for expert guidance on Judiciary Preparation.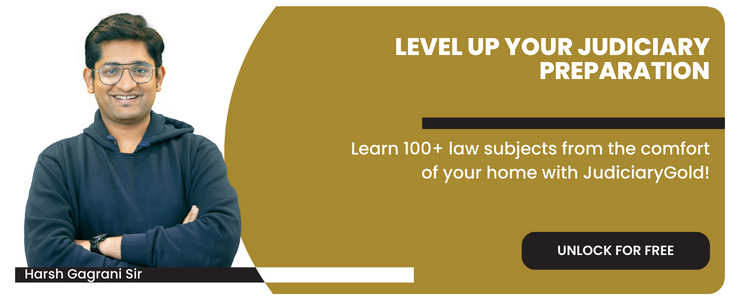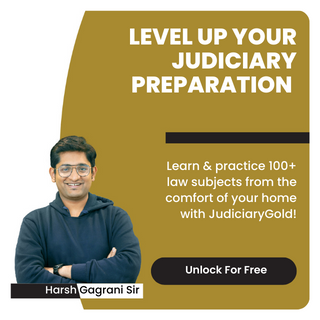 Don't Miss - Chhattisgarh Judiciary Cut-off
Key Takeaways
Bare Acts Foundation: Master bare acts for core legal understanding, crucial for exam success.

Syllabus Clarity: Understand syllabus thoroughly to plan and cover all topics effectively.

Structured Strategy: Create organized study plan from start, ensuring comprehensive coverage.

Guided Learning: Seek advice from mentors, seniors for valuable insights.

Resource Value: Reliable resources prevent time and money wastage.

Coaching Advantage: Reputable coaching aids with materials, expert guidance.

Consistent Effort: Regular, focused study surpasses last-minute cramming.

Mock Tests Benefits: Practice mocks, past papers for pattern familiarity.

Effective Revision: Regularly revise for better retention.

Stay Updated: Be aware of syllabus, pattern changes.

Personalized Guidance: Mentorship tailors strategy to you.

Past Papers Use: Previous papers reveal crucial topics, question types.

Balanced Approach: Mix easy, tough subjects in study plan.

Consistency Wins: Regularity is key to single-attempt success.

Overwhelm Management: Follow tips, seek mentorship for focused prep.
We hope this blog solves all your doubts about how you can prepare for the Chhattisgarh judiciary prelims examination for a good result. Happy Reading!