Consistency is the key to excel in Judiciary examination. Irrespective of the state you are targeting your consistency in Judiciary Exam Preparation will be the most important factor in your entire preparation journey.
In this article we will discuss:
How to stay consistent with your preparation with Judiciary Exam Preparation?
What is the key to stay motivated?
10 powerful tips for consistency.
Judicial recruitment exams take a long time. If you are a Judiciary aspirant is bound to have a lot of patience because there is no fixed date for notification and there is no pattern of recruitment cycle for any state. And often announcement of notifications takes a lot of time which affects your consistency as a Judiciary Aspirant.
Read this blog post to learn why consistency is important in judiciary exams and how to be consistent in judicial service preparation.
Also, be one of the few aspirants to know the 10 ultimate secrets to be consistent through your preparation journey.
Download FREE Study Material for Judiciary Exam by Judiciary Gold
Consistency in Judiciary Exams: Why is it Important?
Consistency plays a key role in the life of a judiciary aspirant.
Being consistent in the Judiciary examination preparation means dedicating yourself to your study goals, staying focused on scoring at least the minimum cut-off marks for your practice tests and mock tests, and finally cracking your judiciary exam.
Considering the length and breadth of at least a year-long three-tier judicial service exam, it is natural to get out of the way. It is the critical driver that will help you achieve your dream of being a civil judge.
Judiciary Service Exams require a long-term commitment and involve sustained effort from the aspirants.
As the toppers say, 'it is not the destination that matters; the journey of reaching the destination teaches you to be a successful judge.
How to be Outrageously Consistent with Judiciary Exam Preparation?
As per the latest statistics, only three out of ten candidates who appeared for the judiciary exams could score the minimum qualifying marks.
After a detailed survey of those aspirants, we were not surprised to know that only the candidates who were consistent throughout the process, from the Preliminary stage to the Interview, cracked the exam.
# 10 Powerful Tips to be More Consistent with Judiciary Preparation
Discipline, accountability, and responsibility are all parts of staying consistent. Consistency can spell the difference between failure and success, and consistency can help any aspirant achieve success in the Civil Judge exam.
So, here are the ten most important tips to improve your consistency in the Judiciary exams.
1. Find an Absolute Goal - A pre-decided goal will help you stay motivated in the long run. And motivation is the opposite side of the coin of consistency.
Having clear goals will motivate you and keep you consistent. If you are preparing for the Judicial Service Exam, shortlist one-two states for which you wish to be a Civil Judge. Don't give every other judiciary exam under the sun.
The difficult question is how to choose the best from the rest. Generally, most candidates give preference to their home state.
However, your second or third preference can be the neighbouring states. Follow one course until success.
For instance, if you reside in New Delhi permanently, you can apply for the Delhi Judiciary exam. Check if you satisfy all the eligibility criteria mentioned in the official notification beforehand. Besides this, you can also apply for Haryana Judiciary and Uttrakhand Judiciary exam.
2. Take Inspiration from Toppers - The judicial service exam is a year-long exam. Hence, finding a constant source of inspiration can be a bit tedious.
There is no need to stay loyal to any individual topper. Obviously, you can choose and change your favourite Civil Judge from time to time.
Keep an eye out for the exceptional work these toppers do as Civil Judge.
If you're having difficulty staying consistent while preparing for the judiciary exams, maybe you can take inspiration from other people's experiences and stories.
Consider reading some books or taking advice from a life coach or mentor who can help you gain clarity and focus in your life. Learn from the life story of other Civil Judges.
3. Plan a Solid Strategy to be a Civil Judge - Your overall goal of becoming a Civil Judge is broad in vision and scope. So, divide it into smaller bits that you can achieve in shorter periods.
Strategizing the Judicial Service Preparation will reap sweeter fruits in the initial stages.
For example, if your dream of becoming a Civil Judge will take one year to complete, make a detailed plan for every month. Break your strategy into three parts; Prelims strategy, Mains strategy, and Interview strategy.
Focus on the first month: what all you must do for every month, then weeks, and then days. With a proper schedule and timetable, you will see what you need to do precisely at specific points in time, and everything becomes clear.
4. Set Realistic Goals - Set predefined goals that are achievable and practical at the same time.
Do not overburden your body and mind with challenging, unachievable goals; these won't fetch you marks in the long run and will also be a source of demotivation. Be realistic in your judiciary exam preparation.
For instance, if you are a beginner in the judiciary exam preparation, you might start with fewer study hours than an aspirant who has been in the Judicial Examination preparation for ten months.
Don't force yourself to study for long if your body or mind doesn't allow it. Study only when you are interested in learning.
5. Adapt Good Change in Your Daily Routine - Follow the 'KAIZEN Strategy.' It is a Japanese strategy derived from two words, Kai and Zen, meaning good and change, respectively.
"Getting 1% better every day, at the end of the year, you will be 37% better." Make small efforts for the greater target of becoming a Civil Judge.
There are multiple ways you identify yourself. Incline or shift an angle from where you see yourself. A change in perspective can definitely bring a change in your daily habits.
For instance, each student has a unique identity in a group of judicial aspirants. There is a student, say, Rahul, who is identified as the one who mastered all the Bare Acts. Whenever anyone has doubts in the Bare Acts, they go to Rahul to clear it.
One day, he was unable to solve a doubt. Everyone mocked and revoked him of the title "Master of Bare Acts."
Instead of ignoring that mockery, he took it in an optimistic way. He went home, identified the problem areas, and created and tested solutions by studying these acts dedicatedly for five hours a day. This is how Rahul changed his identity and daily habits.
6. Prioritise the Subjects for Judiciary exam preparation - All subjects hold an equal weightage in Judicial Service Examination. This is a myth!
Like not all fingers are equal. Still, each has its own significance. Undoubtedly, all subjects in judiciary exams are important.
However, it would be best if you prioritise them based on their level; P1 for the most important, P2 for moderately important, and P3 for the least important.
Prioritising will tell you the shape of your judiciary exam preparation.
Prioritise the subjects based on the following criteria.
Prelims centric v.s Mains centric approach - If Prelims are approaching in 90 days, then prioritize the prelims-centric subjects. Else, keep it Mains oriented.
Most scoring v.s less scoring - Obviously, prioritize the most scoring subjects. But don't leave the less scoring subjects. Anyways, both of these subjects are going to fetch you some marks.
Major subjects v.s minor subjects - Cover the major subjects first. Then, you will be done with 70% preparation. Next, go for the minor subjects.
Your favourite subjects V.S your least favourite subjects - Remember, it is not your hobby to appear for the judiciary exam. It is the only way to become a Civil Judge. So, keep your likes and dislikes to yourself. Study all subjects despite your likeness for the same.
7. Follow Habit Stacking - Adding a new habit after or before every old habit is habit stacking.
For instance, brushing your teeth is an old habit, whereas revising the Indian Evidence Act is a new habit. Make your cue visible. Your cue is the thing that triggers your habit. Revising IEA should be at the back of your mind as soon as you pick the brush.
Trigger factors in the case of judiciary aspirants can be the notifications of upcoming judiciary exams, the syllabus, and the deadline. Keep these triggers visible or nearby you.
Settle or rearrange the cravings by the environment.
Choose a specific place to study wherever the trigger is visible. Whenever you don't want to study, start with the easy response.
Follow a 2 minutes rule which says that study for at least two minutes to be consistent with your judiciary preparation.
At last, reward yourself with any favourite thing for being consistent. This way, you can make a rule of stacking your brushing and revising IEA.
8. Manage Time Judiciously - Time constraint is the frequent complaint aspect by judiciary aspirants. Follow the technique of "time block." Choose certain hours from your schedule; it doesn't have to be the same always.
However, a busy schedule might have, you must sit and only study with 100% focus at that slot of time. This is a proven technique that many judiciary toppers follow.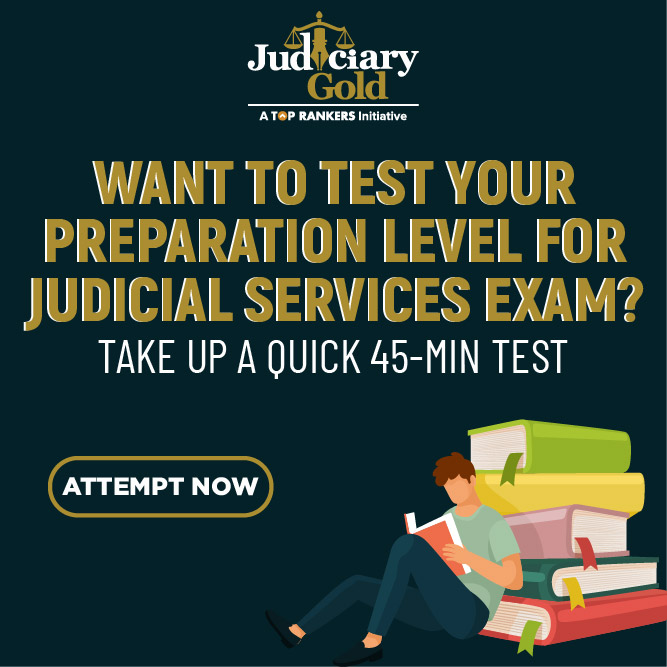 9. Possess Consistent Knowledge of Law - The main responsibility of civil judges is to formulate and apply the law.
His judgement weighs heavily upon
(1) Correctness: the law should be fair, practical, and conform to legal rules, and
(2) Consistency: judges must dispose of similar cases in the same fashion, so the law should be applied uniformly throughout the judiciary.
However, both correctness and consistency are interrelated.
Let's say you have to pronounce a judgement of the 'Basic Structure of Law'.
However, you must be aware of the fact that the Basic Structure hasn't been defined yet. It is a vague set of laws and rules which form the core of our Indian Constitution.
In this case, your judgement must be in conjunction with the 'Basic Structure of Law' as decided by the Supreme Court.
When all agree on what constitutes the basic doctrine, all know that others will apply it too.
10. Reinforcement & Punishment - Never blame yourself for failures. Treat yourself like a child.
For instance, reward yourself if you have done something good, say, completed a new topic. Reinforce your own behaviour. Console yourself for the wrong thing done, but never punish yourself.
Summing Up
Consistency is the core virtue of being a successful individual. Knowing why consistency matters in your judiciary exam preparation must be an eye-opener.
Save these 10 life-saver tips, and read them whenever you don't feel like studying. As a result of these tips, you will be able to get the necessary push you need at that particular time.
ALL THE BEST FOR YOUR PREPARATION!!