Every year, so many law graduates appear for the judiciary examinations of several states with the hope and aim to sit on the prestigious chair of a judicial officer. We all can recall the first time we went to the district court, and how fascinated we felt not only by the vast chair embellished with an emblem but also by the aura of a judge. This fascination makes aspirants study so hard and work tirelessly to fulfil their dream of becoming "Nyayadhish".
In this post, I have elaborated on the whole idea of the "Life of a Civil Judge" so that you are better informed and can see whether you can see yourself becoming one.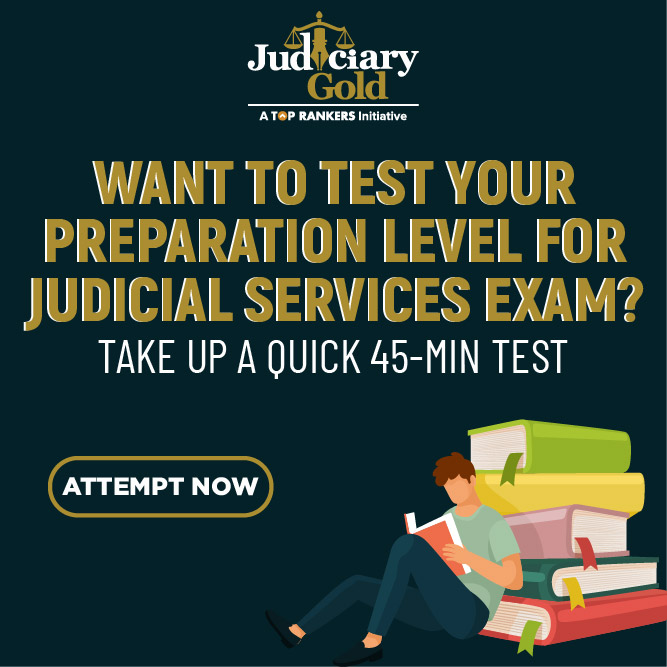 Duties & Responsibilities Of a Civil Judge
After getting selected into the services by a rigorous three-stage process, an entrant level Civil Judge undergoes arduous training under the aegis of the Judicial Academy that lasts for 11 to 12 months. During this duration, the batch of new appointees attended several lectures and seminars by legal luminaries to acquaint themselves with the field's working of courts and practicalities. They are given knowledge of the intricacies of forensics, the police investigation process etc. At the end of it all, the freshly recruited judge has to undergo a series of departmental examinations and, after that, takes up the charge in court.
As you might be aware, more than 3.6 crore cases are currently pending in the country's lower courtesy. This puts immense pressure on civil judges to diligently perform their day-to-day duties and clear as much backlog of cases as possible. Although the usual service timings are from 9 am to 5 pm, the job demands much more than this in the light of mounting work and high pressures.
Read More: Common Asked Interview Questions in UP Judiciary
Involves a lot of Reading and Preparedness
A judge is expected to be well versed not only with the law in force but also in the facts of the particular case that she/he is hearing. Consequently, the job of judicial officers involves a lot of reading. Often, the officer might also have to take the court files home to come prepared for the hearing the next day.
Intellectually Demanding Job
Being a civil judge is an intellectually demanding job as one is aware that there are huge ramifications of every decision of the court on the lives of the common people. So, a judge is required to analyse the facts well and apply relevant legal provisions in granting relief to the parties.
Shoulders huge responsibility
As fancy and glamorous as becoming a 'judicial officer' sounds, it is a job full of responsibility along with pride. A civil judge is a representative of not merely the High Court under which they are appointed but also the system of Indian Judiciary on the whole. Consequently, one has to be cautious and wary of their conduct not just in professional life but also in personal life.
One of the biggest traits required of a judge is fairness. To maintain a sense of impartiality, judges usually live a life secluded from society in certain ways. This is so because any possibility of biases in their court work can raise questions on the trust and belief of the society in the Indian justice delivery mechanism.
Every three years, each court officer is given a new assignment. This implies that judges rotate from city to city within their state every few years. Such moves have an influence on a judge's capacity to stay in office and provide problems in their personal lives.
Opportunity to contribute to society effectively
Needless to say, besides being one of the most revered government jobs in law, judicial services also offer one an opportunity to serve one's nation by aiding in the process of administration of justice. As a result, a dedicated and empathetic judge can significantly contribute to moving the wheels of the justice delivery mechanism.
With lots of honour, power, and responsibility there also come some compromises. For security concerns, a judge must forego his typical social activities, such as going to public places, informal gatherings, marketplaces, and so on.
There are instances when a judge is posted to a remote location where sometimes they have to compromise on some of the basic infrastructure and facilities.
Choose your people wisely.
Judges and their families must refrain from interacting with any random people. These unnamed individuals could be accused or family members of the accused.
Also Take: Judiciary Mock Test
Perks & Benefits of a Civil Judge
Respectable Government Job
Judicial Services is a highly prestigious and respected job. It gives you all the perks and privileges of being state government official and provides job security even in today's share and fire culture.
Judicial services are one of the highest paying government services wherein the salary is even better than IAS/IPS Officers. The salary of a Civil judge varies from state to state. Still, a newly recruited Judicial Officer mainly receives an in-hand salary ranging from 60,000 to 80,000 per month following various considerations such as the state, educational qualification, etc. However, there is an exponential increase expected in these figures after the enforcement of recommendations by the second Judicial Pay Commission.
Besides generous pay, any judicial officer is granted many other perks and allowances such as Government residence, Driver, Telephone and electricity bills, Travel allowance, health and life insurance cover etc. This means that judicial services provide decent monetary rewards and decrease one's usual expenditure by many other non-monetary benefits. As a result, the life of a Judicial Officer is much better than any other person who is earning a similar amount of remuneration through self-employment or a private job.
A Civil Judge enjoys the independence of the office. This implies that subject to the supervisory, administrative control of the superior Judiciary, a judicial officer is a master of their Court and holds independence in its working.