As we all know, the Common Law Admission Test (CLAT) is one of the highly competitive law exams conducted by the Consortium of National Law Universities.
Every year, more than 60,000 aspirants compete in the entrance exam to secure admission to 22 National Law Universities across the country.
The pressure to prepare for such a competitive entrance exam is quite overwhelming. But remember, you cannot determine what the ultimate result of the exam is going to be just by worrying about it.
Instead, it would be best to try to work out what is in your control and let all other things fall in place as they are supposed to.
Most of you might be worried about how and when to start your CLAT preparation 2024. The post below provides some simple tips and tricks to make it easier.
You can follow all the tips mentioned below and plan your preparation accordingly for better results.
Best Time to Start CLAT Preparation 2024
Many of you might be appearing for the CLAT 2024 exam but don't know when is the right time to start your preparation.
Remember, each one's grasping power and understanding capacity may vary. Therefore, it is advised to start your CLAT preparation at least 6 months to one year before the exam.
When you start early, you will have ample time to finish the syllabus and do a thorough revision.
Also, it will help you get a fair idea about where you are committing mistakes and how to overcome those mistakes.
If you have ample time, you can utilize that time to develop the core skills required to crack the entrance exam.
You can taste success in both CLAT and board exams if you are good at time management. It would help to score better if you were consistent throughout your preparation.
You must create a practical study routine that doesn't burden you with overstudies.
How to Prepare for CLAT 2024 Exam?
Most of you are not fortunate to know about your goals while in school, while a few plan it early! If you have set your goal to get admission to one of the top NLUs like NLSIU, Bangalore, you must start early and smartly!
The inability and difficulty to divide your time between CLAT preparation and school studies can sometimes cause you to lose confidence affecting your overall performance.
So, if you decided to prepare for the Common Law Admission Test from class 12, it is really essential to create a proper study plan that helps manage board exams and CLAT preparation together.
A common question running through all your minds is how and when to start CLAT 2024 preparation. To smooth out your preparation, we have curated the best tips that would help you prepare well for the upcoming exam.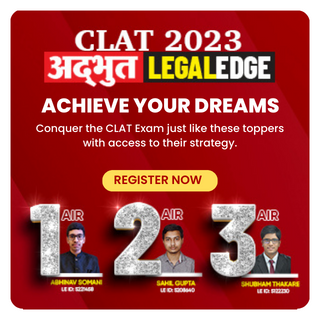 Know the CLAT Pattern and Syllabus 2024
Before starting your preparation, you must go through the detailed pattern and syllabus of the Common Law Admission Test.
Knowing the detailed paper pattern will let you understand the structure of the exam, mode of exam, and type of questions, whereas the CLAT Syllabus will help you get an idea about the important topics from the exam point of view.
Also, it will help you manage your time and get an idea of the approximate time needed for cracking the CLAT.
Prepare a Study Routine
Once you know the pattern and syllabus, the next step is creating a study plan. A good preparation strategy will help you deal with more complicated topics effortlessly.
CLAT preparation requires a consistent approach, which can only be maintained by following a study routine.
Divide the topics from most important to least important as per the weightage of each subject.
You must give equal importance to all the subjects in your

CLAT study plan

.
If you are already well versed in any topic, give yourself less time. Instead, allot more time for the topic you are weak in.
Be Focused
Most of you may plan your preparation early but don't focus more on the plan.
Remember, staying focused on your goal throughout the preparation is essential.
Do not allow distractions to affect your studies. Also, you must make sure to limit your social activities.
Get Expert Guidance
If you find it difficult to prepare any subject or topic on your own, you can always join the best online coaching for CLAT.
This way, you will be trained by expert faculty who shall explain concepts in-depth and help you reach your goal. Another advantage is you can access free mock tests, topic-wise tests, and full-length tests.
By attempting these tests, you can analyze your performance levels and focus on improving weaker sections.
Practice Question Papers
The phrase "practice markets man perfect" can correlate with CLAT exam question papers.
If you solve previous year's CLAT question papers with full dedication, the results can prove a great source of motivation for you. But, if you lack in attempting them with full concentration, they can make you demotivated.
Hence, it is essential to take attempt question papers seriously as they act as swords with two edges.
Read News Paper Regularly
Make a habit of reading the newspaper for CLAT for at least 45 minutes a day, as it will help improve your vocabulary and general knowledge.
Even preparing for board exams, don't ignore reading the newspaper.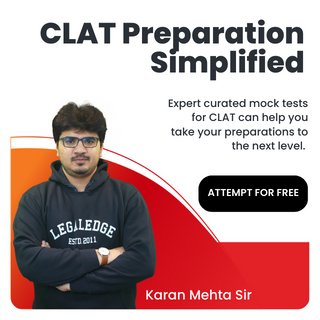 Focus on Time Management
Many of you may be performing well in sectional tests, but you cannot reach the expectation when attempting a complete paper.
This is due to consuming more time for any section, and you end up having no time for other sections. Therefore, you should work on improving your time management skills for CLAT.
Allotting time for each section is the first step toward effectively optimizing your time in the Common Law Admission Test.
Attempt Mock Tests
Taking up mock tests is one of the best methods to test your preparation levels and analyze your performance levels in the upcoming exam.
With the help of

CLAT Mock Tests

, you can improve your speed and accuracy.
You can know in which area you are weak and put in extra effort to overcome it.
Also, it will help build your confidence levels and score good marks.