Summary: Archita Kaur is an All India CUET 2022 exam topper who has completed her CUET exam with flying colours. She is one of the students of SuperGrads and shares her experience and tips on how she managed to top the CUET exam.
You can implement these strategies to ace your CUET 2024 preparations.
CUET has been successfully conducted in 547 cities within India and 13 cities outside India.
With the CUET results, we have had several students with 100 percentile marks who have great aspirations to study at top universities like DU, AMU, and other renowned central universities.
With the CUET now being an important exam in almost every student's life, it's important to get the best preparations to crack this exam.
This article walks you through conversations between our CUET expert and a topper from SuperGrads.
Success Story of CUET 2022 All India Topper
Understanding the topper's strategies will help you with the right preparation strategies you can implement to ace your CUET 2024 preparations.
Let's check the Topper strategy to crack CUET 2024
Mayur Upadhyay sir is the CUET expert handling SuperGrads and interviewing Archita Kaur.
CUET Expert: How did you get to know about CUET?
Answer: It was in the month of December; through her brother, she got to know about CUET.
She expected the paper to be having similar exam pattern to CUET and started preparing for the aptitude exam. She referred to books like Lucent's book, thorough history, maths, and logical reasoning, and prepared for upstream and downstream questions of Maths.
CUET Expert: How did you get to know about SuperGrads?
Archita Kaur: She was facing issues with her preparations for specific sections, and that's when she saw a video on youtube of an LR class of Ragavendhra sir.
CUET Expert: What made you enrol for SuperGrads?
Answer: She was impressed with the logical reasoning class conducted by Ragavendhra sir on the SuperGrads channel and immediately enrolled for the SuperGrads aptitude course. She noticed that there was a change in the pattern and syllabus, eligibility through which Archita had to switch to the domain enrolment batch.
Check: CUET Eligibility 2024
CUET Expert: What was your stream of choice, and what were the subjects chosen for the CUET test?
Answer: She is from a Humanities background, and chose subjects for the domain were history, phycology, and political science. Archita chose English as the language.


CUET Expert: How was your experience with the faculties of SuperGrads?
Answer: There was an orientation class, where everything about the exam was explained, and how the classes with be conducted. Which videos to check and classes for practice sessions, etc. Live classes were very interactive.
CUET Expert: Was recording and live classes concept at SuperGrads beneficial?
Answer: It worked out really well for Archita; as she mentioned, it saved a lot of time. Videos help understand the concepts clearly, check the NCERT and study and solve the MCQs given by SuperGrads; doubt clearing was also offered through live classes and via telegram.
CUET Expert: Did SuperGrads class help you with board exams?
Answer: Yes, it was a quick revision for many concepts in economics for boards as well.
Check: CUET application 2024
CUET Expert: What are your CUET scores in each subject?
Answer: Archita has a 100% score as she got 200 out of 200 in Political Science, phycology, History, and English. And 208 out of 300 in the General Test.
CUET Expert: Which course do you wish to take and the university?
Answer: BA Phycology (Hons) in LSR College - Delhi University.
CUET Expert: What are the telegram groups?
Answer: These are telegram groups for any subjects, and doubts related to any concept can be posted, and the teachers will clear your doubts.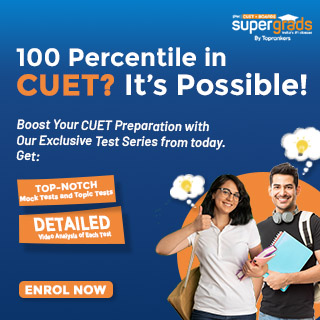 CUET Expert: How you started the preparations for domain and language?
Answer: For domain strategy, Archita kept revising all chapters; she divided the concepts into term 1 and term 2 and then prepared for deleted chapters.
Language preparation needs a lot of practice. Even in the SuperGrads practice session, many reading comprehension questions were practiced. She says building a very strong vocabulary (many questions from vocabulary had appeared in the exam), synonyms, antonyms, relation-based, poetic devices, and practice is the key.
CUET Expert: What approach must be taken for an objective-type paper?
Answer: Practise is extremely essential; SuperGrads had prepared thoroughly and studied line by line of NCERT textbooks.
The more you practice, the more you are prepared. So attend as many mocks as possible. Archita practices many MCQs after finishing every chapter.
CUET Expert: What are your suggestions for CUET 2023 students?
Answer: Prepare word by word from NCERT textbooks. For history leaders, timelines are very important. In English, prepare for vocab, RCs, etc. Concentrate on boards as well, as it will still be considered a tie-breaker.
Practice and revise multiple times to score excellent marks in CUET.
Check: Short tricks to crack the CUET exam on the first attempt
CUET Expert: Where is Archita from, and which school has she studied?
Answer: Archita is from Jorhat city in Assam, and she studied at Army Public School Jorhat.
CUET Expert: What are your 12th marks?
Answer: 97.6% was Archita's score in class 12.