Summary:

If you are in your class 12, you should consider taking the CUET exams and start your preparations soon.

Preparing for 2 exams simultaneously can be challenging. Hence the article acts as a guide to help you prepare simultaneously for the boards and the central university entrance test.
Last year, for the first time in our education system, we had CUET, one of the most significant entrance exams conducted countrywide, with 21,159 candidates scoring 100 percentile in various CUET papers. Is it easy to score 100 percentile in CUET?
The CUET preparation requires hard work, innovative work, dedication, strategic planning and perseverance to qualify for a top-notch college like DU, AMU, JNU etc., successfully. You would already know that you must start your CUET preparations 2023 with boards. However, how do you bring this into reality and practice? Know how?
The strategies in this article will ultimately land you a better rank in CUET results and help you excel in your 12th examination.
Things to Do Before CUET Preparations 2023
The journey does not begin with preparation directly; you need an overview and clarity of what you are dealing with. You must be familiar with the CUET Syllabus 2023 and the CUET Exam pattern 2023.
Start Early
The earlier you start your preparations, the more time you have to prepare for board and CUET simultaneously. Start your CUET preparations from day 1 of your board preparations.
Language and general test deals with aptitude type of questions which requires practice. At the same time, domain subjects will be covered with your class 12 syllabus. So start practising mocks of GT and language.
Comparing CUET Syllabus 2023 with Boards Syllabus
This is a must before proceeding with your CUET preparations, as you need to check whether-
There is a deleted or outdated syllabus
There is a syllabus that won't come on boards
There is a less critical syllabus for boards, but it might have a high weightage in CUET.
Once you understand the above, your preparations can alter as required.
Start preparations for CUET General Test 2023
General Test is an essential section of the CUET exam that is not a part of the board exam. So this needs special attention while preparing for the board exam as well.
You will, anyhow, prepare for the domain-based and language subjects for the board exam. But, for the General test, you will have to pay a lot of attention.
Quantitative Aptitude
Logical Reasoning
Current Affairs
Mostly, non-math students can ignore the Quantitative aptitude section but still have to focus on LR and CA. And students opting for the applied maths section must prioritize Quantitative Aptitude.
Check: CUET Exam Pattern 2023
Dedicate time for both boards and CUET preparation 2023
Understand if the subject and college you wish to choose - have a GT section.
Divide your study hours into two halves. Start with your board preparations and later move on to solve mocks of related topics; by doing so, you are covering boards and domain subject CUET questions.
When dedicating a day only for CUET preparations, make sure you solve language and GT mocks together.
Class 12 preparations will help in CUET preparations
Do not neglect your boards; your domain subjects are entirely the class 12 curriculum.
Therefore, preparing for boards equals preparing for section 2 domain subjects.
NCERT is your CUET bible
Most boards use NCERT textbooks, and your CUET paper also has concepts from the NCERT textbook.
If you thoroughly practise NCERT, scoring 100% is possible.
Check: CUET Preparation Books 2023
Practise mocks every week from the beginning of the academic year
List down the topics to be covered through a timetable. Once you finish studying a concept, start practising mocks.
Note that your preparations aren't good enough without practising a maximum number of mocks!
Solve Objective over Subjective
It would be best if you were used to writing objective answers in class 11 so you understand how to present a subjective response. So start solving objective-type questions to crack CUET.
Use time after Boards
You have more time to focus entirely on CUET after boards; however, do not wait to start CUET preparations; this time is to maximize your preparations.
Boards with CUET Preparations 2023
The heading itself defines the concept here. The syllabus for the CUET exam is always more significant than the board's syllabus. So you will have to prepare mainly for CUET and pull out some time for board preparation.
Do not try to prepare for boards and shift to CUET preparations; this will be much tougher for you.
Clear Concepts—> Focus on CUET Practice Class—> Practice Answer Writing for Boards.
This process will be more effective for your overall preparations.
Practice More Objective Questions
For CUET preparations, you will have to prepare more and more objective questions that you can stumble on.
Generally, a single subjective question can pose ten different objective questions, and you must prepare for them.
You will eventually allot less time for subjective questions than objective ones.
Get your hands on a decent amount of practice/mock tests and solve them regularly. You can easily buy a series of the best online mock tests from our portal.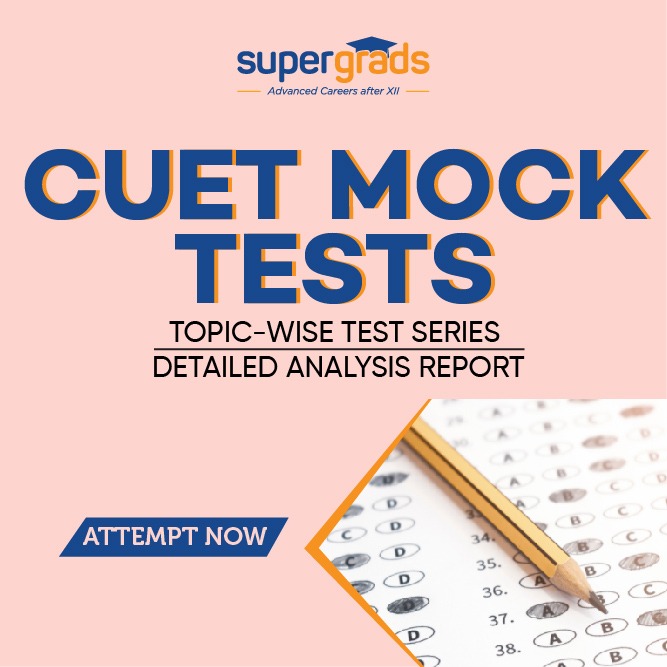 Conclusion
Prepare for CUET 2023 and get CUET online coaching for additional help.
Prepare a study plan for yourselves and manage your time for each subject.
You can also find a detailed study plan for CUET 2023 preparations and learn how to prepare a result-driven study plan.