Summary: If you are in your class 12, you should consider taking the CUET exams and start your preparations soon. Preparing for two exams simultaneously can be challenging. Hence, the article acts as a guide on how to manage CUET preparations along with boards 2024?
This year, we had CUET, one of the most significant entrance exams conducted countrywide, with 5685 candidates scoring 100 percentile in just English CUET paper. So, is it easy to score 100 percentile in CUET?
The CUET preparation requires hard work, innovative approach, dedication, strategic planning and perseverance to qualify for a top-notch college like DU, AMU, JNU, etc., successfully.
You would already know that you must start your CUET preparations 2024 with boards. However, how do you bring this into reality and practice? Know how?
The strategies in this article will ultimately land you a better rank in CUET results and help you excel in your 12th examination.
How to Manage CUET Preparations along with Boards 2024?: 8 Things to Do
The journey does not begin with preparation directly; you need an overview and clarity of what you are dealing with. You must be familiar with the CUET Syllabus 2024 and the CUET Exam Pattern 2024. Here is how to prepare for CUET and boards together -
1. How to Manage CUET Preparations along with Boards 2024?: Start Early
The earlier you start your CUET preparation with boards, the more time you have to prepare simultaneously. Start your CUET preparations from day 1 of your board preparations.
Language and general test deals with aptitude type of questions which requires practice. At the same time, domain subjects will be covered with your class 12 syllabus. So start practising mocks of GT and language.
2. How to Manage CUET Preparations along with Boards 2024?: Comparing CUET Syllabus 2024 with Boards Syllabus
This is a must before proceeding with your CUET preparations, as you need to check whether-
There is a deleted or outdated syllabus
There is a syllabus that won't come on boards
There is a less critical syllabus for boards, but it might have a high weightage in CUET.
Check: How much is 99 percentile in CUET
Once you understand the above, your preparations can alter as required.
3. How to Manage CUET Preparations along with Boards 2024?: Start preparations for CUET General Test 2024
The General Test is an essential section of the CUET exam that is not a part of the board exam. So this needs special attention while preparing for the board exam as well.
You will, anyhow, prepare for the domain-based and language subjects for the board exam. But, for the General test, you will have to pay a lot of attention.
Quantitative Aptitude
Logical Reasoning
Current Affairs
Mostly, non-math students can ignore the Quantitative aptitude section but still have to focus on LR and CA. And students opting for the applied maths section must prioritize Quantitative Aptitude.
Check: CUET Exam Pattern 2024
4. How to Manage CUET Preparations along with Boards 2024?: Dedicate time for both boards and CUET preparation 2024
Understand if the subject and college you wish to choose - have a GT section.
Divide your study hours into two halves. Start with your board preparations and later move on to solve mocks of related topics; by doing so, you are covering boards and domain subject CUET questions.
When dedicating a day only for CUET preparations, make sure you solve language and GT mocks together.
Check: CUET previous year question papers
5. How to Manage CUET Preparations along with Boards 2024?: Class 12 preparations will help in CUET preparations
Do not neglect your boards; your domain subjects are entirely the class 12 curriculum.
Therefore, preparing for boards equals preparing for section 2 domain subjects.


6. How to Manage CUET Preparations along with Boards 2024?: NCERT is your bible
Most boards use NCERT textbooks, and your CUET paper also has concepts from the NCERT textbook.
If you thoroughly practise NCERT, scoring 100% is possible.
Check: CUET Preparation Books 2024
7. How to Manage CUET Preparations along with Boards 2024?: Practise mocks every week from the beginning of the academic year
List down the topics to be covered through a timetable. Once you finish studying a concept, start practising mocks.
Note that your preparations aren't good enough without practising a maximum number of mocks!
8. How to Manage CUET Preparations along with Boards 2024?: Solve Objective over Subjective
It would be best if you were used to writing objective answers in class 11 so you understand how to present a subjective response. So, start solving objective-type questions to crack CUET.
How to Manage CUET Preparations along with Boards 2024?: Use the time after Boards
You have more time to focus entirely on CUET after boards; however, do not wait to start CUET preparations; this time is to maximize your preparations.
Check: CUET Percentile Calculator
CUET Preparations 2024 for all Streams
How to manage CUET Preparation with Class 12 boards for all streams -
1. Science Students
a. Strengthen Core Subjects: Focus on Physics, Chemistry, Biology, and Mathematics. Understand fundamental concepts as these form the foundation for many competitive exams, including CUET.
b. Practice Application-Based Questions: CUET might test your application skills. Practice questions where you need to apply theoretical concepts to practical situations.
c. Integrate Current Affairs: Ensure you're up-to-date with scientific advancements, discoveries, and notable events in the world of science.
d. Revise XI and XII Syllabus: CUET may encompass questions from both grades, so a thorough revision is essential.
e. Attempt Mock Tests: Regularly take science-specific mock tests. This not only helps gauge your preparedness but also aids in time management.
2. Commerce Students
a. Emphasis on Basics: Core subjects like Accountancy, Business Studies, and Economics require a strong understanding of basic principles. Regular revision is a must.
b. Stay Updated with the Current Economy: Being a commerce student, it's imperative to stay abreast of the latest economic trends, financial news, and business developments.
c. Practical Application: Try to solve case studies or application-based questions, especially in subjects like Economics and Business Studies.
d. Data Interpretation: Develop skills to interpret data, charts, and graphs, as these are often crucial components of commerce-based entrance tests.
e. Mock Tests: Take commerce-centric mock tests to familiarize yourself with the pattern and improve speed and accuracy.
Check: CUET 2024 Normalisation Process
3. Arts Students
a. Wide Reading Habit: Subjects like History, Political Science, and Sociology require extensive reading. However, aim for depth and ensure you understand the implications and contexts of events and ideas.
b. Current Affairs: Arts often intersect with current events. Regularly read newspapers and journals to stay informed about global events and their socio-political implications.
c. Develop Analytical Skills: Subjects in Arts often require analytical and critical thinking. Engage in debates, discussions, or essay writing to hone these skills.
d. Revisit Important Theories and Concepts: For subjects like Psychology or Sociology, it's essential to understand various theories and their proponents.
e. Arts-Specific Mock Tests: Take mock tests tailored for Arts subjects. This will offer a clearer picture of where you stand and the areas that require more focus.
How to manage CUET Preparation with Class 12
The heading itself defines the concept here. The syllabus for the CUET exam is always more significant than the board's syllabus. So you will have to prepare mainly for CUET and pull out some time for board preparation.
Do not try to prepare for boards and shift to CUET preparations; this will be much tougher for you.
How to manage CUET preparation along with boards -
Clear Concepts—> Focus on CUET Practice Class—> Practice Answer Writing for Boards.
This process will be more effective for your overall preparations.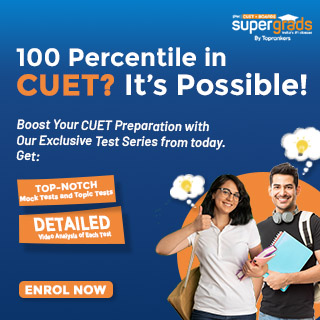 Practice More Objective Questions
For CUET preparations, you will have to prepare more and more objective questions that you can stumble on.
Generally, a single subjective question can pose ten different objective questions, and you must prepare for them.
You will eventually allot less time for subjective questions than objective ones.
Get your hands on a decent amount of practice/mock tests and solve them regularly. You can easily buy a series of the best online mock tests from our portal.
Check: DU CUET Subject Combination
How to Manage CUET Preparations along with Boards 2024?: Before and After the Boards Exam
The Common University Entrance Test (CUET) is a significant milestone for students aiming for central universities. Preparing for it alongside board exams can be challenging. Here's a delineation of how students can strategize their CUET preparations before and after their board exams:
Before the Boards Exam
Integrated Study Approach: Combine your board syllabus with CUETs. Identify overlapping topics and study them together, ensuring you meet the depth required for both.
Time Management: Design a daily study schedule, allocating specific hours for board preparation and a fixed, albeit shorter, time for CUET. This ensures continuity in CUET prep without hampering board studies.
Prioritize Weak Areas: Pinpoint subjects or topics you find challenging and give them more attention. Addressing these areas before the board exams will ease your CUET preparations later.
Practice with CUET Mock Tests: Dedicate at least one day a week to attempt CUET mock tests or solve sample questions. This helps maintain familiarity with the CUET pattern and hones your answering speed.
Stay Updated with Current Affairs: Dedicate 15-20 minutes daily to read the news or use apps that provide concise daily news updates. Being informed is crucial for CUET.
Check: How much is 99 percentile in CUET
After the Boards Exam
Deep Dive into CUET Syllabus: Now that boards are over, scrutinize the CUET syllabus in detail. Identify and focus on topics not covered during your pre-board preparation.
Mock Test Marathon: Intensify your mock test attempts. Mock tests not only reinforce your preparation but also help identify any remaining weak points.
Revise Strategically: Focus on systematic revision. Begin with the topics you find most challenging and gradually move to your strengths. Use revision techniques like flashcards, summaries, or mind maps.
Group Study Sessions: Engage in productive group study sessions. They can be beneficial for discussions, clarifying doubts, and simulating quiz-like environments to test each other's knowledge.
Relax and Rejuvenate: It's essential to maintain a calm mind for optimal performance. Engage in relaxation techniques like meditation or short walks. Ensure you get adequate sleep, especially as the exam date nears.
Conclusion
Prepare for CUET 2024 and get CUET online coaching for additional help. Prepare a study plan for yourselves and manage your time for each subject. You can also find a detailed study plan for CUET 2024 preparations and learn how to prepare a result-driven study plan. We hope the article answers ~ How to Manage CUET Preparations along with Boards 2024?