The National Testing Agency (NTA) conducts an all-India examination called the Common University Entrance Test (CUET) for students seeking admission to various programs at participating Central Universities.
CUET is a great opportunity that offers students single-window admissions to various participating universities across the country. CUET has made admissions more streamlined and student-friendly, eliminating the need to write multiple entrance exams of varying difficulty levels.
CUET exams ended in the month of September for this academic year, and the next CUET 2023 applications will open up in the month of Jan/ Feb 2023.
This article will tell you everything about the Domain Subjects in CUET 2023.
CUET Exam Pattern 2023
Knowing the CUET exam pattern is really important and crucial for cracking the exam. Exam pattern is important to understand the structure of the examination and the subjects that will appear in the examination.
To better understand the Domain Subjects in CUET 2023, it is crucial to know the exam pattern and the exam pattern of CUET.
The CUET exam will be conducted in 13 languages: English, Hindi, Tamil, Telugu, Kannada, Malayalam, Marathi, Gujarati, Odiya, Bengali, Assamese, Punjabi, and Urdu.
There is a total of 3 sections in the paper. Section 1 will have 2 sub-sections for primary and secondary language each.
Section IA will have 13 languages mentioned above with 50 questions in total, which will be reading comprehension based on passages. It will also include Literary Aptitude and Vocabulary.
Section IB will also have the same type of questions. Still, there will be 20 languages, including Japanese, Chinese, Russian, Spanish, German, Persian, Italian, Arabic, Nepali, Kashmiri, Konkani, Bodo, Dogri, Manipuri, Santhali, Maithali, Tibetan, Sindhi, and Sanskrit.
Section II will have Domain subjects where you have to answer 40 out of 50 questions. The questions will be MCQ-based and based only on the Class 12th syllabus. There is a total of 27 domain subjects in CUET.
Section III is the General Test which includes the topics like mental ability, Current Affairs, General Knowledge, Reasoning, Logical and Analytical Reasoning, Basic Arithmetics, etc.
For this section, you have to answer 60 out of 75 questions that are usually not very difficult to solve. The exact syllabus (list of topics) may change each year, but certain basic topics remain the same.
Now that you understand the overall exam pattern of CUET, you realize that domain subjects form a major part of the examination.
What is a domain-specific subject in CUET 2023?
Domain Subjects in CUET 2023 are the core subjects you need to attend to qualify for a university for your chosen course. For example, if you plan to enroll in the course of B.Sc. In biology at a university, you need to pick subjects related to your chosen course. In this case, it would be Biology, Chemistry, Physics, etc.
For any course you want to enroll in, there will be domain-specific subjects that you have to attempt in the examination. The CUET Exam Pattern includes a total of 27 domain-specific subjects.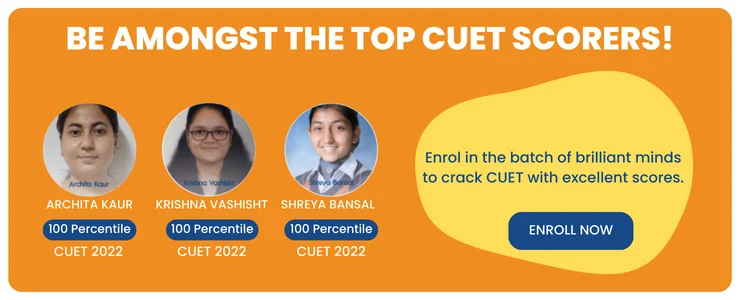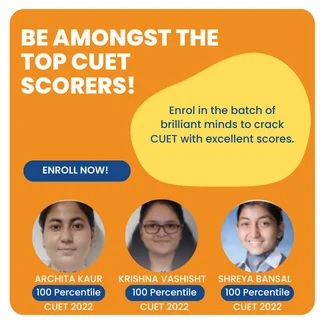 Domain Subjects in CUET 2023
Accountancy
Agriculture
Anthropology
Biology/ Biotechnology/ Biochemistry
Business Studies
Chemistry
Computer Science/ Informatics Practices
Economics/ Business Economics
Engineering Graphics
Entrepreneurship
Environmental Science
Fine Arts/ Visual Arts
Geography/ Geology
History
Home Science
Knowledge Tradition and Practices of India
Legal Studies
Mass Media/ Mass Communication
Mathematics
Performing Arts

Dance

Kathak
Bharatnatyam
Oddisi
Kathakali
Kuchipudi
Manipuri

Drama - Theatre
Music General

Hindustani
Carnatic
Rabindra Sangeet
Percussion
Non-Percussion

Physical education/ NCC/ Yoga
Physics
Political Science
Psychology
Sanskrit
Sociology
Teaching Aptitude
Check: NTA CUET Mock Tests 2023
How to select Domain Subjects in CUET 2023?
Now that you know what domain-specific subjects in CUET are let's get to how to select these domain subjects and how many in total you can select.
You can only take 9 tests in total for CUET, and there are two possible combinations. You have flexibility in choosing the number of domain subjects and the number of languages.
You can take 2 languages from Section I, a maximum of 6 domain subjects from Section II, and the General Test from Section III.
You can take a total of 3 languages from Section I, a maximum of 5 domain subjects from Section II, and the General Test from Section III.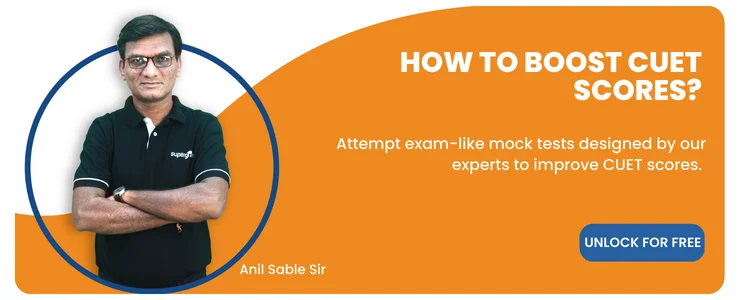 For a better understanding, here is a simple table.
| | | | | |
| --- | --- | --- | --- | --- |
| Options | Section I | Section II | Section III | Total Number of Tests |
| A | 2 languages | 6 domain subjects | 1 | 9 |
| B | 3 languages | 5 domain subjects | 1 | 9 |
Some pointers to take care of when choosing your domain subjects
Interdisciplinary topics can be found in a variety of domain-specific subjects. There will be two sections in those fields, with Section A being required for everyone. Section B may contain several Sub Sections from which an applicant may select one or more, depending on the program/eligibility university's requirements.
You must refer to the requirements of your chosen university when selecting Languages and domain-specific Subjects, as your choices must meet the university's standards or eligibility criteria.
Check: Manipur University CUET Exam Pattern 2023
How to prepare for Domain Subjects in CUET 2023?
The preparation you do will vary depending on the domain subjects you choose, but there are certain basic things you can do to prepare well for your domain subjects.
Domain subjects are usually the most difficult part of the CUET exam, and you must know the specific syllabus for the domain subjects you choose. It is important to note that the syllabus will be based on your 12th-class subjects.
The syllabus will cover all the topics that are included in your class 12 NCERT (or equivalent) textbooks.
The first step in preparing for your domain subjects is to list down the complete syllabus and complete the topics in increasing trend of difficulty. Finish the easier topics that you are confident in at the start and later jump onto more difficult topics.
Go through your standard NCERT subject books for a basic understanding. Thoroughly reading through your NCERT textbooks will make your foundation strong. Since all the topics will be essentially covered with your NCERT books, you can jump onto more advanced levels with other books.
Solve previous year's question papers and mock tests to evaluate your readiness in your chosen domain subjects. Keep practicing where you lag until you get better.]
Most importantly, give enough time for each domain subject to avoid last-minute cramming sessions.
Check: CUET Books 2023
Conclusion
Domain-specific subjects in CUET give you many different options to choose from, which can be good or bad. If you are confused with the number of options, it is always best to consult a senior or thoroughly understand the requirements of your chosen university course.
Once you have chosen your domain subjects, give enough preparation time to each and decide beforehand if you want to choose 6 domain subjects or 5 to avoid confusion.
Prepare notes, understand the syllabus, be thorough with NCERT textbooks, and practice as much as possible to score the best marks in domain subjects.
Check: CUET Online Coaching