Summary: NTA CUET syllabus 2023 is prepared by gathering all the vital topics of class 12. The syllabus is designed to test your curricular knowledge, language and general awareness. Understanding the syllabus and timely preparations can help you achieve excellent results in the CUET examination.
The National Testing Agency (NTA) prescribes the syllabus for the Common Universities Entrance Test 2023 on the official website. The syllabus is made available for all the 3 sections, namely
Section 1 (A & B): Language
Section 2: Domain-Specific subject and
Section 3: General Test
Those appearing for the exam are advised to prepare for domain-specific topics from the NCERT textbooks.
CUET 2023 Important Update: Did you know the CUET 2023 dates have been released? NTA issued a public notice on 15 December for CUET, NEET, and JEE Mains aspirants notifying the important CUET 2023 Exam Dates for the next academic year. Application process to begin from 1st week of February.
Things to remember:
You are expected to check the syllabus "after" thoroughly understanding the exam pattern.
NTA CUET Syllabus 2023 and exam patterns are not common for all! The syllabus can vary for every student, according to the UG program and the CUET college you apply.
Once you understand the exam pattern for a specific UG program, you can refer to the units/ chapters to be covered for every section in the form of a PDF file.
NTA CUET Syllabus 2023 Overview
Check the overview of CUET Syllabus 2023 in the table below.
CUET UG Syllabus 2023- Overview
CUET Exam Dates
21st to 31st May 2023
Medium
13 languages
Test Pattern
Objective type with Multiple Choice Questions
Number of Sections
4 sections
Marking Scheme
5 marks for the correct answer
Negative Marks
-1 mark for the incorrect answer
Language (any one of the 13 languages opted in Section IA) marks
200
Domain-Specific Subjects (Max. 2 subjects)
200
General Test
300
NTA CUET Syllabus 2023 and Exam Pattern
You can expect questions for language and general test topics to be asked from class 8 and above. According to the CUET Exam Pattern, the entrance exam will include four sections:
Section 1A: Language test
Section 1B: Language test
Section 2: Domain-specific test
Section 3: General aptitude test
Section 2, CUET syllabus 2023, includes subjects of class 12.
NTA CUET Syllabus 2023 for Section 1: Language Test (Sections 1A & 1B)
Section 1A list of languages is as follows:
| | |
| --- | --- |
| Assamese | Kannada |
| Bengali | Malayalam |
| English | Marathi |
| Gujarat | Odiya |
| Hindi | Tamil |
| Telugu | Urdu |
Check: CUET BA Syllabus
Section 1B list of languages is as follows:
| | |
| --- | --- |
| Kashmiri | French |
| Konkani | Spanish |
| Bodo | German |
| Dogri | Nepali |
| Maithili | Persian |
| Manipuri | Italian |
| Santhali | Arabic |
| Tibetian | Sindhi |
| Japanese | Russian |
| Chinese | Sanskrit |
The language section has 40 questions that must be answered in 45 minutes.
Check: CUET Economics Preparation Strategy 2023
This is the first section of the exam. The questions in this section will test one's proficiency in the language. You can expect questions in the form of comprehension passages testing grammar and vocabulary fundamentals.
In the comprehension section, you will be evaluated based on understanding a passage and its central theme, meanings of words used therein, etc.
The grammar section includes correcting grammatically incorrect sentences, filling in the blanks with appropriate words, etc.
For English Vocabulary, prepare 1000-2000 synonyms & antonyms.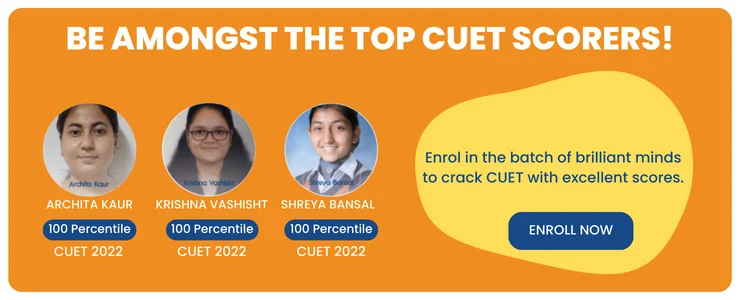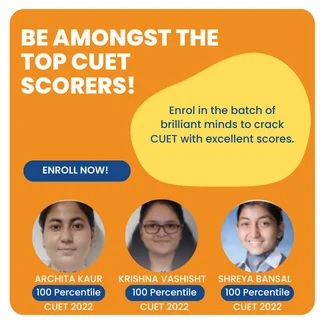 NTA CUET Syllabus 2023 for Section 2: Domain-Specific Subjects Test
The domain-specific section includes 27 subjects, out of which you have to choose any (six) domain subjects as per the exam pattern.
The pattern differs for each college and UG program, explained below with an example.
For example:
For Delhi University CUET exam, you are expected to give one language subject from section 1.
For section 2, you must choose 6 program-specific domain subjects as per the exam pattern prescribed on the official website of CUET.
Section 3 is not compulsory. However, DU recommends students attend this section. You must choose program-specific topics for the general tests as well.
Check out the detailed syllabus for the domain-specific section from the table below and enhance your Common Universities Entrance Test Preparation.
| | | |
| --- | --- | --- |
| Accountancy | Biology/Biological Studies/Biotechnology/Biochemistry | Business Studies |
| Chemistry | Computer Science/ Informatics Practices | Legal Studies |
| Economics | Engineering Graphics | Entrepreneurship |
| Geography | History | Home Science |
| .Knowledge Tradition and Practices of India | Environmental Science | Mathematics |
| Physical Education/NCC /Yoga | Physics | Political Science |
| Psychology | Sociology | Teaching Aptitude |
| Agriculture | Mass Media/Mass Communication | Anthropology |
| Fine Arts/Visual Arts (Sculpture/ Painting)/ Commercial Arts | Performing Arts | Sanskrit |
Check: CUET BCA Syllabus
Download the Domain-Specific Subjects and Units PDF
Negative marking is applicable for this section.
The domain-specific section consists of multiple-choice questions framed from your NCERT textbooks.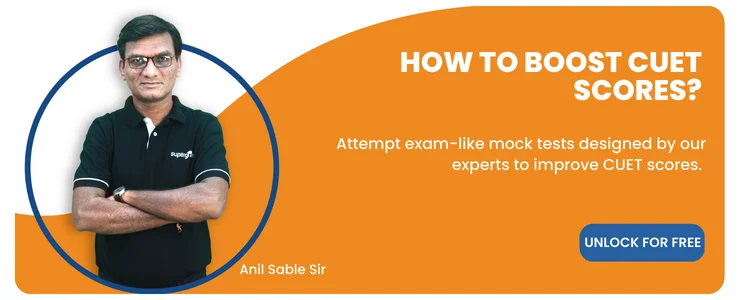 NTA CUET Syllabus 2023 for Section 3: General Aptitude Test 2023
The general test question paper tests your knowledge in the following areas.
General Knowledge & Current Affairs
General Mental Ability
Numerical Ability
Quantitative Reasoning (Simple application of basic mathematical concepts arithmetic /algebra geometry/ mensuration/ statistics taught till Grade 8)
Logical and Analytical Reasoning
Although this section is not compulsory for many programs and colleges. Top universities like DU encourage students to attend this section for admission into all UG programs.
Here are some tips to ace your General Test preparations.
Conclusion
This article covers the entire syllabus for all possible sections of the CUET 2023 test. NTA guides all the students with the units to be covered under each section to help ease your preparation journey.
Refer to CUET preparation books to understand the concepts of NTA CUET Syllabus 2023 and the type of MCQ questions that can appear in the exam.
CUET exams are expected to be conducted twice next year!
Take advantage of the best resources and prepare with our experts.