Summary: NTA CUET syllabus 2024 is prepared by gathering all the vital topics of class 12 to test your knowledge and language proficiency while also assessing your general awareness. With the right preparation and understanding of the CUET syllabus 2024; you can achieve excellent results in the exam!
The National Testing Agency (NTA) prescribes the syllabus for the Common University Entrance Test 2024 on the official website. The CUET exam syllabus 2024 is made available for all the 3 sections, namely.
Section 1 (A & B): Language
Section 2: Domain-Specific Subjects
Section 3: General Test
To score well in the exam, it's advisable to focus on domain-specific topics from the NCERT textbooks. It'll help you develop a better understanding of the subject matter and prepare you for the exam.
But wait, there's more! The NTA CUET exam is your ticket to some of the top universities in the country. So, keep reading to know more about the exam and its syllabus to prepare better. Trust us; it'll be worth your while.
Keep learning and stay curious!
Things to remember:
You are expected to check the syllabus after thoroughly understanding the exam pattern.
NTA CUET Syllabus PDF and exam patterns are not common for all! The syllabus for CUET can vary for every student, according to the college and UG program(s) you apply.
Expected NTA CUET 2024 Scheme of the Exam
Check the overview of CUET 2024 in the table below.
CUET UG 2024 Overview
CUET Exam Dates 2024

May 2024 (Expected)

Medium
13 languages
Test Pattern
Objective type with Multiple Choice Questions
Marking Scheme
5 marks for the correct answer
Negative Marks
-1 mark for the incorrect answer
Language (Section 1A & 1B) marks
200
Domain-Specific Subjects Marks
200
General Test Marks
250
Check: CUET City Intimation Slip 2024
NTA Syllabus of CUET 2024 [Section-Wise]
You can expect questions for language and general test topics to be asked from class 8 and above. According to the CUET Exam Pattern, the CUET entrance exam syllabus will include three sections:
Section 1A & 1B: Language Test
Section 2: Domain-specific Test
Section 3: General Test
Section 2, CUET syllabus 2024, includes subjects of class 12.


NTA CUET Language Test Syllabus 2024 (Sections 1A & 1B)
Section 1A list of languages is as follows:
| | |
| --- | --- |
| Assamese | Kannada |
| Bengali | Malayalam |
| English | Marathi |
| Gujarati | Odia |
| Hindi | Tamil |
| Telugu | Urdu |
| Punjabi | |
Check: CUET BA Syllabus
Section 1B list of languages is as follows:
| | |
| --- | --- |
| Kashmiri | French |
| Konkani | Spanish |
| Bodo | German |
| Dogri | Nepali |
| Maithili | Persian |
| Manipuri | Italian |
| Santhali | Arabic |
| Tibetian | Sindhi |
| Japanese | Russian |
| Chinese | Sanskrit |
Check: CUET Economics Preparation Strategy 2024
The first section of the exam is all about testing your language proficiency.
This section includes questions in the form of comprehension passages that test your understanding of grammar and vocabulary fundamentals.
Under reading comprehension - There will be three types of passages (maximum 300-350 words) testing the following -
i. Factual
ii. Narrative
iii. Literary
You'll be evaluated based on your ability to understand a passage and its central theme, as well as the meanings of words used in the text.
You must also thoroughly prepare for ->
1. Verbal Ability
2. Rearranging the parts
3. Choosing the correct word
4. Synonyms and Antonyms
5. Vocabulary
The grammar section includes correcting grammatically incorrect sentences, filling in the blanks with appropriate words, and more.
To improve your English vocabulary, apart from going through the CUET english syllabus.
We recommend reading the newspaper daily and keeping a list of new words and their meanings.
With consistent practice, you'll be able to tackle this section with ease.
Remember, preparation is key to cracking the exam. So, keep practicing and stay motivated!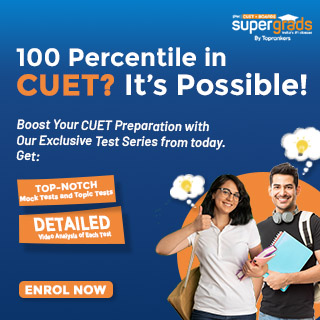 NTA CUET Domain-Specific Subjects Test Syllabus 2024 for Section 2:
The domain-specific section includes 27 subjects.
Check out the detailed syllabus for the domain-specific section from the table below and enhance your Common University Entrance Test Preparation.
| | | |
| --- | --- | --- |
| Accountancy | Biology/Biological Studies/Biotechnology/Biochemistry | Business Studies |
| Chemistry | Computer Science/ Informatics Practices | Legal Studies |
| Economics | Engineering Graphics | Entrepreneurship |
| Geography | History | Home Science |
| .Knowledge Tradition and Practices of India | Environmental Science | Mathematics |
| Physical Education/NCC /Yoga | Physics | Political Science |
| Psychology | Sociology | Teaching Aptitude |
| Agriculture | Mass Media/Mass Communication | Anthropology |
| Fine Arts/Visual Arts (Sculpture/ Painting)/ Commercial Arts | Performing Arts | Sanskrit |
Check: CUET BCA Syllabus
Download CUET 2024 Syllabus PDF of Domain Specific Subjects
Negative marking of -1 is applicable for this section.
The domain-specific section consists of multiple-choice questions framed from your NCERT textbooks.
NTA CUET General Test Syllabus 2024 for Section 3
The CUET general test syllabus is as follows:
General Knowledge & Current Affairs
General Mental Ability
Numerical Ability
Quantitative Reasoning (Simple applications of basic mathematical concepts: arithmetic /algebra geometry/ mensuration/ statistics taught till Grade 8)
Logical and Analytical Reasoning
Top universities like DU encourage students to attend the general test section for admission into their UG programs, even if general test is optional for many programs and several CUET-participating colleges.
Check: Tips to ace your General Test
Conclusion
In this article, we've compiled the entire syllabus for all possible sections of the exam. The National Testing Agency (NTA) guides all the students with the units to be covered under each section, which will help you prepare with ease. To better understand the concepts covered in the NTA CUET Syllabus 2024 and the types of MCQ questions that could appear in the exam, we recommend referring to CUET preparation books. But that's not all! To ensure you're well-prepared for the exam, take advantage of our best resources available and prepare with our experts. With their guidance and support, you'll be able to crack the exam with ease.