Summary: "CUET ki preparation kaise shuru kare?", if you find yourself asking this? We have help! Our experts have created a master plan for you to crack CUET with flying colours.
Since you compete with an enormous crowd, it is essential to prepare meticulously for CUET.
As the exam is pretty new, most of you might be wondering about how to create a study plan, how to plan your preparation, CUET preparation tips, and more.
If you have good domain knowledge of the subjects you studied until class 12, cracking the exam is not difficult.
Working on your time management skills and speed plays a vital role in qualifying for the entrance exam.
We have curated a few tips to ease your preparation that will help you understand how to prepare for the CUET exam 2024, subject-wise strategies, and more.
CUET Preparation Tips 2024
Before preparing for Common Universities Entrance Test (CUET), a road map must be prepared, which includes what subject to cover, when, how many hours you should allocate for each subject, etc.
Most of you may not have clarity on your goals while in school, while a few plan it early!
If you have set your goal to get admission to one of the top central universities, you must start preparing early!
1. Understand the Exam Pattern
Though the number of questions is the same, the paper pattern differs for each college. Therefore, knowing the paper pattern for the particular college plays a vital role in qualifying for the entrance exam.
As per the CUET Exam Pattern, the entrance exam will include four sections:
Section 1 A:13 Languages
Section 1 B:19 Languages
Section 2: Domain-specific test
Section 3:General test
Knowing the specific exam pattern for the college you have applied to is also important. Visit the official website of the CUET to know the exam pattern for the respective colleges you have applied to. Only then start with your preparations.
Check: CUET City Intimation Slip 2024
2. Know your Syllabus
Once you understand your exam pattern, the second step is to list down the syllabus, so you know what to study. Visit the official website of CUET; it has the respective syllabus for the course and the college.
Note that the syllabus may differ for every college. Therefore, it is important to carefully review and double-check your syllabus before you start your preparations.
Read more about CUET Syllabus.
3. Schedule a TimeTable
Scheduling is something that will give fantastic results if you plan it properly. However, preparing a study plan is one of the most challenging tasks for most.
Your everyday schedule should have time for CUET exam preparation.
Initially, you can give 1-2 hours for the entrance exam and the rest for the board exams.
Once the board exams get over, you can utilize the maximum of your time for the NTA CUET exam prep.


4. Make a List of Colleges You wish to Target
Before starting your preparation, you must make a

CUET Colleges

and course list.
Then, understand the previous year's cut-off and position of the counselling for the particular college.
Doing this will help you understand the marks you must score in the CUET exam to get admission to a particular course in your desired college, thus helping you enhance your preparation levels for the upcoming exam.
5. Newspaper Should Be Your New Friend
Reading the newspaper will help improve your vocabulary, grammar, and reading comprehension skills.
To improve your English language, you can refer to the Hindu or the Time of India newspapers.
You can prefer to read the Dainik Bharat newspaper to improve your Hindi language.
You must spend at least 30 minutes analyzing and reading the newspaper's editorial page.
6. Practice Mock Tests
Working on the concepts and writing mock tests based on the exam pattern is essential, as it will help you understand your strengths and weak areas, which can be improved.
Take up at least one

CUET Mock Test

every week and try to analyze your performance after completing the mock test.
Also, try to attempt as many MCQs as possible from your board exam topics. Gradually increase the number of mocks you take.
7. Revision
You should not pick a fresh topic to study at the last minute of preparations. The last days are meant for only revision, so you can revise and remember the topics you have already learned.
Revision is extremely important to have a good score. Studying without revision is "working hard, but without a plan"!
8. Why is resting Important?
Wanting to study at the best college can be a life-changing experience. Most of you may be well prepared for the examination; however, remember you can give your best attempt in the examination only when you are in a calm state of mind. If you overwork yourself and do not get sleep, it is likely even after knowing most of the answers - You may not be in a fresh state of mind to think.
This can be a sad situation. To avoid this, ensure you get good rest and have a positive mindset while taking your exam.
The following are some of the Important Tips to Crack the CUET Exam 2024 with a high score.
How to Prepare for CUET Language Test 2024?
The questions are mainly based on different types of reading comprehension passages in the language test, as given below.
Factual
Literary
Narrative (Literary aptitude & vocabulary)
You can expect 5-8 Reading Comprehension with a standard word limit of 400-450 words. Therefore, you must habitually read editorial parts of newspapers or novels to master RCs.
Short Tricks to Prepare for CUET Exam in One Month
The more you practice, the better you will become in your vocabulary and grammar. Speak English to people around you often.
Learn the art of skipping time-consuming questions yet paying attention to important details in the passages.
CUET Preparation Tips for the CUET Domain-Specific Test?
The domain specific-test of the CUET entrance exam will have 27 subjects, out of which you have to choose six domains that you wish to pursue in your UG course.
The standard of questions in this section is of class 12 level. Therefore, knowing the fundamental concepts of your chosen subject will help you score well in this section.
Also, you must choose the subjects you feel are very interesting and enjoy studying in the morning. Try to attempt easy, moderate, and challenging level MCQ questions from the NCERT textbooks.
CUET Preparation Tips for NTA CUET Aptitude Test 2024?
Practice is the only key to scoring good marks on the aptitude test. The following are some of the best aptitude preparation tips for the CUET exam.
Distribute the subjects you need to study each day in your study plan.
Allot a time limit for each concept you are studying.
Don't include tough subjects continuously. Try to mix the subjects.
If you assign a tricky concept from the quant, choose an easy topic from reasoning. In this way, you can build interest to study more and not get bored.
Jot down essential terms or complex formulas from the topic you are studying, which can help in revision time.
If you are well versed in any topic, allocate less time to that topic. Instead, give more time for complex topics.
CUET Preparation Tips for NTA CUET Quantitative Aptitude Section 2024?
To score good marks in the quantitative subject, you need more practice. Revise all the concepts of standard 8th, 9th, and 10th mathematics, as most of the questions might be asked from these topics.
Focus on averages, profit & loss, mensuration, number system, geometry, simplification, quadratic equations, ratio & proportion, mixtures & allegations, time & word, speed, speed, and distance.
Try to practice as many questions as possible, and also learn short tricks to solve maths questions quickly in the exam.
Practising easy, moderate, and difficult level questions will help you prepare in every possible way for Common Universities Entrance Test exams.
CUET Preparation Tips for NTA CUET Logical Reasoning 2024?
Karan recommends solving as many logical reasoning questions as possible that are given at the end of textbooks. Try to solve different levels of questions daily.
Practice more and more puzzle-related questions to improve your problem-solving skills.
Practice as many questions as possible from the

Previous Year's CUET question papers

.
You can also opt for Super Study Material by SuperGrads, which will cover all the topics as per the syllabus and test series for other entrance tests like NPAT, IPMAT, etc.
Take up mock-tests weekly, which helps in accessing your preparation levels.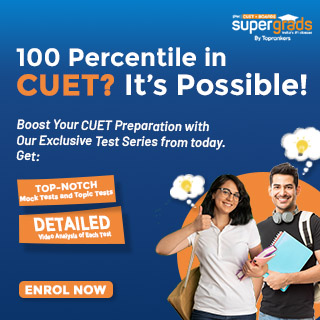 CUET Preparation Tips for NTA CUET 2024 along with Board Exams?
You can succeed in both CUET and board exams if you are good at time management. Also, you can score better if you are consistent throughout your preparation.
A proper study plan and preparation strategies will help you Manage boards and CUET preparation together.
When preparing the timetable, focus on keeping separate time for board preparation, CUET domain-specific preparation, and lastly, allot separate time to solve the aptitude section.
Board exams must be your priority, and you should work on enhancing your domain subject knowledge during your board exam preparation. And do this till the board exams are over.
After completing your board exams, you will have roughly 30-40 days to prepare for the Common Universities Entrance Test. So, utilize this entire month to enhance your preparation levels for CUET.
CUET Preparation Tips 2024: Best Books
Opting for the right book is very important to understand the concepts in-depth and score good marks in the upcoming exam.
The following are some of the best CUET Preparation Books you can include during your preparation.
Arihant's English Grammar & Composition by S.C. Gupta
Quantitative Aptitude by R.S. Aggarwal
Fundamental Methods of Mathematical Economics by Chiang A.C. and K. Wainwright
Concept of Physics Vol 1 & 2 by H.C. Verma
Is It Useful To Solve Mock Tests for CUET Exam 2024?
According to the CUET preparation tips 2024, attempting mock tests is one of the best methods to improve your speed and accuracy in the final exam.
With the help of mock tests, you can know the difficulty level of the paper and the type of questions asked in the exam.
You can test your preparation levels for the upcoming exam.
Most importantly, it can help improve your confidence levels.
Conclusion
"Kya CUET bohot tough hai?", nahi bilkul bhi nahi. If you know and follow the right preparation strategy, there is nothing called as tough. In fact, CUET is in a nurturing phase, so it's not a very tough exam to crack. If you are willing and determined, you can easily crack the CUET 2024 exam. These CUET Preparation Tips are specially curated for CUET 2024 aspirants to help you use the right strategies for the exam.
SuperGrads is India's biggest online platform, training students to crack CUET exams. SuperGrads is known as a pioneer in the coaching industry with one of the best track records of back-to-back selections. To enhance and polish your preparations, turn to SuperGrads.
Enable Ginger
Cannot connect to Ginger Check your internet connection
or reload the browser
Disable in this text field
Rephrase
Rephrase current sentence
Log in to edit with Ginger