As the Common Universities Entrance Test (CUET) is compulsory for getting admission to 53 central universities across the country, it is expected that more than 80 Lakh students will appear for the exam.
Therefore, the competition will be pretty high compared to other national-level entrance exams. You no need to prepare for the NTA CUET exam separately.
Instead, revising fundamental concepts from domain subjects you studied till class 12 and working on improving your general aptitude and reasoning skills is enough to crack the exam with a high score.
Throughout the preparation phase, you also have to keep track of your strengths and weaknesses, as it will help you aid in the development of strong areas and the understanding of weak areas that require more focus.
To make it easier, we have curated a few tips that will help you better understand how to plan your NTA CUET preparation.
What is the Pattern for the CUET Exam 2023?
Knowing the CUET Exam Pattern plays a vital role in enhancing your preparation levels.
As per the latest notice, the Common University Entrance Test will include four sections:
Section 1 A: 13 Languages
Section 1 B: 19 Languages
Section 2: Domain-specific test
Section 3: General test
You can attempt the language paper in any o e of the 13 languages, including Telugu, Tamil, Marathi, Hindi, Urdu, Malayalam, Kannada, Gujarathi, and Bengali, Assamese, Punjabi, Odia, and English.
Now, let's dive into the post to know tips to enhance your Common Universities Entrance Test preparation levels.
10 Important Tricks to Crack the CUET Exam 2023
Each one of your preparation strategies may vary. Some of you might finish the syllabus in just one month, and others might take a couple of months.
Since the exam is pretty new, most of you might be worried about what subjects to prepare for and how to prepare for the entrance exam. Well, no need to worry!
Following are some simple tips that will help enhance your CUET preparation and score good marks in the upcoming exam.
Tip 1: Newspaper Should Be Your New Friend
As we all know, section 1A is the language test paper. The questions in this section will test your proficiency in the language based on comprehension passages, fundamentals of grammar, and vocabulary.
Reading the newspaper will help improve your vocabulary, grammar, and reading comprehension skills.
To improve your English language, you can refer to the Hindu or the Time of India newspapers.
You can prefer to read the Dainik Bharat newspaper to improve your Hindi language.
You must spend at least 30 minutes analyzing and reading the newspaper's editorial page.
Tip 2: Read, Listen, and Speak English
Reading, listening, and Speaking in English is essential to score well in the Section 1A: language test paper of the NTA CUET Exam.
The more you practice, the better you will become in your vocabulary and grammar.
Reading newspapers, novels, or magazines is a great way to enhance your reading skills.
The more you listen, the more you learn! So, try listening to songs and bulletin news in English.
You can watch movies in English and pay attention to new vocabulary that you come across while watching subtitles.
Also, speak as often as possible to people around you in the English language.
Tip 3: Schedule a TimeTable
Preparing for the CUET entrance exam is one of the challenges for most of you studying for the board exams.
Remember, planning a proper study schedule will help you Manage Boards Exams and CUET Together and come out with flying colors.
Scheduling is something that will give fantastic results if you plan it properly.
Your everyday schedule should have time for CUET exam preparation.
Initially, you can give 1-2 hours for the entrance exam and the rest for board exams. Once the board exams get over, you can dedicate 8-9 hours to the NTA CUET exam.
Tip 4: Test Your Preparation Levels
According to the experts, testing your preparation is among the top 10 important tricks to crack the CUET exam 2023.
Analyzing your preparation levels plays a vital role in qualifying for the entrance exam.
Working on the concepts and writing topic tests based on the exam pattern is essential, as it will help you understand your strengths and weak areas, which can be worked on to improve upon.
Try to attempt as many MCQs as possible from your board exam topics.
Also, take at least one

CUET Mock Test

and try to analyze your performance after completing the mock test.
Tip 5: Choose the Subjects Where You can Give the Best (Domain Section)
You have to choose the subjects you feel are very interesting and enjoy studying. Without interest, you won't remember the topics for much longer.
Studying with interest helps you grow faster and better than those who don't. Before choosing the subjects, refer to NCERT or class 12 books and analyze the subject you have a good command of.
Choose the subjects from the domain section based on your interest and expertise.
Tip 6: Divide Your Strategy into Two parts (Before Boards & After Boards)
It is advised to divide your CUET Syllabus into two parts, as explained below:
Before board exams: Cover all the topics from the domain subjects and your boards.
After board exams: You can cover aptitude and language papers after completing your board exams.
Also, allocate a certain amount of time for the revision part after your board exams.
Tip 7: Make a Vocabulary NoteBook
Prepare notes for vocabulary that include synonyms, antonyms, phrases, idioms, and usage. In this way, you can build your command of a particular language.
You can also note down the new words and their meanings that you come across while reading newspapers or watching English movies.
Make sure to revise the notes at least every seven days once, as this will help you remember the words for longer.
You can also share the list of new words with your friends and ask them to do the same.
Tip 8: Analysis is as Important as Testing
The analysis is the key to improving your weak areas or subjects of the CUET exam.
As said above, You must analyze your performance levels after completing topic-wise tests or mock tests.
If you are weak in any particular subject, you can take help from mentors by joining any

best online coaching for CUET

.
Analyzing the tests will help reduce common mistakes you commit while attempting the test.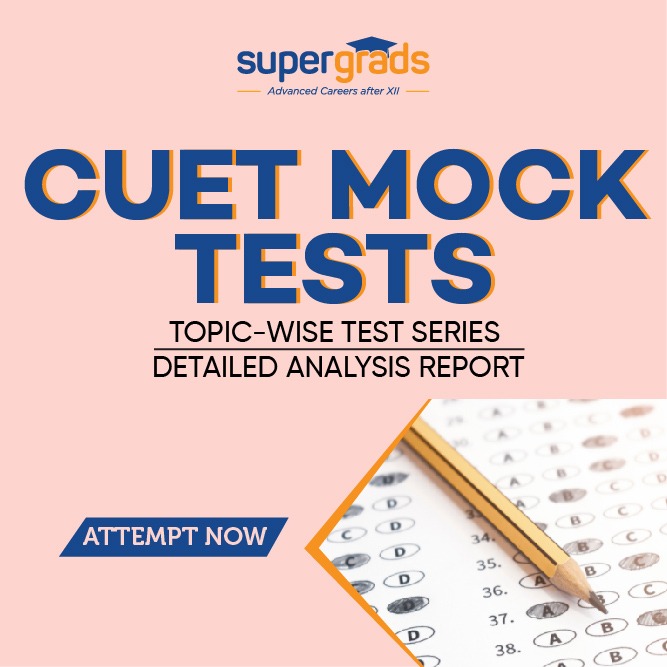 Tip 9: Make a List of Colleges You wish to Target
Before starting your preparation, you must make a list of colleges or courses you wish to get admission to.
Then, understand the previous year's cut-off and position in counselling of the particular college.
Doing this will help you get an idea about the marks you have to score in the CUET exam to get admission to a particular course at your desired college.
Also, it will help enhance your preparation levels for the upcoming exam.
Tip 10: Compete Only with One Person (Self)
Competing with yourself is one of the top 10 important tips to crack the CUET exam 2023. Firstly, don't get demotivated by seeing someone else preparation, as each one of your preparation may vary.
It is essential to check your progress every day.
Jot down the topics one-by-one in a notebook and rate yourself for a particular topic every week. In this way, you will get to know which topic you need to focus on more.
You can also analyze your monthly score by taking mock tests or topic-wise tests.