Summary: Having cleared many schools and college exams, preparing a study plan should not be difficult for most of you! However, every exam must be approached differently, especially an entrance exam like CUET, with 1 million students taking the exam. Here's how you can prepare an effective CUET Study Plan 2024.
CUET was successfully concluded last academic year, with several students scoring 100 percentile in many subjects.
Which makes us wonder if the exam is easy. Yes and No! Nevertheless, if you work hard and use the right CUET preparation tips, you can ace any entrance exam with filing colours.
Archita Kaur, a SuperGrads student, topped CUET Exam with the 100 percentile in Political Science, Phycology, History, and English.
You must know that in Common Universities Entrance Test, you will be tested mainly on your language skills, domain subject knowledge, and aptitude.
So complete the respective language, domain, and aptitude syllabus as soon as possible, then PRACTISE and REVISION are the mantras to success.
The Slideshare attached below gives you a detailed CUET Study Plan for 3 months.
Points to Remember While Making a CUET Study Plan 2024
You must remember the following important points while creating a study plan for the Common Universities Entrance Test.
Build on your strengths, work on your weakness - Minn Tan
Firstly, focus on your strengths and weaknesses and allocate the time accordingly.
Be thorough with the paper pattern and important topics for CUET before making the plan, as it will give you an idea about which topics you need to cover first.
Prioritize the sections with more marks allocated to them so you have better chances of scoring.
Make sure to distribute all subjects with equal time intervals in your daily plan.
A To-do list is a life-saver
Keep a checklist of what to study daily, as it will help you not miss out on any topic.
Time table should be a mix of both.
Don't include tough subjects continuously, and try to mix and match the topics. This way, you can build interest to study more and not get bored.
Study the subject or topic you love the most first and later move to other subjects.
Check: CUET Mock Tests 2024
How to Start a Day for CUET Preparation 2024
A saying goes, "The early Bird catches the worm." Start your day early; you have more time for CUET 2024 preparations ahead.
Begin by reading some newspapers relevant to the topics of CUET preparations. By doing so, you would begin your day in a boring manner.
Have a do-list and targets to achieve on a sheet; get crossing them once you complete studying any chapter.
This will give you a sense of achievement. Start your day with difficult subjects; you might add difficult energy for the rest of your day.
Do not forget to stay hydrated and take intervals as needed.


Time Table for CUET Study Plan 2024
Setting a goal helps you prepare a well-structured study plan and brings you closer to your targets. Each one of your preparation strategies may vary.
Therefore, making the study plan and completing the tasks on time will help you enhance your CUET Preparation, score good marks, and keep you motivated.
Most of you might be preparing for the entrance and board exams simultaneously. Suppose you are preparing for 6 hours a day; you should plan your preparation in the following way:
3 hours for CUET preparation (language & aptitude)
3 hours for board exams
The domain subjects syllabus will be common to those you studied in your classes 11 and 12. Therefore, preparing for the board exams will also help you prepare for the domain-specific test. Boards are important during tie-breakers, therefore, do not neglect board exams. Students with good scores on the board also tend to score well in CUET.
Read More: How to Manage CUET Preparations along with Boards 2024
The syllabus for boards and domain subjects can be similar, so preparations must happen simultaneously.
The preparation timing can vary for each one of you. But, if you follow the regularly scheduled CUET study plan given below, you will likely score better in both board exams and CUET.
Remember, nothing beats consistency.
| | |
| --- | --- |
| Subject | Preferred Time Limit |
| Reading Newspaper | 45 minutes |
| Language | 1 hour |
| Aptitude | 1-1.5 hours |
| Specific Domain Subject | 1-1.5 hours |
| Board exams | 2-2.5 hours |
| Revision for the day and planning for the next day | 1 hour |
| Solve Previous Year's Question Papers | Weekly twice |
| Mock tests | Weekly twice |
Subject-Wise, CUET Study Plan 2024
As per the CUET Exam Pattern 2024, there are four sections in the entrance exam. You can go through the subject-wise study plan for Common Universities Entrance Test below and plan your preparation accordingly.
Please understand the exam pattern for the concerned subjects and college; without that, do not start your preparations.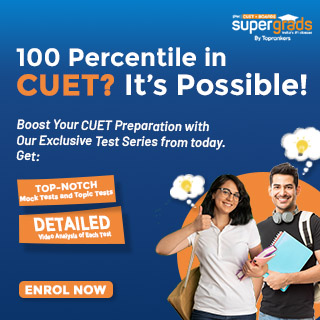 CUET Study Plan 2024 for Language Test
In the NTA CUET Exam 2024, the language questions are mainly based on different types of reading comprehension passages.
Solve 5-10 sentence rearrangement and para jumble questions every day.
Revise basic vocabulary and practice different types of questions.
Solve 4-5 RCs every day, along with revising literary devices.
Practice filling in the blanks of different kinds.
The questions are designed to evaluate your understanding of a passage and its central theme, meanings of words used therein, etc.
The grammar section entails correcting grammatically incorrect sentences, filling in blanks in sentences with appropriate words, etc.
Give more time in the study plan for topics like synonyms, antonyms, idioms & phrases, and reading comprehension.
Begin your preparation by assigning a fixed time for each topic and completing all the topics on time.
Reading newspapers can also help improve your vocabulary.
Practice many sample papers and solve mocks without which your preparations are incomplete.
CUET Study Plan 2024 Domain-Specific Test
The domain-specific section will have 27 subjects, out of which you have to choose six domains that align with the UG course you wish to pursue.
Most of the questions will be of the class 12 level. NCERT textbooks must be your bible to crack CUET. Prepare word by word to crack CUET with excellent scores.
Allocate maximum time to domain subjects in your Common Universities Entrance Test study plan.
You can join

CUET online classes

to understand the concepts in depth and learn short techniques to solve questions quickly.
The first step in preparing for your domain subjects is to list down the complete syllabus and complete the topics in increasing trend of difficulty. Finish the easier topics that you are confident in at the start and later jump onto more difficult topics.
Solve previous year's question papers and mock tests to evaluate your readiness in your chosen domain subjects. Keep practising where you lag until you get better.
Know what to study under each domain-specific subject by going through

CUET Syllabus

.
CUET Study Plan 2024 for Aptitude Test
This section has the name guess is conducted to assess your language, aptitude, logical reasoning skills, and general knowledge.
The following are some of the best aptitude preparation tips for the CUET exam:
Cover NCERT topics and focus on critical scoring topics like arithmetic - Percentage, Ratio, Average, Mixtures, Work and Time, Compound interest, Time Speed Distance, etc.
Invest at least one hour daily for the CUET aptitude preparation, and divide the subjects you need to study each day in your study plan.
Your preparation plan should also include solving

CUET Mock Tests

and sectional tests.
Jot down essential terms or complex formulas from the topic you are studying, which can help in revision time.
If you are well versed in any topic, allocate less time to that topic. Instead, give more time for complex topics.
Practice five questions ICT and current affairs section daily.
Solve sample papers and practice mocks.
Conclusion
In summary, a well-designed CUET study plan is vital for effective preparation in 2024. It enables candidates to manage their time efficiently and maximize their chances of success. By personalizing the plan, staying disciplined, and seeking guidance when needed, candidates can approach the Common University Entrance Test with confidence. Good luck on your CUET 2024 preparation journey!