Since the NTA CUET exam is expected to be held in the first week of July 2023, you have almost three months to plan your preparation.
If you have an exact idea of what to prepare and how to prepare in these three months, cracking the exam is a cakewalk.
In the Common Universities Entrance Test, you will be tested mainly on your language skills, domain subject knowledge, and aptitude.
As the exam is pretty new, most of you might be worried about how to plan your preparation plan. Well, no need to worry!
This post shall guide you through step-by-step instructions to create the best CUET Study Plan 2023 to score well in the upcoming exam.
Points to Remember While Making a Study Plan for CUET 2023
The following are important points that you must keep in mind while creating a study plan for the Common Universities Entrance Test.
Firstly, focus on your strengths and weaknesses and allocate the time accordingly.
Be thorough with the paper pattern and

important topics for CUET

before making the plan, as it will give you an idea about which topics you need to cover first.
Make sure to distribute all subjects with equal time intervals in your daily plan.
Keep a checklist of what to study each day, as it will help you not miss out on any topic.
Don't include tough subjects continuously, and try to mix and match the topics. In this way, you can build interest to study more and not get bored.
Take up the subject or topic you love the most first and later move to other subjects.
Monthly CUET Study Plan 2023
Setting a goal helps you prepare a well-structured study plan and brings you closer to the target. Each one of your preparation strategies may vary.
Therefore, making the study plan and completing the tasks on time will help you enhance your CUET Preparation and score good marks.
Most of you might be preparing for the entrance exam and your board exams. So, if suppose you are preparing for 6 hours a day, you should plan your preparation in the following way:
3 hours for CUET preparation (language & aptitude)
3 hours for board exams
Download Free Study Material for NTA CUET Exam 2023 by Super Grads
The domain subjects syllabus will be common to those you have studied in your class 11 and class 12. Therefore, preparing for the board exams will also help you prepare for the domain-specific test.
The preparation timing can vary for each one of you. But, if you are following the CUET study plan given below regularly, you could definitely succeed better in both board exams and CUET.
| | |
| --- | --- |
| Subject | Preferred Time Limit |
| Reading Newspaper | 45 minutes |
| Language | 1 hour |
| Aptitude | 1-1.5 hours |
| Specific Domain Subject | 1-1.5 hours |
| Board exams | 2-2.5 hours |
| Revision for the day and planning for the next day | 1 hour |
| Solve Previous Year's Question Papers | Weekly twice |
| Mock tests | Weekly twice |
Subject-wise, CUET Study Plan 2023
As per the CUET Exam Pattern 2023, there are four sections in the entrance exam and as explained below:
Section 1 A: 13 Languages
Section 1 B: 19 Languages
Section 2: Domain-specific test
Section 3: General test
You can go through the subject-wise study plan for Common Universities Entrance Test below and plan your preparation accordingly.
CUET Study Plan for Language Test 2023
In the NTA CUET Exam 2023, the language questions are mainly based on different types of reading comprehension passages.
The questions are designed to evaluate your understanding of a passage and its central theme, meanings of words used therein, etc.
The grammar section entails correcting grammatically incorrect sentences, filling blanks in sentences with appropriate words, etc.
Give more time in the study plan for topics like synonyms, antonyms, idioms & phrases, and reading comprehension.
Begin your preparation by assigning a fixed time for each topic and completing all the topics on time.
CUET 2023 Study Plan Domain-Specific Test
The domain-specific section will have 27 subjects, out of which you have to choose six domains that you wish to pursue in your UG course.
Questions related to the domain-specific topic will be asked in this section, and the standard of questions will be of class 12 level.
It would help if you allocated a maximum of time to domain subjects in your Common Universities Entrance Test study plan.
You can join

CUET online classes

to understand the concepts better and learn short techniques to solve questions quickly in the exam.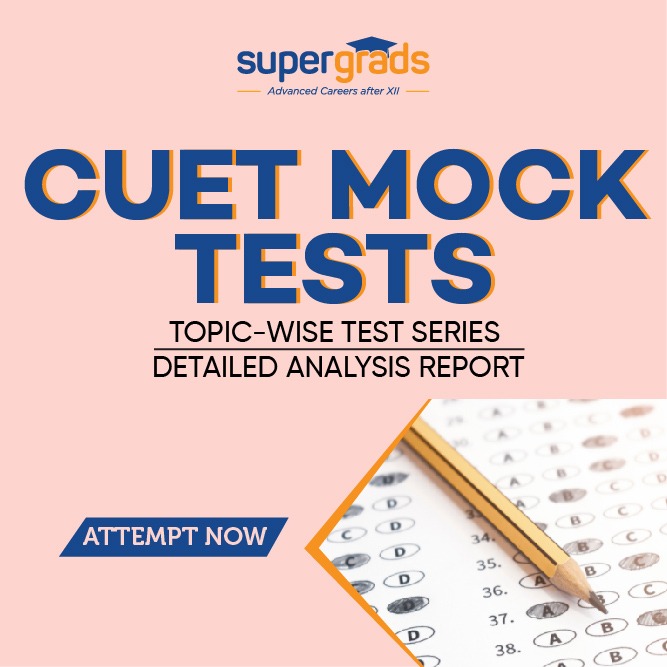 CUET Study Plan 2023 for Aptitude Test
You will be required to take an aptitude test as a part of the selection process, which will assess your aptitude, logical reasoning skills, and general knowledge.
The following are some of the best aptitude preparation tips for the CUET exam:
Cover NCERT topics and focus on critical scoring topics like arithmetic - percentage, Ratio, average, mixtures, work and time, Compound interest, time speed distance, etc.
Invest at least one hour daily for the CUET aptitude preparation.
Divide the subjects you need to study each day in your study plan.
Your preparation plan should also include solving

CUET Mock Tests

and sectional tests.
Jot down essential terms or complex formulas from the topic you are studying, which can help in revision time.
If you are well versed with any topic, allocate less time for that topic. Instead, give more time for complex topics.