Admission to the top-notch universities of the nation after clearing 12th boards is the next course of action for all the students who wish to graduate from an esteemed college/university.
CUCET ( Central Universities Common Admission Test), also known as CUET (Common University Entrance Test), was introduced to reduce the high cut-off standards for entering into prestigious colleges like Delhi University, Banaras Hindu, Central University of Punjab, and Jawaharlal Nehru University.
You will be required to take an aptitude test (CUET) administered by NTA as a part of the selection process, which will assess your aptitude, logical reasoning skills, and subject proficiency.
Your admission to the dream universities goes through the Common University Entrance Test gateway.
Why CUET aptitude preparation is so important?
The aptitude section can be a game-changer to clear CUET by NTA. Here is how!
In CUET (Common University Entrance Test), you will have competitors who just have cleared or appeared in the 12th board examination just like you did. It means, and Ideally, all are well versed with domain knowledge.
In such a scenario, the onus is on the CUET aptitude section. Your preparation for the aptitude area will be the deciding factor in the rank list.
How should I start CUET aptitude preparation 2022?
Since there is no notification around Common University Entrance Test, CUET UG Syllabus, Exam pattern, etc., we only have an anticipated idea about the exam through the print media.
The best thing that can be done is the intelligent utilization of time. Yes, do not wait for the notification; instead, work upon clearing the basic concepts of aptitude.
It is also quite explicit that aptitude sections include :
English

Numerical Aptitude/Data Interpretation

Reasoning

ICT (Information Communication Technology) & Current affairs
Now, let us walk through each section of the CUET Syllabus one-by-one
Quantitative Aptitude section of CUET 2022
As per the print media, the CUET Aptitude section will have 50 questions to be done in 60 minutes. There will be ten questions in the CUET Quantitative Aptitude section per the expected CUCET exam pattern.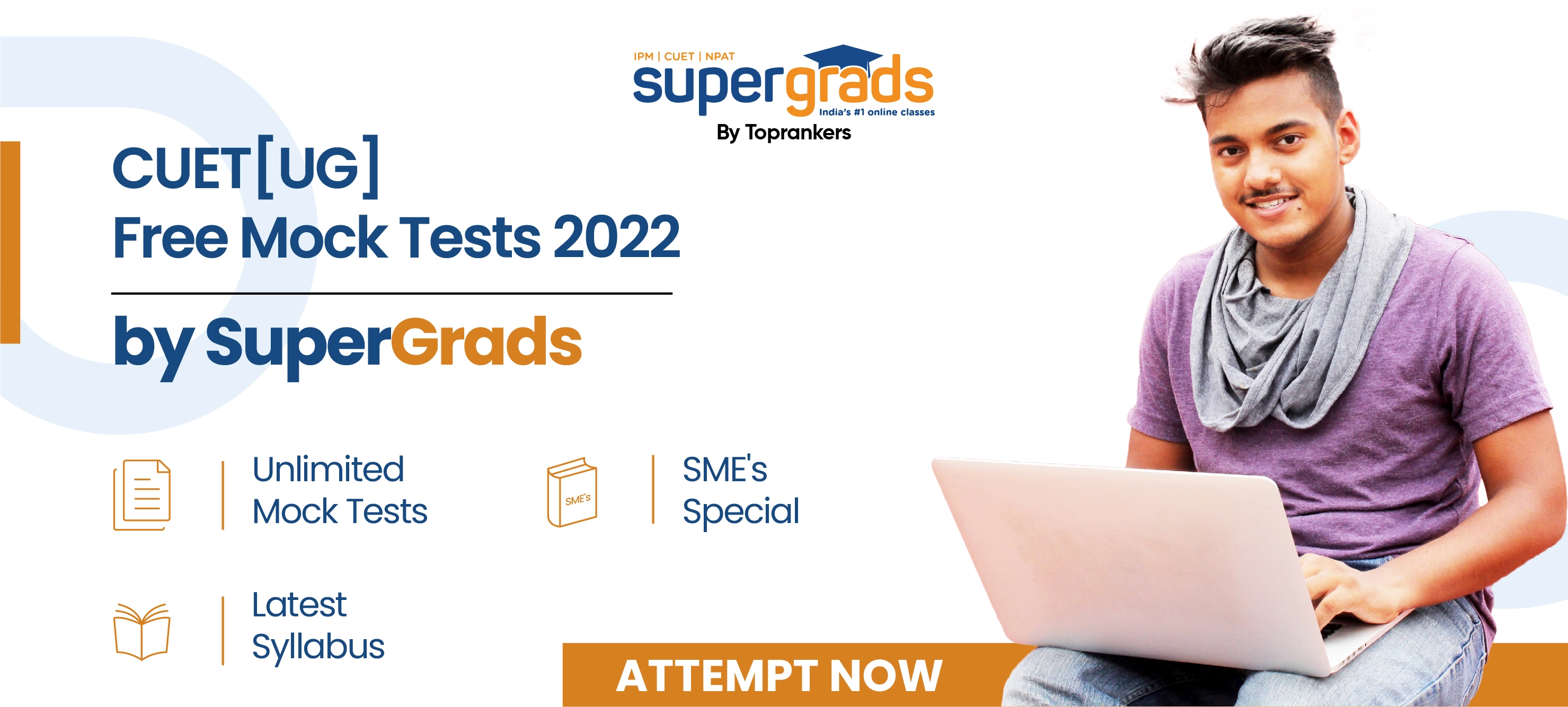 What should be the CUET aptitude preparation approach?
Every single day counts in the preparation phase. So be proactive. Cover NCERT Topics and focus on critical scoring topics like arithmetic - percentage, Ratio, average, mixtures, work and time, Compound interest, time speed distance, etc.
Thoroughly revise questions from 6-10 the class like basic arithmetic geometry.
Revise all topics like polynomials, introductory algebra, factors, rationalization, identities, etc.
Work upon acquiring speed and accuracy in your performance.
How to get that? Our experts of supergrads recommend the practice of sample papers and the NTA CUET Mock Test Series by SuperGrads. Practice will helps you learn and unlearn the required skills for the exam. Not only this, with persistence, you will achieve accuracy and speed.
As you have gone through the CUET exam topics and mock tests, the next stepping stone to improve the performance is learning the proper techniques and shortcuts in quantitative aptitude questions. This will save crucial minutes and increase the chances of accurate answers.
Take the help of experts.
Many questions can be easily solved through the options. For such questions, you need the clarity of concept and the right strategies like the elimination method. Seek the help of Supergrads experts for concept clarity and shortcuts. It will help you save time and maximum secure marks.
CUCET (CUET) College List 2022
English Language section of CUET 2022
In the English Language section of CUET, out of 25 questions, 15 questions can be seen from reading comprehension, while ten questions from verbal ability.
Revise important concepts like parts of speech, para jumble, speeches, completion, narration, tenses, etc
Expect a good level of Vocabulary in the NTA CUET exam 2022.
When you aim for top universities like Delhi University, it is pretty evitable that the English language section will be of a high standard.
Logical Reasoning section of CUET 2022
In the CUET UG Exam 2022, Logical Reasoning unlike the first two sections, logical reasoning is one section that is very new for the students appearing in any entrance exam after school.
Also, note that there will be ten expected questions from this section. You may also get alone stand questions in reasoning.
Hence, here is what you should do:
Take expert's Guidance:
Take help of reasoning study material, NTA CUET Online Coaching Classes for concept learning, shortcuts, and techniques for the right approach and topic-wise mock test.

ICT (Information Communication Technology) & Current affairs
You will get around five questions ICT and current affairs section.

Revisit your textbooks

Revise Last one-year current affairs to excel in this section
Crux: CUET Aptitude Preparation Tips 2022
We have already discussed a section-wise preparation strategy. Here is the crux of the entire CUET Exam preparation strategy
Invest 2-3 hours daily for the CUET aptitude preparation

Revise each topic one by one and take mock tests to ace Common University Entrance Test.

Be persistent with your preparations.

Remember, each mark counts.