Summary: To ace reading comprehension for CUET 2024, it is important to start early, practice regularly, be familiar with the different types of questions, manage your time effectively, and stay calm and focused. Additionally, it is helpful to read actively, take notes, review your notes, and get help if you need it. By following these tips, you can improve your chances of success on the CUET exam.
You can find general tests, aptitude, language, and domain-specific questions in the exam pattern.
Since the paper will be quite new in terms of format, most of you might wonder how the paper will be structured. Will it be easy or difficult?
We can expect the paper to be easy to moderate, but you must be certain that your preparations to study at your dream university will be thorough.
This article will take you through tips to Ace Reading Comprehension for the CUET examination.
7 Steps to Ace Reading Comprehension for CUET 2024
We understand the dilemma of students attending the entrance exam for the first time. You are bound to have several doubts, and we will definitely guide you with your preparations.
It is encouraging to see many students interested in pursuing courses apart from engineering and medicine.
You might be interested in reading about How to Prepare for CUET 2024?
Read more CUET 2024 Syllabus PDF
Step 1:

Read

All

Kinds

of

Books

!

Not

Just

Your

Academic

Books
Reading books is like an exercise to your brain. You can see it as entertainment.
When watching television series, the characters directly talk to you. Similarly, when reading a novel through words, you can imagine and let the mythical characters talk to you.
You see, reading is equally fun as watching television. But it has added advantages like learning more vocabulary, and increasing your memory and concentration.
This habit will also help you with the speed of reading, you see how this is going to help you in your Reading Comprehension for CUET?
Research has also found that it increases Sleep, Motivation, General Knowledge, and Empathy and reduces stress.
I don't think we need more reasons to read, do we??
Reading will help you skim through passages easily and find the right answers within no time. You are an advantage of the time when compared to your competitors. You have already started out winning several other competitors taking the exam with you.
This sounded almost very simple but is the most effective way to prepare only just for CUET exams but any entrance exams.
Here's an interesting take on How to Manage boards and CUET preparation together?
Step 2:

Am

I

Supposed

to

Read

the

Questions

or

the

Passage

First

?
This is a common question asked by many students, whether they should be reading the passage or the questions first.
There is no definitive answer to this question. We would suggest that you start solving many question papers.
Try reading the passage first for a couple of questions, for other papers try reading the questions first instead of the passage, and note down the time you take for each.
If you take lesser time approaching the question first the reading passage, be strict with that strategy, and continue solving sample papers in that manner to increase your speed.
The idea is to stick with the method that is most comfortable for you.
Do not miss reading CUET Latest Updates 2024
Step 3:

Read

T

horoughly

!
Most students don't really focus while reading, and the reason could be that they are nervous during the examination.
Stay calm because you must remain focused.
Be present while reading, and understand the gist or summary of what the author is trying to say.
What is his/author's motive, message, or purpose for it?
It's not a lot to think through if you are an "avid reader".
Once you understand these factors, go through your questions and it's obvious you are going to choose the right answers.
You might be interested to learn more about How CUET is going to open doors to many opportunities?


Step 4:

Skimming

and

Scanning

Process
This is the best way to save yourself time.
First, you scan the passage, and then you skim if you need to read the passage again.
Do I Scan?
When scanning, you read it for the first time and thoroughly. Therefore scanning needs more focus. Scanning also requires tools like a pen/ marker to highlight important dates, events, and keywords.
Do I Skim?
Although we do not do suggest you read through the passage over and over, you will unnecessarily lose time.
If in case you want to read the passage the second time, then use skimming, where you already know the information and you just want to be sure.
Step 5:

Use

Y

our

Pen

to

Highlight

Important

Dates

and

Events
It is advised that when you read through the passage, you highlight what is important.
When you go through your questions and corresponding options, you can easily locate the answer if it's highlighted; it saves your time and is, again, a simple yet effective tip.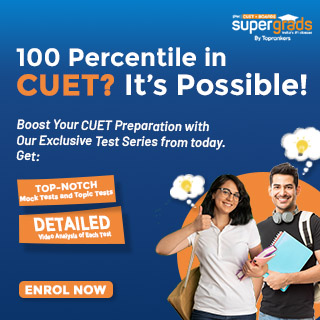 Step 6:

Read

"

all"

the

options
This is very important to note that regardless of how confident you are with the answer.
Always read all the options carefully given to you before concluding the option.
This must be religiously followed every time you read the questions and their corresponding options without making any excuses.
Read more CUET General Test 101 Guide
Step 7:

Elimination

technique
Many students follow this rule, and is one of the most commonly used techniques.
Most toppers use this technique and say they begin first to eliminate the wrong answer when they aren't 100% sure of the correct answer.
When you review the options for such questions, eliminate the less obvious ones first.
Ruling out the wrong answer is found to be a very effective technique for scoring excellent marks.
Follow these steps while reading comprehension for CUET, and you are assured of scoring excellent scores in the CUET entrance exam.
We wish you all the best with the preparation.
You might also want to check to ace your preparations for CUET 2024.
In conclusion, there are several things you can do to improve your reading comprehension skills in preparation for the CUET 2024 exam. By reading widely, practising with sample questions, and developing a strong vocabulary, you can give yourself the best chance of success on this important exam.