Summary: The CLAT entrance exam is around the corner, so most of you might be thinking about the legal aptitude section. If you are one of those who are worrying about the legal section, this article is for you! In this post, we have discussed the sample paper of the Legal Reasoning section for CLAT 2023 exam preparation, which will give you a good idea of how the questions are asked and how to approach them.
As we all know, the legal aptitude section in the CLAT exam has now become a comprehension-based aptitude test wherein the questions are indirect and inference-based.
The Consortium recently released a sample paper for the legal aptitude section to help you understand the paper pattern and type of questions asked in the upcoming exam.
In this post, Zenab Ali, associate director of LegalEdge, discussed the learnings from the official CLAT Legal Reasoning Sample Paper, such as important topics you have to focus on, parts to be ignored, which are the most tricky questions, etc.
So, what are you looking for? Let's dig into the post to learn more about the legal reasoning section.
Analysis of CLAT Legal Reasoning Sample Paper
CLAT Sample Paper is a model test of the actual exam following the same exam pattern and time limit.
According to the experts, solving the Previous Year's CLAT Question Papers or sample papers will help analyze your preparation levels and focus on improving your weak areas.
Check out the table below to know more about the learnings from official CLAT Legal Reasoning Sample Paper published by the Consortium on the official website.
| | | | | | | | | |
| --- | --- | --- | --- | --- | --- | --- | --- | --- |
| S. No | Type of Passage | Source | Word Limit of Passage | Topic of Passage | Word Limit of Question | Question Stem | Pattern of Options | Level of Difficulty |
| 1 | Current Legal Knowledge (CLK) | The Economic Times | 352 | Live telecast of proceedings | 100 | Fact-based | Direct with reason | Medium |
| 2 | Static | Book, the case of spelucean explorers | 337 | Murder - Queen vs. Dudly and Stephan | 30-40 | Context-based | Direct with reason | Easy |
| 3 | Editorial | The business-standard | 385 | Work from home and data security issue | 40-50 | Fact-based | Direct with reason | Medium |
| 4 | CLK/Editorial | The Hindu | 306 | Release of prisoners on bail, prevent spreading of the pandemic | 30-40 | Fact-based | Direct with reason | Easy |
| 5 | CLK/Editorial | Medianama | 259 | RBI order, ban on cryptocurrency | 20-30 | Context-based 2, Fact-based 1 | Direct with reason | Medium |
| 6 | Miscellaneous | N/A | 210 | Protection of Endangered Species | 70-80 | Fact-based | Direct with reason | Medium |
| 7 | Explainer | PRS India | 288 | Anti-defection law explained | 80-100 | Fact-based | Direct with reason | High |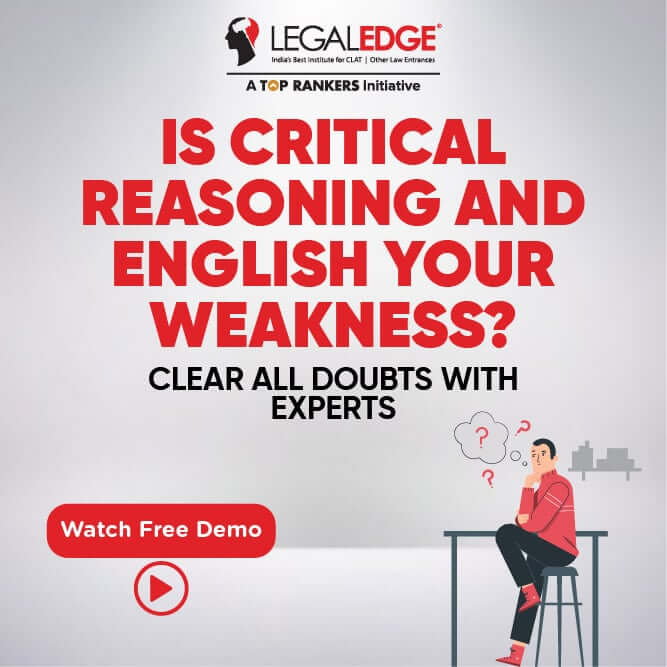 Highlights of CLAT Legal Reasoning Sample Paper
It is known that attempting all the questions is impossible in the CLAT Entrance Exam because there is so much to read and revise.
Before you start answering the questions, make sure to read all the options first, and then only you can mark the correct answer.
As per the analysis, the following questions have direct options which you can answer directly by reading the passage.
Question 12.2
Question 14.4
Question 17.8
Question 18.1
Question 18.3
Analysis of CLAT 2020, 2021, and 2022 Question Papers
Going through the CLAT Exam Analysis of the previous year's question papers will help you analyze the difficulty level and the type of questions asked in the exam.
To make it easier, we have analyzed the last 3 years question papers.
| | | |
| --- | --- | --- |
| CLAT 2020 | CLAT 2021 | CLAT 2022 |
| Acts of God (Business Today) | Volenti Non Fit Injuria (Ratanlal-Dhirajlal) | Writ-Mandamus |
| Obscenity | Consent under ICA (Lawctopus) | Constitution - state duty of levy of taxes |
| Strict and absolute liability (Mondaq.com) | Communication when complete under ICA | Constitution - Fundamental right and reasonable restriction |
| Principles of natural justice (IPleaders) | Agreements in restraint of legal proceedings | Family law - Bigamy |
| Mob Lynching (The Hindu) | Res Judicata | Special Marriage Act |
| Arnab Goswami v. UOI (A 19(1)(a) and 21) | Compassionate Appointment (Free Press Journal) | International law - Monism, and Dualism |
| Common Intention and Similar Intention (Lawcoptus.com) | General Article on Hindu Marriage Act | Sustainable Development |
| Article 20(1) (legalserviceindia.com) | Consent under fear under ICA | Contract - Mistake of Fact |
Learnings from the Official CLAT Legal Reasoning Sample Paper
Here, we have discussed some learnings from the sample papers which will help enhance your CLAT Legal Aptitude Preparation and score well in the upcoming exam.
Newspaper Reading is Important!
The newspaper reading daily for at least 45 minutes plays a vital role in qualifying for the entrance exam and especially in scoring the highest marks in the legal aptitude section.
Newspapers assist you in preparing for the exam in various ways, from improving reading comprehension and vocabulary to developing analytical abilities.
First of all, you should filter out the main topics of the newspaper which are relevant for exams and have a national or international consideration.
After reading items from apps and websites, you should read the newspaper. This is because articles you create for websites are repeated, and you have a deeper understanding of these issues after receiving an introduction from websites.
Read more: Short tricks to read a newspaper for the CLAT exam
Read Editorials in NewsPaper
Most importantly, read the editorials carefully because they will help you improve your reading speed, which will aid you in the actual examination because CLAT requires a good reading speed.
Furthermore, editorials frequently contain essential information, so make a note of it. Try to complete the editorial reading in a maximum of 6-7 minutes.
As you read the editorial, pick out the words/phrases that are new to you. Look up the definitions of such words/phrases and try to construct your own sentences using them.
After reading the editorial, do some additional research on the topic touched on in the editorial and try to create your own opinions on the subject, or simply read and ponder on the subject.
Read more: Short tricks to score 150 marks in CLAT
Read Question Stem
Before answering the question, you must analyze the question stem, which means you must understand the question is asking whether the statement is true, is the statement is false, is the person liable, shall this person should be convicted, etc.
Beware of the minor tweaks given in the statements or questions. Hence, paying attention to detail is key here.
Try to keep your assumptions outside the principle facts and stick to the theories that the principle is always correct.