Summary: Hey there! This blog has provided you with a step-by-step approach to how to start your CUET preparation 2023? The blog guides you on exploring the CUET syllabus, creating a study plan, using the previous year's question papers, solving sample papers and mock tests, and keeping yourself motivated.
You should be aware that CUET 2023 will rank among the nation's largest UG admissions. To handle the strain of juggling your CUET and Board preparation, you should begin your CUET 2023 preparation as soon as possible.
It is now the ideal moment for you to plan and start your trip if you haven't already thought about how to be ready for the CUET.
Given the additional strain of the board tests, you must balance your CUET and board preparation. If you want to learn how to prepare for CUET 2023 along with your boards efficiently, you should read this post all the way through.
You are advised to review the CUET test structure and the subject-by-subject CUET 2023 curriculum before beginning your study process. The CUET preparation advice and techniques provided in this article will undoubtedly assist you in creating and adhering to a well-organized study schedule.
You will get crucial pointers, tactics, and CUET study guides to ace your preparation and the test. Using this, you may prepare more effectively and maintain an advantage over your peers.
How to start your CUET Preparation 2023?
To prepare well for CUET 2023, it is important for you first to understand the exam thoroughly.
Every entrance exam has its unique nature, so you must know the details of the exam before beginning your preparation.
CUET Syllabus
NTA has declared the CUET 2023 syllabus the same as the CUET 2023 syllabus.
The syllabus will consist of the whole NCERT syllabus for class 12.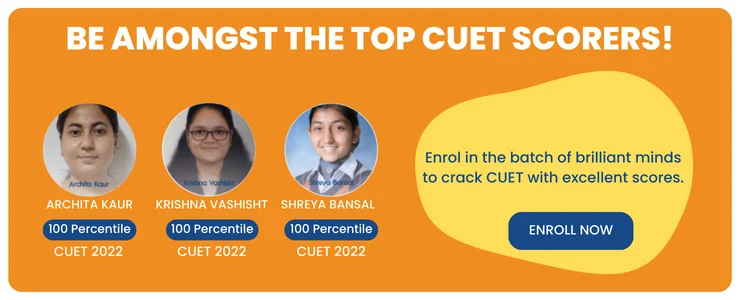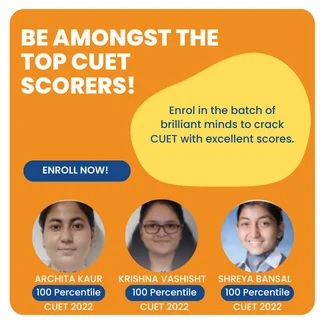 Exam Pattern and Structure
The CUET exam paper will have 3 sections: Languages, Domain subjects, and General tests.
Let's gather some generic information about the CUET 2023 Exam Pattern:
This exam is divided into 3 sections– Language Paper (1A and 1B), Domain Paper & General Test.
Language Paper (1A and 1B): You will be asked questions based on 13 Indian languages in Section 1A and 20 Languages in Section 1B (Mix bag of regional Indian languages and Foreign languages). 40 questions are to be attempted out of 50 in each language.
NTA will test your knowledge of the subjects studied in your Class XI and Class XII in the Domain-specific Test of CUET. There are 27 such subjects included in this section. Pick and choose from the list as per your stream. 35/40 questions to be attempted out of 45/50.
The General Test is a replica of the most heard Aptitude Test but with a level simpler to the ones you have seen or heard in IPMAT, NPAT or JEE Main B.Arch. 50 Questions to be attempted out of 60.
Check: CUET Cut off 2023
Marking Scheme
You will be awarded +5 marks for each correct answer, and -1 mark will be deducted for each wrong answer.
However, there will be no negative marking for unattempted questions.
Participating Universities
The number of universities participating in CUET in 2023 has not been officially confirmed; however, in 2022, around 200 universities, including 47 core universities (including DU, BHU, and JNU), took part. This year, the number will undoubtedly rise.
Check: CUET Courses
Eligibility Criteria
There is no age limit for the candidates to apply for the test. However, you must qualify for your 10+2 from a recognised board with a minimum of 40% marks.
Before starting your preparation, carefully review all these details and clear all your doubts. You should also get all the CUET preparation books to prepare well for the exam and increase your chances of getting a top university/college seat.
Know CUET 2023 Important Dates
Know the important events and respective dates for CUET 2023.
| | |
| --- | --- |
| Events | Date |
| Registration starts | 9th February 2023 |
| Registration closes | 30th March 2023 (Up to 9:50 PM) |
| Last date for the application fee | 30th March 2023 (Up to 11:50 PM) |
| Correction window | 1st - 3rd April 2023 |
| Re-opening of Registration Form | April 9 - 11, 2023 (till 11:59 pm) |
| Announcement of the exam city slip | 30th April 2023 |
| Admit card | The second week of May |
| Exam dates | 21st - 31st May 2023 |
| Reserve exam date | 1st - 7th June 2023 |
| Display of Answer Key | To be announced later |
| Declaration of result | To be announced later |
Check: Short tricks to manage CUET and boards preparation together
How to start your CUET preparation 2023?
As an aspiring student preparing for CUET, you may wonder how to crack this common entrance exam and give yourself an equal opportunity to succeed. To help you achieve your goal, it's essential to follow a detailed stepwise approach for your preparation. Here's a guide to help you ace your CUET preparation without staying up all night.
Know The Syllabus
Understanding the CUET syllabus is essential when you start your CUET preparation. Spend time reading the curriculum and the CUET study guides to familiarize yourself with the exam's subject matter. This will enable you to decide which subjects to concentrate on and which to ignore. Verify the grades given for each subject, and arrange your preparation according to your strengths and limitations. By doing this, you'll be on the correct path to passing the CUET since it will help you prepare for it.
Check: Short tricks to enhance your Economics preparation for the NTA CUET exam
Make a Timetable
To balance your CUET preparation along with your boards, it's best to start early. By doing so, you'll reduce the pressure and be able to plan a study schedule more conveniently. You can create a plan that suits you and allows you to dedicate a fixed amount of time each day for CUET preparation. Make a dedicated timetable based on the time you can devote and ensure that you stick to it. This will help you maintain momentum in your preparation and ensure that you perform well on both CUET and your boards.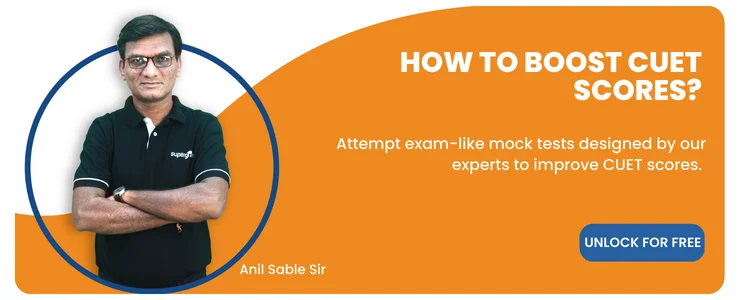 Go Through Previous Year's Question Papers
It's highly recommended that you go through the previous year's question papers and solve them to understand better the exam pattern and the types of questions that will be asked in the CUET 2023. By doing so, you can identify the topics and units from each subject given higher importance and focus more on them during your preparation. This will help you prepare better and increase your chances of scoring well in the CUET 2023. You can download the CUET sample paper and the previous year's question paper from the link provided and start practising them immediately.
Check: CUET Answer Key 2023
Give Mock Tests and Solve Sample Papers
Solving sample papers and taking mock tests regularly are important to identify your strengths and weaknesses. Solving these papers will help you understand the exam format and pattern and develop your time management skills. With regular practice, you can identify your areas of strength and weakness and work on improving them. Solving mock tests will also help you build confidence and reduce exam anxiety. So, solve as many sample papers and take as many mock tests as possible to prepare well for the CUET 2023 exam.
Check: CUET Exam Result 2023
Stay Motivated
It's important to keep yourself motivated to tackle any challenge, especially with an entrance exam like CUET. Start by exploring the syllabus, CUET preparation books, sample papers, and previous year's questions to comprehensively understand what to expect. Keep a positive mindset and understand how acing the entrance exam can help you achieve your career aspirations and shape your future.
Conclusion
Starting your CUET preparation early, understanding the syllabus, and practising with the previous year's question papers and mock tests are key steps in your journey to success. Balancing your preparation with your board exams and staying motivated throughout the process are equally important. With a dedicated approach and guidance, you can ace the exam and pave the way for a bright future.
Check: CUET Counselling Process