Summary: CUET Subject Selection 2024 offers a comprehensive guide to help students make informed choices for their upcoming Central University Entrance Test, emphasizing the importance of aligning subjects with personal interests and career aspirations!
Common University Entrance Test (CUET) is an entrance exam administered by NTA for admission into several central universities for undergraduate, postgraduate, and research programs.
The exam is extremely competitive, and thousands of students across the country apply every year.
CUET offers a variety of subjects for which candidates can apply, and you must choose the CUET Subject Selection 2024 carefully to enter the best CUET-participating universities in India.
Let's embark on this journey to pave the way for your academic success and a promising future.
CUET Subject Selection 2024: How to Select the Best Subject Combination
There will be a list of domain subjects to choose from depending on the course and university you choose in order to be qualified to take the exam.
Choose the subject as per the exam pattern/subject-specific eligibility specified for the desired course and college you apply to. The CUET exam pattern/ subject-specific eligibility is clearly given on the official website of CUET UG 2024.
Example 1 for CUET Subject Selection 2024,
If you want to get into B.E. Biotechnology at DU, you need to opt for these: Physics + Chemistry + Biology/BiologicalStudies/Biotechnology/Biochemistry.
How to choose right subject for CUET?
Selecting the domain subjects doesn't leave you with much choice because you can select only certain subjects based on your preferred course.
Always check for the university's eligibility criteria before finalising your selected subjects.
When selecting a language from Section I, you must choose at least one from Section IA. You also have the option to choose one from the Section IB. However, choosing one in Section IA is compulsory; most courses and colleges require English.
Some Domain-Specific Subjects are cross-disciplinary. There will be two sections in those disciplines, with Section A compulsory for everyone. Section B may contain several sub-sections from which the candidate may select one or more depending on the program/university to which they are applying.
Check: CUET Syllabus 2024
Example 2 for CUET Subject Selection 2024,
The University of Delhi has stipulated that candidates may only appear in CUET courses in which they have passed Class 12.
They also require you to require domain subjects according to their created list. Always check if your preferred university has such requirements.
If you want to try different courses, for example, your primary choice is B.E Engineering, but you want to have B.Com as a backup, you can opt for up to 6 domain subjects, which will cover all the subjects you need to have for both Engineering and B.Com.
However, many colleges lay several restrictions for CUET Subject Selection 2024.


CUET Subject Selection 2024: Domain Subjects List
This is the list of 27 available domain subjects for CUET 2024 Exam.
How many domain subjects are compulsory in CUET? ~ Minimum 6!
You can select up to 10 domain subjects from this list.
CUET Subject Selection - Section
How many subjects to choose in CUET - Subject
Section II - 27 Domain-Specific Subjects
Accountancy/Bookkeeping
Agriculture
Anthropology
Biology/Biological Studies/Biotechnology/Biochemistry
Business Studies
Chemistry
Environmental Studies
Computer Science/Informatics Practices
Economics/Business Economics
Engineering Graphics
Entrepreneurship
Fine Arts/Visual Arts(Sculpture/Painting)/ Commercial Art
Geography/ Geology
History
Home Science
Knowledge Tradition-Practices India
Legal Studies
Mass Media/Mass Communication
Mathematics
Performing Arts
Physical Education/National Cadet Corps(NCC)/ Yoga
Physics
Political Science
Psychology
Sanskrit
Sociology
Teaching Aptitude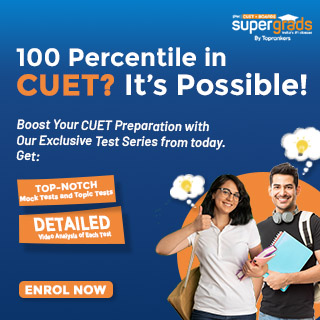 Factors to Consider for CUET Subject Selection 2024
Selecting the right subjects for the Central University Entrance Test (CUET) requires careful consideration of several factors to ensure a successful academic and career path. Here's an explanation of each factor:
Personal Interests and Passions
Your personal interests and passions play a crucial role in CUET subject selection. Consider the subjects that genuinely excite and engage you. Studying subjects you are passionate about can make learning more enjoyable and improve your overall academic performance.
Check: CUET Exam Pattern 2024
Academic Strengths and Weaknesses
Assess your academic strengths and weaknesses objectively. Identify subjects in which you excel and those that may require additional effort. Striking a balance between subjects you are strong in and those that challenge you can lead to a well-rounded academic profile.
Career Goals and Aspirations
Consider your long-term career goals and aspirations. Think about the educational qualifications and skills required for your desired career path. Select subjects that align with your career goals and provide a solid foundation for future studies or employment in your chosen field.
Check: How much to score in CUET for DU?
Future Job Market Trends
Stay informed about current and projected job market trends. Some fields may have a higher demand for professionals in the future, while others may become saturated. Choose subjects that offer good career prospects and are likely to remain relevant in the job market.
Availability of Resources and Study Materials
Evaluate the availability of resources and study materials for the subjects you are interested in. Access to textbooks, online courses, research materials, and qualified instructors can significantly impact your ability to excel in your chosen subjects.
Advice from Mentors, Teachers, and Career Counselors
Seek guidance from mentors, teachers, and career counsellors. They can provide valuable insights based on their experience and knowledge of your strengths and interests. Their advice can help you make informed decisions and avoid potential pitfalls in subject selection.
Check: Are CUET and CUCET the same?
CUET Subject Selection 2024: Common Mistakes to Avoid
Here are a few mistakes you must avoid before selecting the best CUET combinations:
Selecting subjects solely based on peer pressure or external expectations
Neglecting to research and understand the subject's content
Overloading with too many subjects
Ignoring future career prospects
Not seeking guidance from mentors or academic advisors
Check: Can average students crack CUET
Conclusion
It is advisable not to rush into subject selection. Do proper research on the course and your preferred CUET universities, check its requirements and then select your subjects. Even if you make a mistake and later you want to change your subjects, you will be given a chance to rectify it. Domain subject selection does not leave you much choice, but you can choose more subjects if you want to pursue multiple courses. You can choose the most comfortable language and preferably your primary language in class 12. CUET subject selection is the first step to cracking the exam.