Summary: Since admission to Delhi University is exceedingly competitive, doing well in the CUET DU exam is crucial. If you wish to apply at DU, you must know the score requirements for different courses and colleges affiliated with DU. This is why we are here to explore ~ How much to score in CUET for DU?
How are DU admissions conducted?
The Common University Entrance Test, or CUET, is an exam conducted by the National Testing Agency (NTA) for admission into various central universities in India, including Delhi University (DU).
So, is the CUET the only means of entrance to DU??
...Yes! CUET is an important exam for students seeking admission to DU as it is the sole criterion for streamlining the UG admission process into multiple central universities.
Your only chance to enrol in DU courses is to perform well on the CUET entrance test. This article provides a brief overview of the score to aim for while giving the details of how much to score in CUET for DU?
Did you hear? The CUET Results are now out!
Check yours right away by clicking the button⬇️
How much to score in CUET for DU?
You must achieve the minimum score established by the institution to be considered for admission to Delhi Institution (DU) via CUET. DU admission via CUET has a minimum score decided based on the program or department and college you are applying for.
Getting right to the point!
What is the minimum score requirement at DU?
Most programs have 60% or above minimum score requirements for DU admission through CUET. To qualify for admission to DU, you must have a minimum CUET score of 480 out of a possible 800. Although examining the exact criteria for the program you are interested in is vital, certain programs may have a higher minimum score requirement.

Note:

It is important to remember that attaining the minimal score requirement does not guarantee admission to DU. In addition to your

CUET

score, the university might consider your academic history in the case of Tiebreaker.
Check: CUET Colleges
Does the minimum DU score vary for all category students?
The minimum score requirement for DU admission through CUET may sometimes be relaxed for certain candidate groups.
For instance, as per the CUET reservation, students from Scheduled Castes (SC), Scheduled Tribes (ST), or Persons with Disabilities (PwD) may be eligible for admission with a reduced minimum score requirement or other considerations.
Have thoughts on the recently released CUET Results? Or you've got burning questions that require expert answers?
Share them right now with us!👇👇👇
Voice your CUET-related thoughts, concerns & everything else HERE!
CUET Seat Reservation for Central Universities
| | |
| --- | --- |
| Categories | CUET Reservation Percentage |
| General Economically Weaker Sections (GEN-EWS) | 10% |
| Scheduled Castes (SC) | 15% |
| Scheduled Tribes (ST) | 7.50% |
| Other Backward Classes (Non-creamy layer) | 27% |
| Persons with Disabilities | 5% in each category |


CUET DU eligibility requirements
In addition to the minimum score requirement for CUET, certain CUET UG programs or faculties could have their own particular prerequisites. For instance, certain programs could demand that candidates have taken particular courses in high school or have a certain degree of language ability.
DU Admissions Statistics for Previous Year
CUET Cut offs for DU
The total score of CUET is 800, and various institutions and courses have varying admission standards.
This section will give you an overview of the CUET score requirements for admission to DU.
The highest CUET cut-off mark for admission to DU often ranges from

650 to 700

. Nevertheless, this could change depending on the college and course you choose. Examples of prestigious degrees with higher cut-offs are B.Com (Hons), Economics (Hons), and English (Hons).
Did you know?
BA course cut-off scores at Hindu College were 99 and above!😮
What score should you target?
Aim for a safe score between 700 and 750.
In B.Sc. (Hons) disciplines like physics, chemistry, and mathematics, you should aim for a score of at least 600-650.
For B.A. (Hons) courses like political science and history, you should aim for a score between 650 and 700.
It is crucial to remember that the cut-off scores might change every year depending on various variables, including
The number of candidates
Difficulty of the test
The number of seats available in the institutions
Check: CUET Documents Required 2024
To improve your chances of admission, you should strive for the highest possible score.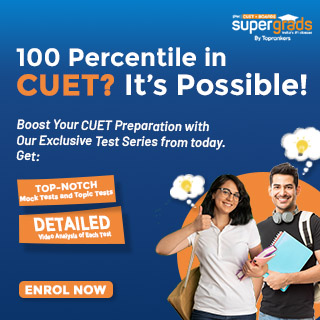 DU Cut off 2022 at Top Colleges affiliated with DU
How much marks required for Delhi University is answered in graphical representation!
Here's the data to support good score in CUET for DU!
Check: CUET BCA Syllabus 2024
What is a good score in CUET for DU?
We understand you must be interested in learning more about the CUET passing marks for DU for OBC, cuet passing marks for du for sc category and much more! Click on the button below to access CUET Cut off scores for DU!