Summary: This article, "How CUET is going to open doors to many opportunities?" emphasizes the importance of studying at top universities in India and how it can open up opportunities such as better job prospects, higher salaries, and the ability to network with professionals in their respective fields!
This article takes us through 2 imaginary characters, Sam and Paul, and their experience with board exams followed by their admission process.
Even before Sam and Paul start their academic studies for standard 12, excitedly, they prepare a list of dream universities to pursue graduation. Particularly wanting to study at Delhi University.
The friends set all their hearts on and start with the preparations.
As we all understand, it's a dream come true for any student to study at a prestigious university. But is the admission process all that easy at DU? How CUET is going to open doors to many opportunities?
How CUET is going to open doors to many opportunities?: Why is merit-based admission no longer relevant?
Earlier, there was a high cut-off set for admission at Delhi University, and many other prestigious colleges follow similar merit-based admissions.
Here are a few reasons why merit-based admission is no longer relevant:
Sam took the CBSE syllabus, and the paper seemed quite tough even though he was equally prepared as Paul, who took the state-level 12th paper, which was easier. Based on merit, it would be unfair to state that Sam is not a suitable candidate because he did not make it to the cut-off merit list.
Also, different board of education has different marking scheme, which can again affect the scores obtained by a candidate.
This sounds absurd! But what happens if the mood of the evaluator checking your answer sheet is not good?
Check: How to Prepare for CUET 2024?
You can see the insignificant factors affecting the scores obtained by a student. But unlike the board exams, OMR-scanner evaluation in entrance exams is way better to judge if a candidate is a right fit and brings uniformity to the selection process.
Here's another reason why the CUET entrance score should be the deciding factor for the admission process.
Sam and Paul have prepared equally well for their board exams and performed similarly in the examinations.
But Sam is unfortunate to have his papers examined by a strict evaluator and gets 5% marks less than Paul.
Check: CUET Preparation Books List [Most Recommended]
This suggests that judging candidates through the CUET entrance exam is better than merit-based admission.
You can see these illogical factors affecting someone's chance of losing their admission and getting their dreams crushed.
Note: CUET is renamed to CUET, i.e. Common University Entrance Test [CUET]
Check: CUET Latest Updates 2024
How CUET is going to open doors to many opportunities?
Here are a few reasons why CUET is to be mainly considered for admission to prestigious colleges.
Interesting take on How to Manage boards and CUET preparation together
1. How CUET is going to open doors to many opportunities?: Offers equal opportunity
Earlier, different boards followed no uniformity in offering 12th marks, there was discrimination based on 12th marks, and it didn't provide equal opportunity for students.


2. How CUET is going to open doors to many opportunities?: A second chance
If you had poor health during your board exams and couldn't perform well, that shouldn't shun you from the opportunity to get admission to desired colleges, given another chance at entrance tests.
Check: How to get admission into Central Universities through CUET?
3. How CUET is going to open doors to many opportunities?: Picking the right candidate for the college
CUET sets new trends for admissions for the 41 central universities based on the entrance exams.
The CUET test is a mix of aptitude and subject knowledge tests across different boards on the same footing. This helps in picking the right candidates.
Check: How To Prepare For CUET Entrepreneurship 2024
4. How CUET is going to open doors to many opportunities?: Being able to choose your favourite subject to study
Imagine Sam loved business studies but could not score well in other subjects like maths/ statistics/ computers or language.
He shouldn't be rejected for business studies because he has fewer marks in other subjects.
This can be avoided when admissions are conducted through entrance tests.
5. How CUET is going to open doors to many opportunities?: Seats are offered irrespective of the state you belong
When admission is based on merit, it was found that seats are reserved for native state students, and the deserving candidate loses out on the opportunity.
Therefore having CUET exams by NTA is a fair mechanism to evaluate the student.
Check: How To Prepare For CUET Anthropology 2024
6. How CUET is going to open doors to many opportunities?: CUET entrance is concept-oriented
Some state board exams are difficult compared to others. The questions in the entrance exams are more concept-oriented and do not correlate with studies in classes 11 and 12.
So, irrespective of state or central board, you can attend the CUET entrance test, which can help check the interest and calibre of the prospective students.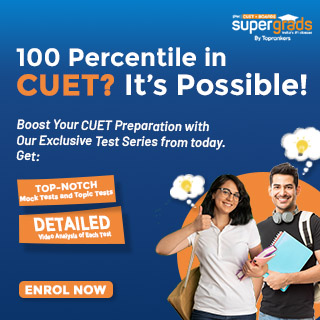 Why CUET is Better than Merit-based Admission
CUET Entrance exams check the student's aptitude and in-depth knowledge of the subject. This helps the evaluator to understand if the student can excel in his or her career in a particular field.
This process will help deserving candidates to get admission, then a random student with more marks in their board exams.
On analysis, even the students believe entrance exams and board marks should be considered for admission. And it shouldn't be merit-based.
Entrance exams can evaluate if a student's concepts are understood for both examinations, but entrances get the real knowledge out of you.
Conclusion
The potential for educational opportunities has increased significantly with the availability of online learning. This will open many doors to students who may not have had access to quality education before. It will allow students to explore various subjects, build skills, and develop knowledge they may not have had access to. Online learning is an exciting new frontier that could potentially revolutionize how we view education and open many doors to students of all backgrounds and abilities.
Check: CUET Syllabus 2024