Summary: This article is aimed to give you a comprehensive guide to help prepare for the CUET Entrepreneurship exam; with very few days of CUET, get started with your revision process.
Do you want to know how to prepare for CUET Entrepreneurship? Get started as early as in class 12!
Several Entrepreneurship bachelor's programs courses are offered at Central, State, Private and deemed universities for young entrepreneurs.
This article helps you crack the CUET Entrepreneurship 2023 exam conducted by NTA.
Entrepreneurship CUET Exam Paper Pattern
Before going into the preparation, it is important to understand the exam pattern on the examination.
As per the CUET exam pattern, there will be only one question paper with no sections.
It will have a total of 50 questions, out of which 40 questions have to be answered.
Examination Medium
English, Hindi, Assamese, Tamil, Telugu, Kannada, Malayalam, Odia, Bengali, Marathi, Gujarati, Punjabi and Urdu
Total Questions asked
50
Questions needed to be answered
40
Total Marks in Psychology
200
Marking Scheme
5 marks for each right answer
-1 for each wrong answer
Question Type
MCQ
Exam time duration

45-minute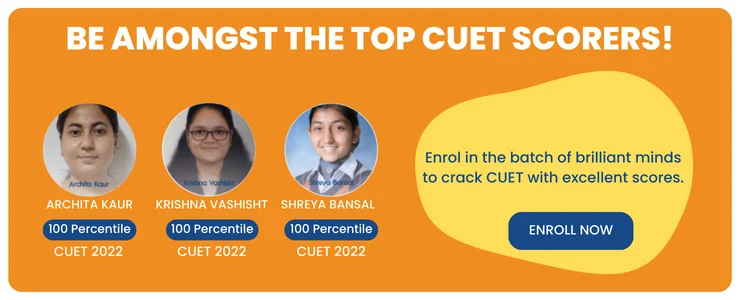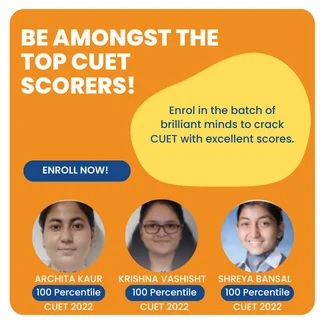 CUET Entrepreneurship Syllabus
There are 6 units with several topics in them.
The CUET syllabus given is simple and easy to understand.
Unit
Topics
1
Entrepreneurial Opportunity

Sensing Entrepreneurial Opportunities

Environment Scanning

Problem Identification

Idea fields

Spotting Trends

Creativity and Innovation

2
Entrepreneurial Planning

Forms of business organization- Sole proprietorship, Partnership, Company

Business Plan: concept, format.

Components: Organizational plan; Operational plan; Production plan; Financial plan; a Marketing plan; Human Resource planning

3
Enterprise Marketing

Marketing and Sales Strategy

Branding, Logo, Tagline

Promotion Strategy

4
Enterprise Growth Strategies

Franchising: Concept, types, advantages, limitations.

Mergers and Acquisition: Concept, reasons, types.

5
Business Arithmetic

Computation of Working Capital

Inventory Control and EOQ

Return on Investment (ROI) and return on Equity (ROE)

6
Resource Mobilization

Capital Market- Primary

Angel Investor: Features

Venture Capital: Features, funding.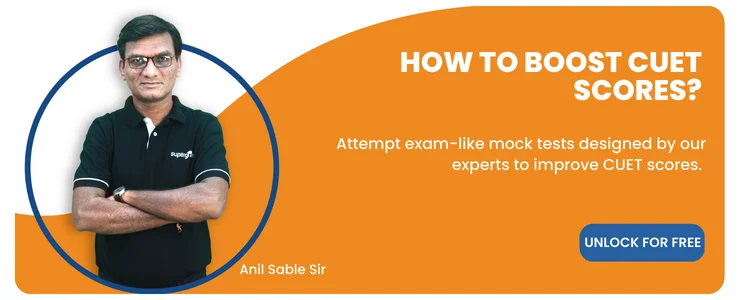 How to prepare for CUET Entrepreneurship
You need enough time to cover the syllabus and take good notes to prepare for Entrepreneurship. That's the secret to cracking this exam.
The syllabus for this exam is not vast, making it easy to study all the topics. Here's how you can effectively prepare for the Entrepreneurship examination.
Understand the syllabus thoroughly
Entrepreneurship is not a very vast subject. With just 6 units, each one covers a different aspect of the business. You will find it easy to cover everything that is given in the syllabus. However, ensure you have enough time for the preparation and do not leave it for the last second.
Always begin by properly reviewing the syllabus and practising with some sample question papers. This will assist you in understanding the syllabus's topics and the importance/weightage of each subject. A thorough understanding of the syllabus can help you organise your preparation strategy.
If you prefer to study from other books, you should be careful. Too many sources can easily confuse and distract you from the syllabus. Be certain that you completely adhere to the syllabus provided.
Check: CUET Preparation Books
Have a proper timetable
Time management is the most important factor in ensuring you never fall behind schedule. As mentioned earlier, even though the syllabus is not tough, you should have enough time for preparation. Just because it looks easy, do not leave it for last-minute preparation.
Sticking to your timetable is the simplest method to manage your time properly. Make a timetable for each unit. For example, you can have 3 days to prepare for Unit 1 and 4 days for Unit 2 because it has more topics to cover. Similarly, assess the topics and create a timetable to stick to them.
Check: CUET Preparation Process 2023
Keep notes and have a planned approach to completing the syllabus
Your NCERT book is an amazing guide to the basics of the subject; it is important to get that right first. Even though you do not have formulas and complicated theories of remembering, note key topics in each unit.
Linearly go through each unit and complete everything that feels easy. After you finish the easier topics, jump to the ones you feel are difficult. If you think something is taking a very long time, skip it for now and complete the maximum syllabus possible.
If you are following your planned timetable and you find that you are taking too much time to cover a certain topic, you can skip that and jump to the next topic. The goal is to cover as much as possible at first. Come to the topics you couldn't finish earlier later.
If you feel some topics are difficult, you can take help from teachers or join a good online coaching/course to help you. You can also go to Youtube, where you will find free content that can explain these topics well.
Check: Best Science Colleges For CUET
Practice with mock tests and previous year's question papers
Study previous years' question papers to understand the types of questions that may be asked in the exam. Do not expect the pattern to reoccur, but it's an excellent way to predict the overall pattern of the question paper.
Practice as many mock tests as you can. Mock examinations will allow you to assess your strengths and weaknesses in various subjects. You can direct your efforts towards your areas of weakness. It will also make you familiar with the exam and increase your speed.
Check: How To Prepare For CUET Chemistry 2023
Revise
Remember the notes you made? Make use of them while you are practising mock tests. Revise the topics before the exam periodically to keep things fresh in your memory. Revising will make you more confident, and as the exam nears, you can use the notes to go through all the topics quickly.
Study material for CUET Psychology
As mentioned earlier, it is crucial not to stray from the given syllabus based on NCERT class 12. For entrepreneurship, just the class 12 NCERT books are good enough but you can use other books to understand certain topics better. However, When using other books, be careful not to stray from the primary syllabus. Use them as secondary help and to gain a better understanding of topics.
Entrepreneurship Class 12 Book CBSE, Poonam Gandhi.
CBSE All In One Entrepreneurship Class 12 for 2023 Exam (Updated edition for Term 1 and 2) - Ritu Batra
CBSE All In One Entrepreneurship Class 12 Edition - Ritu Batra
Check: CUET BCA Syllabus 2023
Conclusion
Preparation for CUET entrepreneurship requires a systematic approach, focusing on the syllabus and prior years' question papers.
You might need some help in understanding some concepts, but the overall difficulty of this subject is mostly moderate.
To prepare properly, it is critical to comprehend the exam structure and marking method.
Also, taking mock tests and solving sample papers can aid with time management and recognising areas of strength and weakness.
You can easily pass the CUET Entrepreneurship exam with hard work, proper strategy, and a positive mindset!