Summary:
Computer enthusiasts can study many IT-related courses after class 12, including BCA.
While admissions are merit-based in most colleges, you must clear the Central Universities Common Entrance Test at CUET-participating universities. Here's the syllabus to can follow to prepare for BCA admission.
Career point university, Bennett University, Shobhit University, and many more colleges offer admissions to their BCA course through the CUET test.
Exam pattern and eligibility of these colleges differ for BCA admission; therefore, check the pattern before filling out the CUET Application form.
Ideally, the CUET BCA exam is conducted to test your knowledge of English, Analytical and Reasoning skills, and General awareness.
The article walks you through the syllabus to prepare to ace your CUET BCA Exam.
Download Free Study Material for NTA CUET Exam by SuperGrads
CUET BCA Syllabus 2023
Most of the CUET BCA exam pattern has the following topics to be covered:
General Test (Section III)
Computer Science/ Informatics Practices (Section II)
English (Section I)
Physics (Section II)
Maths (Section II)
Economics (Section II)
Note that these are the possible combinations of BCA exam patterns. The exam pattern varies in different colleges. The syllabus is distributed in 3 sections.
General Test Exam Units
Prepare for topics like General Knowledge, Current Affairs, General Mental Ability, Numerical Ability, Quantitative Reasoning (Simple application of basic mathematical concepts arithmetic/ Algebra geometry/mensuration/statistics taught till Grade 8), Logical and Analytical Reasoning.
Computer Science Exam Units
Prepare for the following concepts:
Section A:
Exception and File Handling in Python
Database Concepts
Structured Query Language
Computer Networks
>
Section B1: Computer Science
Chapter 1: Exception and File Handling in Python
Chapter 2: Stack
Chapter 3: Queue
Chapter 4: Searching
Chapter 5: Sorting
Chapter 6: Understanding Data
Chapter 7: Database Concepts
Chapter 8: Structured Query Language
Chapter 9: Computer Networks
Section B2: Information Practices
Chapter 1: Database Query using SQL
Chapter 2: Data Handling using Pandas – I
Chapter 3: Data Handling using Pandas – II
Chapter 4: Plotting Data using Matplotlib
Chapter 5: Introduction to Computer Networks
Chapter 6: Societal Impacts
Chapter 7: Data Communication
Chapter 8: Security Aspects
Check: CUET General Test 2023
English Exam Units
Prepare for the following topics:
1 - Reading Comprehension: There will be three types of passages (maximum 300-350 words):
i. Factual
ii. Narrative
iii. Literary
2 - Verbal Ability
3 - Rearranging the parts
4 - Choosing the correct word
5 - Synonyms and Antonyms
6 - Vocabulary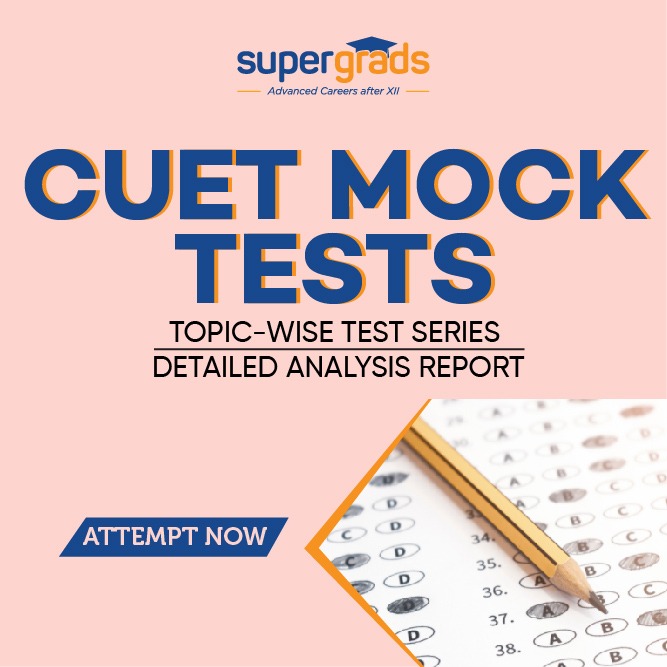 Physics Exam Syllabus
Prepare for the topics below:
Unit I: Electrostatics
Unit II: Current Electricity
Unit III: Magnetic Effects of Current and Magnetism
Unit IV: Electromagnetic Induction and Alternating Currents
Unit V: Electromagnetic Waves
Unit VI: Optics
Unit VII: Dual Nature of Matter and Radiation
Unit VIII: Atoms and Nuclei
Unit IX: Electronic Devices
Unit X: Communication Systems
Check: How to prepare Business Studies for CUET
Maths Exam Units
Prepare for the topics below:
Section A:
Algebra
Calculus
Integration and its Applications
Differential Equations
Probability Distributions
Linear Programming
Section B1: Mathematics
Relations and functions
Algebra
Calculus
Vectors and 3-dimensional Geometry
Section B2: Applied Mathematics
Numbers, Quantification, and Numerical Applications
Probability Distributions
Index Numbers and Time-based data
Index Numbers and time-based data
Financial Mathematics
Linear Programming
Check: CUET Anthropology Syllabus
Economics Exam Units
Prepare the following for Economics preparations:
Unit I: Introduction to Microeconomics
Unit II: Consumer Behaviour and Demand
Unit III: National Income and Related Aggregates — Basic Concepts and Measurement
Unit IV: Determination of Income and Employment
Unit V: Money and Banking
Unit VI: Government Budget and the Economy
Unit VII: Balance of Payments
Unit VIII: Development Experience (1947-90) and Economic Reforms since 1991
Unit IX: Current challenges facing the Indian Economy
Unit X: Development Experience in India
The syllabus is as prescribed by the NTA authorities. You can refer to books like BCA Bachelor of Computer Applications Exam - Guide 2023 Edition (English, Paperback, Gupta R) to ace your preparations.
You can also refer to the NCERT textbooks that cover these topics.
Check: CUET Chemistry Syllabus