Summary: Devising a preparation strategy is important because it helps you to organize your studies, planning and materials to reach your desired goal. Additionally, a prepared strategy can help reduce stress levels during your prep journey. Here's CUET economics syllabus & preparation strategy 2024 which you can effectively use to crack the CUET economics exam.
There is a cut-throat competition in the CUET exam 2024 and we all are aware that CUCET economics syllabus is not exactly easy. Last year, nearly 9 lakh students took the exam, which is expected to increase, thus increasing the competition.
But do not worry! We are here to help. Top universities like DU, BHU, JMI etc., offer Bachelor's and Honours in Economics, and this field has excellent career prospects.
This post has been crafted to bring you the NTA CUET economics syllabus preparation strategy and tips.
CUET Economics Syllabus Preparation Strategy 2024
Follow these prep tips to ace your CUET economics preparation strategy 2024:
1. CUET Economics Syllabus
The economics syllabus is entirely based on the 11th and 12th class syllabi. Make sure you revise the 11th and 12th class syllabus thoroughly.
You must wonder, "what is the correct approach for CUET Economics?" or "How to prepare for NTA CUET Economics?"
Continue reading!
2. Divide and concur
Divide the economics syllabus into four categories as listed below:
Microeconomics
macroeconomics
Statistics
Indian Economics
Pick one category at a time and complete all its concepts. Jot down essential formulas and revise them all to be thorough with CUET economics syllabus.
Check: CUET Application form 2024
3. Key terms are the key to success
It would be best if you were very well-versed with key terms like
Inflation
Deflation
Fiscal policy
Terms of trade
Demographic
Consumer surplus
Index number etc.
Get your basics right, as the CUET economics syllabus is based on what you study in school.
So make sure you are thorough with all the concepts of Economics.


4. Graph Based Concepts for CUET Economics Syllabus Preparation
Understand the key terms and concepts and prepare notes to help you during the revision process.
Be well-versed with key terms like Inflation, Deflation, Fiscal policy, Terms of trade, Demographic, Consumer surplus, Index number etc. Understand their meaning and functionality.
You are required to prepare for graph-based concepts for CUET Economics.
Focus on learning demand and supply, credit creation and balance of payment etc.
You can be asked questions like -
Q. Are you sure the demand curve is downward-sloping?
Q. What do you think of the Supply curve?
Q. Is it upward-slopping or downwards-slopping?
This is just an example.
Check: CUET exam pattern 2024
You may find many graph-based questions in the NTA CUET Exam 2024.
Hence, make sure you clear all your concepts and do not get carried away with confusing options.
Revise topics like Demand and supply
credit creation
balance of payments etc.
You must note that Mathematics is equally essential to crack CUET economics papers with good scores.
Practice concepts around Statistics, National income, Elasticity, Production, Consumer, multipliers, National income, Aggregate Demand, and Aggregate supply.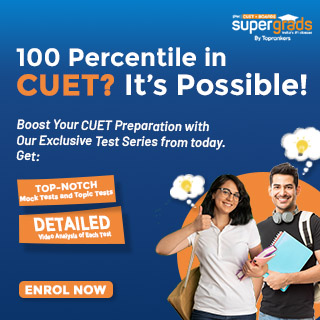 5. Revise formulas for CUET Economics Syllabus Prepration
If you are familiar with economics syllabus class 11th, you must know that you can't keep away with numerical in Economics.
This is a must for NTA CUET Economics Syllabus Preparation 2024.
Numericals are part and parcel of various critical topics of economics:
statistics
national income
elasticity
production
consumer multipliers
national income
aggregate Demand
aggregate supply
Practice all related formulas and numerically based on these above concepts.
Check: CUET DU Exam Pattern 2024
CUET Economics Syllabus Preparation Books 2024
NTA has clearly mentioned you can thoroughly prepare from your NCERT textbooks. However, suppose you are looking for concept clarity and practice papers.
In that case, you can refer to Educart NTA CUET Economics Section II Practice Papers Book for July Exam (Strictly based on the Latest Official CUET-UG Mock Test), NTA CUET (UG) Practice Paper Economics| Exam Preparation Book 2022 by VK Publications and CUET Economics by Drishti Publications.
They have good ratings, reviews and feedback from customers on amazon.
Check: CUET Prep Books 2024
Conclusion
The CUET Economics CUET Syllabus Preparation Strategy 2024 is important because it guides everyone in preparing for the CUET economics exams.
It outlines the topics that you need to master, the resources available to them, and the timeline for completing the syllabus.
It also provides information on the exam structure, syllabus, recommended textbooks, and so forth!
Check: CUET DU Eligibility Criteria 2024