Summary: Anthropology is an important domain subject for Humanities and Sociology programs. Although it has a smaller syllabus, here is how to prepare for Anthropology.
Are you preparing for CUET Anthropology? If so, you're in the right place.
In this article, you'll find all the essential information and resources you need to prepare properly for the Central University of Engineering and Technology (CUET) Anthropology exam.
You'll learn about the syllabus and how to prepare, the exam pattern, important topics to focus on, and study materials to help you ace the exam. With the right preparation plan and dedication, you'll be well on your way to success.
Let's get started!
Anthropology CUET Exam Paper Pattern
The CUET Anthropology will have 50 questions, of which you must answer 40.
There will be no sections in the exam and just 50 questions in Multiple Choice Question (MCQ) format.
Examination Medium
English, Hindi, Assamese, Tamil, Telugu, Kannada, Malayalam, Odia, Bengali, Marathi, Gujarati, Punjabi and Urdu
Total Questions asked
50
Questions needed to be answered
40
Maximum marks in Anthropology
200
Marking Scheme
5 marks for each right answer
-1 for each wrong answer
Question Type
MCQ
Exam time duration
45-minutes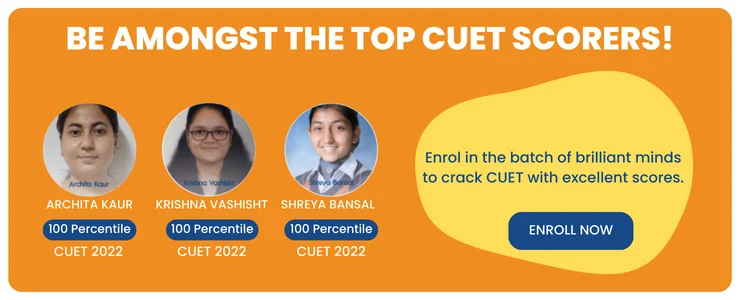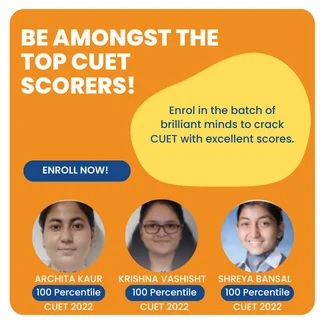 CUET Anthropology Syllabus
The syllabus for Anthropology includes majorly what is in the NCERT 12th class. You will be clear with the syllabus if you have prepared well for your 12th class exam from the NCERT textbook.
Subject
Topics

Physical Anthropology

Preliminary knowledge of Human genetics. Mendel's Laws of Heredity Mono hybrid and Di hybrid ratio
Definition of Race and Racial criteria, the significance of skin colour, Eye form and colour, Headform, and
blood groups as racial criteria
Racial classification, distinctive physical features and geographical distribution of the major racial groups of
man: Caucasoid, Mongoloid, Negroid and Australoid.

Prehistoric Archaeology

Tool Making: Techniques of manufacturing core and flake tools, primary and secondary flaking, pressure
flaking, grinding and polishing. Materials used in making prehistoric tools
Tool families: Pebble tools, Handaxe, Cleaver, Scrapers, Microliths, Points, Blades, Awl, Graver, Celts, Sickles, Spear-head, Arrow-head and Bone tools
Prehistoric Cultures: A brief outline of the following prehistoric cultures of the Paleolithic, Mesolithic and Neolithic periods
A comparative study of the salient features of Paleolithic and Neolithic cultures.

Material Culture and economic Anthropology

Economic life: meaning and aspects, characteristic features of the primitive or simple economic system.
Subsistence economy: domestication of animals-pastoralism, agriculture-shifting cultivation, horticulture, terrace cultivation and plough cultivation.
A brief outline of the methods of hunting, fishing and agriculture concerning Various communities of North East India as far as practicable.

Social Anthropology and Ethnography (Social Anthropology)

Family: Definition, forms and types: nuclear family, joint family, a family of orientation, a family of procreation, monogamous and polygamous (polygynous and polyandrous).
Clustered relationship in a nuclear family.
Rules of residence: Patrilocal, matrilocal, neolocal, avancolocal, bi-local, matripatri local. Rulesof descent: Patrilineal and matrilineal descent.
Functions of family, social nature of family.

Social Anthropology and Ethnography (Ethnography)

A brief outline of the land and people of North-East India.

Study of material culture and economic life of the following communities:
The Garo: Shifting or Jhum cultivation.
The Mishing: Plough cultivation

A study of the social organization of the Ao Naga and the Apatani.

Ecology

Meaning and definition of ecology and environment.
Elements of the environment: Solid, liquid, and gas.
Physical or abiotic environment, biological or biotic environment and sociocultural environment.
Man is the main agent to disturb the ecological balance.
Check: CUET BCA Syllabus 2023
Preparation for CUET Anthropology
Understand the syllabus thoroughly
Knowing the curriculum is the first step in preparation. Anthropology features a more compact curriculum that is neatly separated into sections and subtopics, making it easy to cover all of the syllabus It is pointless to stray too far from the assigned topics to obtain the maximum possible scores.
The curriculum is exclusively geared toward students in the 12th grade. All parts are equally important, and disregarding any is not recommended.
Check: Best Science Colleges For CUET
Understand the basics
You must know everything you learned in class 11 and class 12 to nail the basics of Anthropology. NCERT is a great guide for the basics of the subject, so getting those right is the first step.
Check: CUET BCA Syllabus 2023
Start learning the topics in the syllabus and keep notes
When studying Anthropology, you must take notes on important concepts and objects to review.
Take a step-by-step approach to each unit and finish everything that appears simple. After finishing the simpler topics, move on to the more difficult ones. Avoid anything that appears to be time-consuming, and make every attempt to complete as much of the syllabus as possible initially.
Check: CUET syllabus
Taking help from coaching
Anthropology is not a tough subject; you can certainly study it independently. If you have a time crunch or want help with the subject, you can get help from a good coaching class. You could also receive useful learning resources to help you through the process.
If you cannot attend coaching programmes, you can get online help. You will find various free resources online, from explanation videos to free exam materials.
Practice with mock tests and previous year's question papers
Study previous years' question papers to understand the questions that will be asked in the test. Review many papers to discover a pattern that will assist you in predicting the questions that may occur.
Do not expect the questions to be repeated. However, it's an excellent way to predict the general exam pattern of the question paper. Take as many practice exams as you can. Mock tests will help you examine your strengths and weaknesses in various subjects. You could focus your efforts on your weak areas.
Check: How to Prepare for CUET General Test
Revise and practice
There is not much to practice in this subject. The best you can do is to keep your notes handy and revise all the topics periodically. This will keep all the essential topics fresh in your mind. You might need some remembering, so revising is the best way to retain information.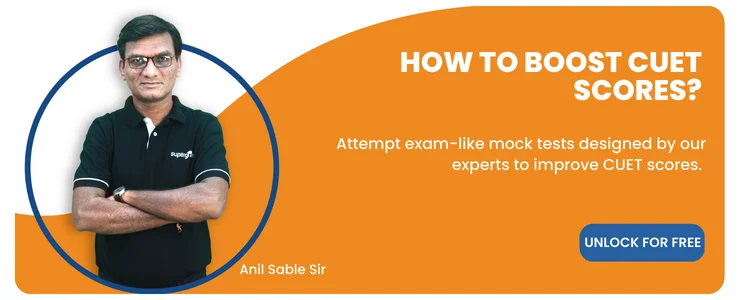 Study material for Anthropology
Trueman's UGC NET Anthropology, AM Tripathi (Danisha Publishing Company)
Anthropology (15th Edition), Carol R. Ember, Melvin R. Ember, and Peter N. Peregrine
Class 11 and 12 Anthropology NCERT Textbook
Check: Best books for CUET
Conclusion
Preparing for the CUET Anthropology exam requires enough time to learn all the topics given. Fortunately, the syllabus isn't very vast. There might be a lot of remembering that you might have to do, so writing notes should be your priority.
With a clear understanding of the syllabus, the exam pattern, and time management, you can create an effective study plan that caters to your strengths and weaknesses. It is important to practice previous years' papers, mock tests, and sample papers to understand the general pattern of the paper.
Finally, staying motivated, focused, and calm during the exam and avoiding any last-minute stress or anxiety are important.
Following these tips can increase your chances of acing the Anthropology exam.