CUET is a centralized entrance test designed to give students nationwide an equal and consistent chance for UG admissions. More than 100 institutions will participate in CUET 2024, with UG admissions dependent only on candidates' CUET scores.
CUET will include 47 central universities, including DU, BHU, JNU, AU, and many more, among the 100+. CUET would provide a single platform and fair opportunities to candidates nationwide with one centralized exam.
NTA, the conducting authority of CUET, has announced the syllabus for Psychology, and it will remain the same as the previous year. The syllabus will only have the content from the NCERT class 12 syllabus, as announced by the NTA. Psychology isn't a domain subject chosen by many, but quite a few courses need this as a domain subject.
Nevertheless, this article will detail the syllabus, exam pattern and preparation tips so that you ace your CUET Psychology exam!
Psychology CUET Exam Paper Pattern
Before going into the preparation, it is important to understand the exam pattern on the examination. As per the CUET exam pattern, there will be only one question paper with no sections. It will have 50 questions, out of which 40 must be answered.
CUET Psychology Syllabus
There are 9 units with several topics in them. The CUET syllabus given is very detailed and will help you prepare well.
Unit I: Variations in Psychological Attributes
Unit II: Self and Personality
Unit III: Meeting Life Challenges
Unit IV: Psychological Disorders
Unit V: Therapeutic Approaches
Unit VI: Attitude and Social Cognition
Unit VII: Social Influence and Group Processes
Unit VIII: Psychology and Life
Unit IX: Developing Psychological Skills


How to prepare for CUET Psychology
Psychology is an intriguing subject that tests your critical thinking and comprehension skills.
To completely prepare, you must have a genuine interest in the subject and an open and critical mind. To achieve and score in psychology, you must thoroughly understand the syllabus and prepare for every unit and topic.
Here's how you can effectively prepare for psychology.
Brief preparation strategy for CUET Psychology
Understand the syllabus thoroughly
CUET psychology is not very vast but is not very brief as well. Always begin by properly reviewing the syllabus and practising with some sample question papers. This will assist you in understanding the syllabus's topics and the importance/weightage of each subject. A thorough understanding of the syllabus can help you organize your preparation strategy.
If you prefer to study from other books, you should be careful. Too many sources can easily confuse and distract you from the syllabus. Be certain that you completely adhere to the syllabus provided.
Having a proper plan
Time management is the most important component in ensuring you never fall behind schedule. One of the essential values demanded of every aspirant is the ability to manage your time wisely.
The simplest way to manage your time properly is to adhere firmly to your timetable. Assess your strong and weak topics to create a timetable that allows you to cover all of the topics on time while also leaving time for practice and revision.
Check: Best Science Colleges For CUET
Keep notes and have a planned approach to completing the syllabus
Your NCERT book is an amazing guide to the basics of the subject; it is important to get that right first. For psychology, it is crucial to keep writing notes for key concepts, important theories and case studies that you need to remember and keep revising.
Linearly go through each unit and complete everything that feels easy. After you finish the easier topics, jump to the ones you feel are difficult. If you think something is taking a very long time, skip it for now and complete the maximum syllabus possible.
Check: CUET BCA Syllabus 2024
Practice with mock tests and previous year's question papers
Examine past year's question papers to get an idea of the questions that might appear in the exam. Don't expect the pattern to repeat exactly, but it's a good method to estimate the overall pattern of the question paper.
Practice as many mock tests as you can. CUET mock tests will allow you to assess your strengths and shortcomings in various topics. You can concentrate your efforts on your areas of weakness. Mock tests are essential for improving and gaining confidence in the subject.
Revise, Revise and Revise
It is critical for this subject that you revise the themes often, especially the harder ones. Because the subject is huge and there is a lot to understand, it is critical to keep things fresh.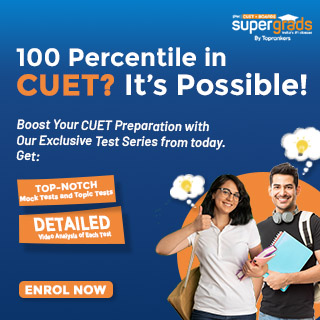 Study material for CUET Psychology
As mentioned earlier, it is crucial not to stray from the syllabus based on NCERT class 12. Be careful not to stray from the primary syllabus when using other CUET books. Use them as secondary help and to gain a better understanding of topics.
Goyal Target CUET 2022 by Vithika Rahul
Psychology Papers by Oswal Publications
Objective Psychology (by RPH Editorial Board)
Highly Useful MCQs For Psychology Entrance Preparation With Explanations (by The Psycho Zone)
Summarizing Psychology (by Bhasker Malu)
Check: How to prepare Business Studies for CUET
Conclusion
Psychology is a very theoretical topic with quite a large syllabus. The syllabus is the most important component of preparing for the CUET in psychology.
Study the syllabus carefully because it will tell you exactly what to study.
The given curriculum is highly detailed and covers all areas you must learn. Write notes as you finish each lesson and review them at regular intervals.
Finally, go over mock tests and previous year's question papers.
Adopting a methodical study approach will put you ahead of the game and ensure you ace the exam!