UGC (University Grants Commission) declared the CUET rule to be enforced from the academic year (2022-23). Nearly 90 universities, including DU and JNU, confirmed their participation in the Common Universities Entrance Test (CUET) 2022.
Some universities like JMI accepted CUET partially for admission to a few UG programs (10) to understand if CUET is the right fit for their admission process.
CUET was successfully concluded, and its results were declared on September 16, 2022. All universities accepting CUET scores have started the second phase of their admission process.
Many central universities have participated in the CUET (PG) for admissions to postgraduate and Ph.D. programs as well.
This post will guide you through all the latest news related to the NTA CUET Exam 2022.
Download Free Study Material for NTA CUET Exam by SuperGrads
16 September 2022: NTA declares CUET Results
NTA finally declares CUET results for all students who took their exams from phases 1 to 6.
13 September 2022: Normalized Score Explained
Normalization of CUET score for admission to 90 participating universities was explained.
08 September 2022: Provisional Answer Keys Released!
Answer keys were published for all Papers conducted from Phase 1 to Phase 6. Students finding discrepancies with the answer key must give it on or before 10 September 2022.
23 June 2022: NTA CUET Exam Date Announced!
The National Testing Agency announced the CUET Exam Dates on 22 June 2022. As per the official notice, the exam is conducted over 10 days, i.e., 15 July 2022, 16 July 2022, 19 July 2022, 20 July 2022, 04 August 2022, 05 August 2022, 06 August 2022, 07 August 2022, 08 August 2022, 10 August 2022.
The exam is not just conducted in India but 13 other cities outside the country and in 554 cities across India, making it the second-largest exam conducted this year.
For more information on the NTA CUET Exam Dates 2022, check the official notice.
23 June 2022: CUET Registration & Correction Window Opened!
Based on the demand of the students, the National Testing Agency has reopened the registration for CUET (UG) Exam 2022 for one more time.
Interested candidates can apply for the exam and fill out CUET Application Form 2022 till 24 June 2022 (up to 11:50 pm).
Note that you are allowed to make the corrections only in the online mode.
05 May 2022: Last Date for CUET Registration Extended!
National Testing Agency had extended the last date to fill out the registration form and opened the correction window several times.
After receiving many representations from the aspirants, NTA had decided to extend the last date for submission of online application forms for CUET (UG) - 2022.
It is a very good opportunity for students who haven't filled out the form earlier for some reason. Those interested in applying for the exam must complete the online registration form on or before 22 May 2022 (up to 05:00 pm).
04 May 2022: Application Correction Window Opened!
The National Testing Agency has come up with a new option i.e., a correction window. You can edit/update the application form within the window period in case you have made mistakes while filling out the application form earlier.
You can make the changes in the online form starting from 04 May to 06 May 2022. No changes or modifications would be accepted by NTA after the window period.
You can modify only certain details in the application form, like exam centers, subjects, language, etc. Don't miss the chance to update your application form in case you wish to make any changes.
18 April 2022: Corrections Made in Information Bulletin of CUET
As per the latest notice, NTA has made a few corrections to the information of students and other stakeholders in the Information Bulletin of CUET (UG)-2022.
A sub-point that states the size of the scanned copy of the Class X/ Equivalent Certificate should be in pdf between 50kb to 300kb (clearly legible) is dropped and is renumbered in the information bulletin.
Also, a few other points have been rephrased by the NTA. To get detailed information, check the official notice.
06 April 2022: CUET Applications Opened!
The National Testing Agency started the Online Registration Process for the Common Universities Entrance Test (CUET).
Those interested in applying for the exam had to fill out the application form online only through the official website of CUET.
Aspirants must ensure that the e-mail address and mobile number provided in the online form are their own or of their parents/guardians only, as all information regarding the exam will be sent by NTA on their registered e-mail address or by way of SMS on the registered mobile number only.
For more information, check the official notice.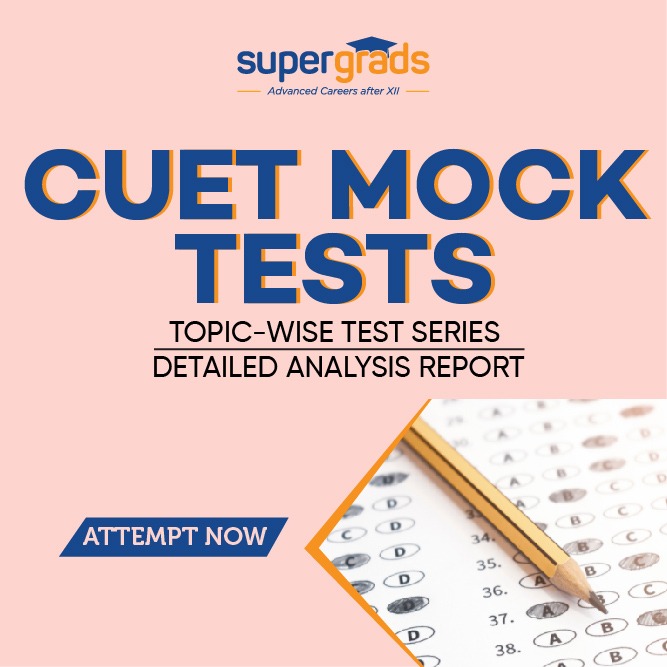 CUET Online Registration Dates Published!
As per the latest notice published by the National Testing Agency (NTA), the online registration process for the Common Universities Entrance Test started on 02 April 2022.
Those who wish to apply for the exam had to make sure to check the required eligibility of the desired University for selecting the options from UG programs offered.
Go through the NTA CUET exam date updates to get more details on registration dates.
CUET 2022 Exam Pattern Released!
The ministry of education (MoE) has informed, that the Common University Entrance Test 2022 will include four sections:
Section 1A: Language test
Section 1B: Language test
Section 2: Domain-specific test
Section 3: General aptitude test
The exam is computerized and conducted in 13 different languages: Telugu, Tamil, Marathi, Hindi, Urdu, Malayalam, Kannada, Gujarathi, Bengali, Assamese, Punjabi, Odia, and English.
According to the CUET Exam Pattern, Section 1 is divided into two sections:
Section 1A (mandatory)
Section 1B (optional)
You can opt for section 1B for other French, German, and Japanese languages.
In the second shift, if opted for, you will appear for the other four domain subjects and an additional language test (Section 1B).
The UGC will announce the detailed exam pattern and eligibility criteria.
The CUCET paper is expected to have 3 sections and about 100 MCQs from various topics like Numerical Aptitude, Data Interpretation, Analytical Skills, Reasoning, General Aptitude, Language(s), etc.
Read more: Short tricks to enhance your quantitative preparation for the CUET exam
Amongst the 3 sections, Section 1 is a language test, Section 2 is a domain-specific test, and section 3 is a general aptitude test.
We request you keep checking the official website to check new announcements.
CUET Exam Pattern Section 1A
The exam is specifically designed to check the knowledge you hold of the language, and CUET-UG is a language-based exam.
There would be 40 questions to be attempted out of 50.
The duration would be 45 minutes for each language.
Questions will be based on Reading comprehension. (based on different types of passages–Factual, Literary, and Narrative, [Literary Aptitude and Vocabulary]).
CUET Exam Pattern Section 1B
Those who want to choose other languages like Kashmiri, French, Konkani, Spanish, Bodo, German, Dogri, Nepali, Maithili, Persian, Manipuri, Italian, Santhali, Arabic, Tibetian, Sindhi, Japanese, Russian, Chinese, and Sanskrit must attempt the section 1B paper.
Read more about: Short tricks to crack the CUET exam on the first attempt
CUET Exam Pattern for Domain-Specific Test
This section has 27 subjects, of which a candidate must choose six domains they wish to pursue in their UG course. The 27 subjects are as follows:
Accountancy, Biology, Business Studies, Chemistry, Computer Science/ Informatics, Practices, Economics, Engineering Graphics, Entrepreneurship, Geography, History, Home Science, Knowledge Tradition, - Practices India, Legal Studies, Commercial Arts, Mathematics, Physical Education/ NCC, Physics, Political Science, Psychology, Sociology, Teaching, Aptitude, Agriculture, Mass, Media/ Mass Communication, Arts, Performing Arts, Music General, Sanskrit.
Questions related to the domain-specific topic will be asked in this section.
CUCET Exam Pattern for Section 3
The general aptitude section is mandatory for admission to one of the 90 central universities. The general test will include questions based on:
General Knowledge
Current Affairs
General Mental Ability
Numerical Ability
Quantitative Reasoning (Simple application of basic mathematical concepts)
Arithmetic/ algebra
Geometry/ mensuration/ statistics
Logical and Analytical
Reasoning
Don't miss reading the CUET notification
List of Participating Universities
CUCET exams will be conducted at more than 489 centers across the country.
Below is a list of University includes CUCET in its application process.
ALIGARH MUSLIM UNIVERSITY
ASSAM UNIVERSITY
BABASAHEB BHIMRAO AMBEDKAR UNIVERSITY
BANARAS HINDU UNIVERSITY
CENTRAL SANSKRIT UNIVERSITY
CENTRAL TRIBAL UNIVERSITY OF ANDHRA PRADESH
CENTRAL UNIVERSITY OF ANDHRA PRADESH
CENTRAL UNIVERSITY OF GUJARAT
CENTRAL UNIVERSITY OF HARYANA
CENTRAL UNIVERSITY OF HIMACHAL PRADESH
CENTRAL UNIVERSITY OF JAMMU
CENTRAL UNIVERSITY OF JHARKHAND
CENTRAL UNIVERSITY OF KARNATAKA
CENTRAL UNIVERSITY OF KASHMIR
CENTRAL UNIVERSITY OF KERALA
CENTRAL UNIVERSITY OF ODISHA
CENTRAL UNIVERSITY OF RAJASTHAN
CENTRAL UNIVERSITY OF SOUTH BIHAR
CENTRAL UNIVERSITY OF TAMIL NADU
DR. HARISINGH GOUR VISHWAVIDYALAYA
GURU GHASIDAS VISHWAVIDYALAYA
HEMVATI NANDAN BAHUGUNA GARHWAL UNIVERSITY
INDIRA GANDHI NATIONAL TRIBAL UNIVERSITY
JAMIA MILLIA ISLAMIA
JAWAHARLAL NEHRU UNIVERSITY
MAHATMA GANDHI ANTARRASHTRIYA HINDI VISHWAVIDYALAYA
MAHATMA GANDHI CENTRAL UNIVERSITY
MANIPUR UNIVERSITY
MAULANA AZAD NATIONAL URDU UNIVERSITY
MIZORAM UNIVERSITY
NAGALAND UNIVERSITY
NATIONAL SANSKRIT UNIVERSITY
NORTH-EASTERN HILL UNIVERSITY
PONDICHERRY UNIVERSITY
RAJIV GANDHI UNIVERSITY
SHRI LAL BAHADUR SHASTRI NATIONAL SANSKRIT UNIVERSITY
SIKKIM UNIVERSITY
TEZPUR UNIVERSITY
THE ENGLISH AND FOREIGN LANGUAGES UNIVERSITY
TRIPURA UNIVERSITY
UNIVERSITY OF ALLAHABAD
UNIVERSITY OF DELHI
UNIVERSITY OF HYDERABAD
VISVA-BHARATI UNIVERSITY
BARKATULLAH UNIVERSITY
DEVI AHILYA VISHWAVIDYALAYA
DR. A.P.J. ABDUL KALAM TECHNICAL UNIVERSITY
DR. B.R. AMBEDKAR SCHOOL OF ECONOMICS UNIVERSITY
DR. B.R. AMBEDKAR UNIVERSITY DELHI
JHARKHAND RAKSHA SHAKTI UNIVERSITY
JIWAJI UNIVERSITY
MADAN MOHAN MALAVIYA UNIVERSITY OF TECHNOLOGY
MAHATMA JYOTIBA PHULE ROHILKHAND UNIVERSITY
SARDAR PATEL UNIVERSITY OF POLICE SECURITY AND CRIMINAL JUSTICE
SHRI MATA VAISHNO DEVI UNIVERSITY
VIKRAM UNIVERSITY
AVINASHILINGAM INSTITUTE FOR HOME SCIENCE AND HIGHER EDUCATION FOR WOMEN
CHINMAYA VISHWAVIDYAPEETH
DAYALBAGH EDUCATIONAL INSTITUTE
GUJARAT VIDYAPITH
GURUKULA KANGRI
JAMIA HAMDARD
LAKSHMIBAI NATIONAL INSTITUTE OF PHYSICAL EDUCATION
MANAV RACHNA INTERNATIONAL INSTITUTE OF RESEARCH AND STUDIES
NATIONAL RAIL AND TRANSPORTATION INSTITUTE
PONNAIYAH RAMAJAYAM INSTITUTE OF SCIENCE AND TECHNOLOGY
SHOBHIT UNIVERSITY
TATA INSTITUTE OF SOCIAL SCIENCES (TISS)
THE GANDHIGRAM RURAL INSTITUTE (DTBU)
APEX UNIVERSITY
ARUNACHAL UNIVERSITY OF STUDIES
BENNETT UNIVERSITY
BML MUNJAL UNIVERSITY
CAREER POINT UNIVERSITY
CHHATRAPATI SHIVAJI MAHARAJ UNIVERSITY
GALGOTIAS UNIVERSITY
IES UNIVERSITY
IIMT UNIVERSITY
JAGAN NATH UNIVERSITY BAHADURGARH HARYANA
JAGANNATH UNIVERSITY
JAYPEE UNIVERSITY OF INFORMATION TECHNOLOGY
K.R. MANGALAM UNIVERSITY
MANAV RACHNA UNIVERSITY
MEWAR UNIVERSITY
NICMAR UNIVERSITY, PUNE
NIIT UNIVERSITY
NIRWAN UNIVERSITY, JAIPUR
RNB GLOBAL UNIVERSITY
SRM UNIVERSITY
TEERTHANKER MAHAVEER UNIVERSITY
Read more: Short Tricks to Manage boards and CUCET preparation together
CUCET Exam Dates Announced
There would be a single application form process through which you can apply for various colleges.
Public notes for CUET results were published officially on 15 September 2022.
The announcement by Delhi University
Delhi University has officially announced that admissions to the college will happen based on the common entrance test.
As per the update, the best-of-four/merit-based selection system will be abolished this year.
The second phase of DU admission is conducted through the CSAS portal. Several colleges have introduced a different portal for uploading documents and entering CUET normalized scores to finalize the counseling process and published the merit list of selected students.
Possible Changes
Dean Admissions of Delhi Shobha Bagai stated that Class 12 marks should not be the criteria for admissions if an entrance test is being conducted.
Universities like DU, AMI, etc., purely consider CUET scores for admissions.
Read more: Short tricks to enhance your Economics preparation for the CUET exam
Challenges for University
From this year, Central Universities have to calculate normalized scores instead of a percentage.
Universities have to present the exact weightage for board exams and the weightage for Common Entrance Test.
What will Certainly Happen?
It is mandatory to give a Common Aptitude Test to get admission to Central Universities and other participating universities, including Delhi University.
DU JAT will merge with Common Entrance Test for Central Universities from this year onwards.
NTA is responsible for conducting the Central Universities Common Entrance Test, which will be primarily an objective-based aptitude test.