Are you aiming to get admission to a BA course at a top university like Delhi university, BHU, Apex Univerity, AMU, etc.? CUET is the exam for you!
You must already know that the exam pattern and syllabus change with each college offering a BA course.
A few colleges you can target to study BA are AMU, JMI, DU, etc., in various specializations.
The article walks us through possible exam patterns and their respective syllabus for CUET Syllabus for BA.
CUET Syllabus for BA 2023
Most of the CUET BA exam pattern has the following topics to be covered:
English (Section I)
Economics (Section II)
General Test (Section III)
History (Section II)
Mass Media/ Mass Communication Section (Section II)
Psychology (Section II)
Sociology (Section II)
Political Science (Section II)
Anthropology (Section II)
Mass Media (Section II)
Geography (Section II)
Sociology (Section II)
Sanskrit (Section II)
Mathematics (Section II)
Note that these are the possible combinations of BA exam patterns. The exam pattern varies in different colleges. The syllabus is distributed in 3 sections.
English Exam Units
Prepare for the following topics:
1 - Reading Comprehension: There will be three types of passages (maximum 300-350 words):
i. Factual
ii. Narrative
iii. Literary
2 - Verbal Ability
3 - Rearranging the parts
4 - Choosing the correct word
5 - Synonyms and Antonyms
6 - Vocabulary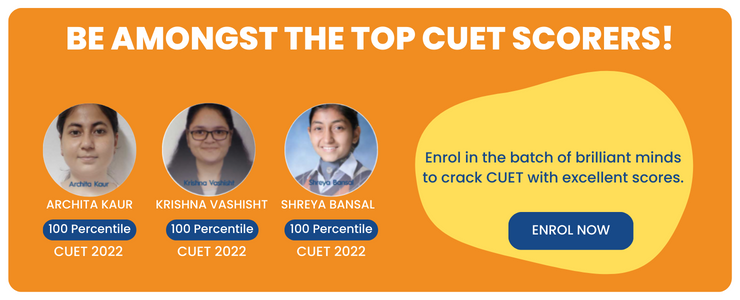 Economics Exam Units
Prepare for the following topics:
Unit I: Introduction to Microeconomics
Unit II: Consumer Behaviour and Demand
Unit III: National Income and Related Aggregates — Basic Concepts and Measurement
Unit IV: Determination of Income and Employment
Unit V: Money and Banking
Unit VI: Government Budget and the Economy
Unit VII: Balance of Payments
Unit VIII: Development Experience (1947-90) and Economic Reforms since 1991
Unit IX: Current challenges facing the Indian Economy
Unit X: Development Experience in India
Check: CUET General Test 2023
General Test Exam Units
Prepare for topics like General Knowledge, Current Affairs, General Mental Ability, Numerical Ability, Quantitative Reasoning (Simple application of basic mathematical concepts arithmetic/algebra geometry/mensuration/statistics taught till Grade 8), Logical and Analytical Reasoning.
History Exam Units
Prepare for the following topics:
Unit I: The Story of the First Cities Harappan Archaeology
Unit II: Political and Economic History: How Inscriptions tell a story
Unit III: Social Histories using the Mahabharata
Unit IV: A History of Buddhism: Sanchi Stupa
Unit V: Medieval society through Travellers' Accounts
Unit VI: Religious Histories: The Bhakti-Sufi Tradition
Unit VII: New Architecture: Hampi
Unit VIII: Agrarian Relations: The Ain-i- Akbari
Unit IX: The Mughal Court: Reconstructing Histories through Chronicles
Unit X: Colonialism and Rural Society: Evidence from Official Reports
Unit XI: Representations of 1857
Unit XII: Colonialism and Indian Towns: Town Plans and Municipal Reports
Unit XIII: Mahatma Gandhi through Contemporary Eyes
Unit XIV: Partition through Oral Sources
Unit XV: The Making of the Constitution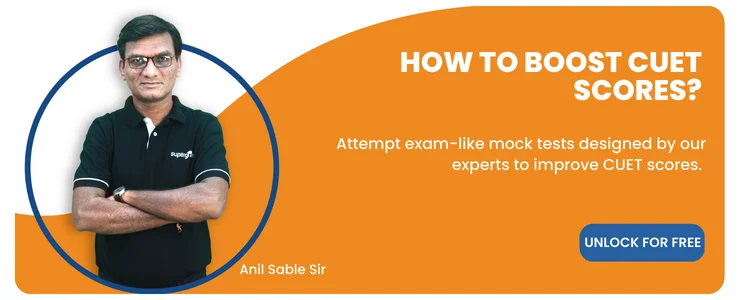 >
Mass Media/ Mass Communication Exam Units
Prepare for the following topics:
Communication
Journalism
TV
Radio
New Media
Cinema
Social Media
Check: How to prepare Business Studies for CUET
Psychology Exam Units
Prepare for the following topics:
Unit I: Variations in Psychological Attributes
Unit II: Self and Personality
Unit III: Meeting Life Challenges
Unit IV: Psychological Disorders
Unit V: Therapeutic Approaches
Unit VI: Attitude and Social Cognition
Unit VII: Social Influence and Group Processes
Unit VIII: Psychology and Life
Unit IX: Developing Psychological Skills
Check: CUET Anthropology Syllabus
Sociology Exam Units
Prepare for the following topics:
Unit I: Structure of Indian Society
Unit II: Social Institutions: Continuity and Change
Unit III: Social Inequality and Exclusion
Unit IV: The Challenges of Unity in Diversity
Unit V: Process of Social Change in India
Unit VI: Social Change and the Polity
Unit VII: Social Change and the Economy
Unit VIII: Arenas of Social Change
Unit IX: New Arenas of Social Change
Unity X: Social Movements
Political Science Exam Units
Prepare for the following topics:
Politics in India Since Independence
Contemporary World Politics
Check: CUET Chemistry Syllabus
Anthropology Exam Units
Prepare for the following topics:
Unit-1: PhysicalAnthropology
Unit-2: PrehistoricArchaeology
Unit-3: Material culture and economic anthropology
Unit-4: SocialAnthropology and Ethnography
Unit-5: Ecology
Geography Exam Units
Prepare for the following topics:
Geography/ Geology
Unit I: Human Geography: Nature and Scope
Unit II: People
Unit III: Human Activities
Unit IV: Transport, Communication, and Trade
Unit V: Human Settlements
Geography
Unit I: People
Unit II: Human Settlements
Unit III: Resources and Development
Unit IV: Transport, Communication, and International Trade
Unit V: Geographical Perspective on Selected Issues and Problems
Sociology Exam Units
Prepare for the following topics:
Unit I: Structure of Indian Society
Unit II: Social Institutions: Continuity and Change
Unit III: Social Inequality and Exclusion
Unit IV: The Challenges of Unity in Diversity
Unit V: Process of Social Change in India
Unit VI: Social Change and the Polity
Unit VII: Social Change and the Economy
Unit VIII: Arenas of Social Change
Unit IX: New Arenas of Social Change
Unity X: Social Movements
Check: Logical and Analytical Reasoning
Sanskrit Exam Units
शब्दरूपाणि - वाक्येषुणवभणिप्रयोगा
धातुरूपाणि
सनधयः सणनधणवच्छेदाः च
समासाः णवग्रहाः च
प्रत्यया
उपपदणवभणिप्रयोगा
भाणषककायवम
छनदसांसोदाहरिलक्षिपररचयः/श्लोकेषुछनदोऽणभज्ञानम्
शब्दालङ्कार
Mathematics Exam Units
Prepare for the topics below:
Section A:
Algebra
Calculus
Integration and its Applications
Differential Equations
Probability Distributions
Linear Programming
Section B1: Mathematics
Relations and functions
Algebra
Calculus
Vectors and 3-dimensional Geometry
Section B2: Applied Mathematics
Numbers, Quantification, and Numerical Applications
Probability Distributions
Index Numbers and Time-based data
Index Numbers and time-based data
Financial Mathematics
Linear Programming
Check: Short tricks to manage CUET and boards preparation together