Summary: Discover key strategies for acing the CUET Mass Media & Communication exam. This guide highlights effective preparation tips, essential syllabus topics, and practical insights for aspiring journalists. Dive in to learn how to master the exam and kick-start your career in media and communication.
After deciding to pursue a career in journalism, the majority of students then turn their attention to researching how to best prepare for admission examinations for schools of mass communication.
This is because most journalism programs do, in fact, have an entrance test. Still, they don't identify the curriculum, books, techniques, etc., that students should refer to or any other pertinent material.
These are essential components that must be addressed in preparing for the CUET entrance examination for any mass communication program.
To assist you in preparing for the mass communication entrance exam, we have gathered all of the relevant books and syllabus information from various sources, toppers, and experts.
In addition, advice has been given on how to stay up with current events, improve general knowledge, and other crucial topics in preparation for entrance examinations for public communication programs. Check out the article on this page for information on how to prepare for the mass communication program entrance tests.
Tips For Your Preparation
Check the syllabus and CUET Exam Patten, Tips, and CUET Syllabus.
1. Be Well Versed With Exam Pattern
You need a solid understanding of the examination format before moving on to the preparation phase for mass communication examinations.
Candidate who follows this helpful advice will have a head start on their CUET Preparations since they will already be familiar with the questions on the entrance test.
You will be able to formulate a strategy. As a result, it is much simpler for them to succeed on the test of mass communication.
If you are familiar with the test format, you will better understand which exam parts require the most attention. In addition, you will comprehend the marking system to be aware of the score zones.
If a candidate is familiar with the test format, they will be less likely to have test anxiety on the "big day."
Refer: Important Questions for CUET 2024 General Test
2. Dive Deep into the World of Media
Mass media is everywhere around us, so why not embrace it? Watch the news, read articles, and immerse yourself in media culture. This way, you'll enjoy your preparation and better understand the industry.
3. Stay Up to Date with Current Events
The world is constantly changing, and the media industry is no exception. Stay up-to-date with the latest news, trends, and issues, and learn how to apply them in your exam.
Check: NTA CUET Exam Dates 2024
4. Practice Your Interview Skills
Communication is key in the media industry, and interview skills are essential. Practice with friends and family, and learn to ask the right questions, listen actively, and build rapport.
5. Create a Personal Blog/Vlog/Portfolio
One of the best ways to prepare for the exam is to put your knowledge into practice. Start a personal project and explore your creative side. You'll gain practical experience and develop your writing and presentation skills.
6. Take Breaks
Studying for long hours can be exhausting, so take breaks in between. Go for a walk, listen to music, or indulge in your favourite hobby to recharge.
7. Engage with Subject Matter Experts
Most of the admission examinations for mass communication are often followed by interviews and group discussions.
Therefore, to get familiar with various perspectives on various subjects, applicants can debate it with specialists or seek advice from those who have successfully completed these mass communication entrance examinations.
Taking the admission exam, participating in the group discussion, or being interviewed, will assist you in developing clearer mental processes, which will benefit them in all of these situations.


BA Mass Media and Communication Syllabus
Note: The CUET question paper will include 50 questions, of which 40 must be answered.
CUET Mass Media Communication Syllabus is provided below:
Communication
(i) Culture and Transmission
What exactly is culture? Relationship between culture and mass media; communication in the context of culture; media as a vehicle for cultural transmission; representation and stereotyping in the media.
(ii) Social Change and Communication
Social change: significance; media as an agent of social change (with examples of various social movements).
Journalism
(i) Traits of a competent Journalist.
A comprehension of the following: news sense, inquisitiveness, language abilities, dependability, and empathy.
(ii) Journalism Ethical Issues.
A concise explanation with instances of each of the following: sensationalism, false news, paid news, plagiarism, advertorials, political reporting, and undercover operations.
Know more: Can average students crack CUET?
Television and Advertising
(i) Advertising principles & process
(ii) Functions of Advertising
(iii) Types of Advertising (Cross promotions, Merchandise, Convert Advertising)
(iv) Forms of Advertising
Film
(i) Stage of Pre-Shooting
(ii) The Shooting Phase
(iii) Phase Following Filming
Radio
(i) Radio Writing
Characteristics of a Radio Script:
Radio script characteristics include conversational language, active voice, short phrases, avoidance of technical jargon, and the capacity to evoke images.
A basic understanding of radio studio and transmission equipment, including microphone types, amplifiers, sound mixers, speakers, and audio recording.
(ii) Radio Jockeying
Role of a radio jockey; necessary skills: mastery of language (spoken and written), rapport with the audience, and understanding of recording equipment.
Prepare with: CUET Mock Tests 2024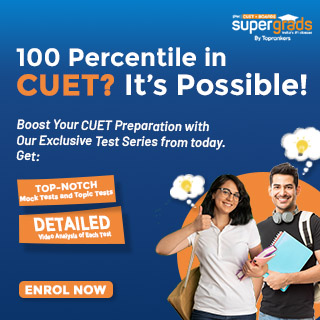 Cinema
(i) Cinematic History
A concise overview of the earliest experiments conducted by the Lumiere Brothers, John Grierson, Robert Flaharty, and Dada Saheb Phalke.
(ii) Cinema Genres.
Understanding the numerous genres (with appropriate examples): action, westerns, comedy, criminal, drama, fantasy/science fiction, historical, animation, romance, and musical.
(iii)Cinema and Social Transformation
Parallel Cinema movement in India: highlighted issues and low-budget production techniques (using Shyam Benegal's Manthan as an example).
Prepare with Supergrads: SuperGrads CUET Scholarship Test
Social Media
(i) Definition of social media.
(ii) Social media platform types.
Self-explanatory.
(iii) The function of social media in a democratic society.
Social media's role in the construction of collective identities in terms of information sharing; cyberactivism (with suitable examples)
(iv) Computer Crime
A comprehension of cyberbullying, cyberstalking, trolling, and online fraud.
(v) Netiquettes.
Meaning and significance of netiquette; an understanding of netiquette such as identifying oneself, respecting the privacy of others, using suitable language and imagery, and refraining from spamming.
Check: CUET Application Form 2024
New Media
(i) Internet is the convergence centre for all mass media.
(ii) Broadcasting
(iii) Model of mass communication in which a few send to many receivers.
(iv) An enormous organization.
(v) Huge technical infrastructure
(vi) Large-scale revenue.
(vii) The paradigm shift caused by the Internet.
(viii) Permitting an individual to post information on the Internet.
(ix) The dissemination of data or messages from one medium to the others.
(x) Multiple sources provide identical information.
(xi) Distribution of information between individuals on a global scale never before seen.
(xii) Rapidity of local, national, and international opinion formation.
(xiii) The social and political ramifications of the new information order.
(xiv) The consolidation of democracy.
(xv) Emerging developments in mass communication
Applicants appearing for CUET Mass Media and Communication Exam must download CUET mass media and communication syllabus pdf form the CUET official website to check for the latest and newest additions to the CUET Mass Media Communication syllabus.
Know more: How CUET is going to open doors to many opportunities?
Conclusion
So there you have some key takeaways from the CUET Mass Media and Communication syllabus 2024. Remember, this is just the beginning of your journey towards a successful mass media and communication career.
It is important to stay focused, stay curious, and keep learning. You can achieve great things and make a name for yourself in this exciting field with dedication and hard work.
Click here to enrol: CUET Online Coaching 2024 by SuperGrads