With the huge syllabus ahead of you, it's always advised by experts to start your LLM preparations early! Multi-tasting may not come easy for everyone but is the only effective way to go about preparing for your LLM entrance exams.
It is known that managing college and preparation for entrance exams is not a child's play. However, there are several students who have managed to crack the LLM exam with their college academics hand in hand.
We see many toppers managing to crack the exam, and the experts have come up with strategies to help students.
We understand that strategizing your preparations can be challenging, so with expert advice, this article here is to bring you tips to manage LLM entrance and college studies effectively.
Download FREE Study Material for LLM Exam by Legal Edge
How to manage LLM preparations with College?
It can be challenging to focus on LLM preparations when you have your mid-term exams, research paper submission, etc. So our experts have come up with strategies you can follow to bring ease to your preparation journey. Also, make sure of the Law PG exam you are going to take, as there are several programs like CLAT LLM, BHU LLM, AILET LLM, and so many more.
Its important to know their exam pattern and syllabus, although the syllabus can be quite similar. Update yourself with the latest upcoming law PG entrance exams 2023
The tips mentioned are not generic but very specific information offered on how to manage LLM preparations with college.
You will be advised on what to study, time to spend studying, what to refer to study, and so on.
1. Time Management
Remember multi-tasking mentioned earlier in the blog? Here's what you must prepare and spend a dedicated amount of time on for important topics listed further.
You have around 80-85 days to prepare for the LLM exam, so dedicate at least 3 hours to reading a minimum of 3 judgments daily.
If you cannot read the whole judgment, read its judgment which includes -
Bench
Issues Involved
Provisions
Cases referred/ Relied/ Overruled
Ratio
Observation
Do not compromise on the number of judgments you prepare for. Minimum 3 judgments must be covered. You must go through your syllabus thoroughly before you start with your preparations.
On that note, if you are planning to write the CLAT PG exam, you must take a look at CLAT PG Syllabus so you cover all the important topics and prepare efficiently.
Watch the video by our expert from LegalEdge after College, and we recommend you take the mock tests to know how much knowledge you hold in the subject.
2. Reference Books
Instead of studying course books, you can refer to reference books like Universal's books; instead of reading your entire course book, while reading provision, you can make a note of related case laws, doctrines and amendments and prepare notes.
Your time will be saved doing this.
Once your gather the resources to refer to study, glance through the exam pattern and the syllabus. Speaking of which if BHU LLM exam will start shortly and is conducted through CUET PG for this academic year. If you are planning to write the exam, be sure to check the BHU LLM books to refer.
Note that after reading the book, if you don't understand the concept, check the videos, as an explanation will be offered with examples and graphical representation.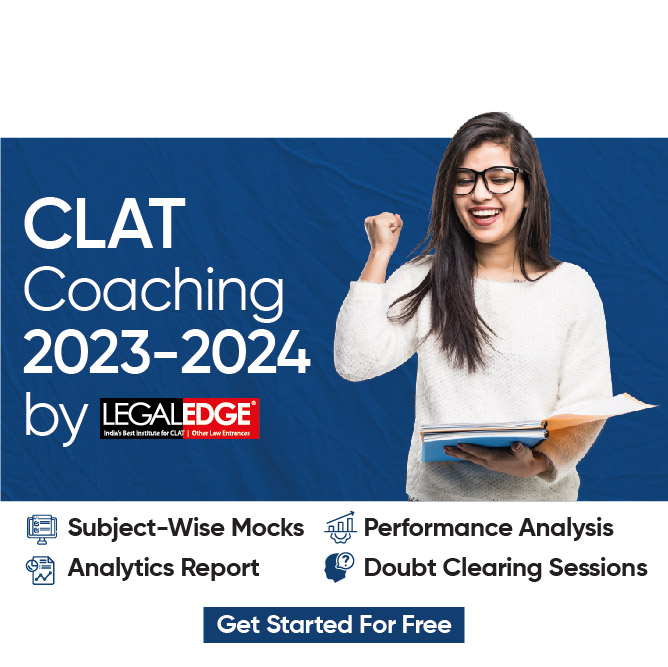 3. Recent legal developments
When you are working on research papers at your college, you can include current legal issues; this will help with your research submissions, and preparations for current legal issues in the news will be covered.
This will help you in exams like AILET PG and ILI, covering subjective questions.
You can subscribe to LegalEdge: CLAT, Law Exams Prep & Online Coaching channel to check videos related to law preparation.
You might not always know what recent legal developments to cover; in times of doubt, you can always join a coaching center that guides you till your get your results. One such is LegalEdge After college. Take the mock tests below if your appearing for law pg program for the academic year 2023.

4. Mock Tests
Your weekends must be allotted for Mock tests. Spend 2-3 hours and attend at least 1 mock every weekend.
Check the solutions; by this, preparations will be paced up. This will cover important judgment or provisions.
From henceforward, make sure every weekend you cover mock tests.
5. Consistency
Now that you know all the preparation strategies listed above do not make any excuses and follow them thoroughly until 19th June.
You can refer to books like -
S.S. HandBook For LL.M. Entrance Exam Based On New Syllabus By Vishal Singh,
Singhal's Solved Papers of LLM Entrance Test (Faculty of Law, Delhi University, including AILET, CLAT, and ILI)
Universal's Guide To Ll.M. Entrance Examination, Including Previous Years Solved Papers, S.S. Handbook for LLM Entrance Exam (Based on New Syllabus)
Universal's Guide to L.L.M Entrance Examination
We have a wide range of resources to help you crack your LLM entrance exams. If you're taking the ILI LLM 2023, you might want to refer to ILI LLM Preparation Books 2022
Remember that the key to success is always consistency!