Even though numerous career options are available nowadays, a career in law is unquestionably the most popular beyond engineering and medicine.
Students can explore and conquer a variety of career paths in law. As a result, it should come as no surprise that an increasing number of young people are choosing law as their professional path selected after completion of class 12.
Considering this, you might have queries like career opportunities after completion of law, the future for law, etc.
To clarify all your queries, our LegalEdge team had a discussion with Eminent Jurist Professor Dr. Faizan Mustafa, Vice-Chancellor of NALSAR University of Law, Hyderabad.
Here is a glimpse of the conversation with Faizan sir:
Question: How do you look at your journey as an Eminent Jurist Professor at NALSAR University?
Download FREE Study Materials For CLAT Exam by LegalEdge
Answer: As an Eminent Jurist Professor at NALSAR University, I will ensure that the teacher coming to the class has to be fully prepared. There are a few students who challenge you in the class. So, they must be prepared for all the questions that students ask them during class. In law school, students learn the art of argument, and while making an argument, you should know how to construct an argument. I will always tell my students that I won't be able to teach them the law, but I will be able to teach them how to find the law.
Read more: Short tricks to enhance your CLAT GK preparation
Question: Which is your personal favorite book and why?
Answer: It is very difficult to say one favorite book because I read a number of books. One of the first books I read was 1984, written by George Orwell. In this book, he discussed Gandhiji's experiment with truth and Nehru's discovery of India. Some books are really classic, and they created a huge impact on me. I will say that any good student of law should read a minimum of 100 books during his/her five years' stay in law school. Every year, they should read about 20 books and a lot of fiction and autobiographies, which they will not find in textbooks.

Question: Since it has been a decade of you being vice-chancellor, how far has the academics as a structure changed, and when you compare it with your student life, how has it changed?
Answer: When I did law, we didn't have any National Law School. So, law schools will come when I am completing my LLM, and in the traditional model of legal education, the Aligarh Muslim University (AMU) law department was the leading center. There were two grades Centers of legal education at that point in time. One was Delhi University, and the other was Aligarh Muslim University, which was ranked in 2nd place. If I compare my students' days with today's academia, there is a mark difference.
Read more: Short tricks to crack the CLAT exam on the first attempt
During my days, teachers were really passionate about teaching, and they used to invest a lot in classroom teaching. People used to look forward to their class of professors. After the classes, there used to be heated debate about what the teacher said. Today, because of UGC, youngsters are more interested in publications, and therefore, their focus is on doing a Ph.D. and acquiring an API score, and there are a lot of events that will be held in law schools. During our days, there were only 4 to 5 events in a year.
Read more: Short tricks to score 150 marks in CLAT
Question: What do you believe in NLASAR University?
Answer: At NALSAR university, we believe in the integration of knowledge, and we emphasize humanities a lot. In fact, I have been told that National Law Universities Vice Chancellorship should not be open for humanities experts. I feel that the UGC rule, which says that only professors would be eligible to become the VC is not the correct rule. We should also open Vice Chancellorship for bureaucrats, army officers, and judges.
Question: What is the basic difference between National Law Universities and other Law universities?
Answer: CLAT will have members from National law Universities except for the National Law University, Delhi, but we have three law universities:
Law University in Karnataka
Law University in Chennai
Dr. Ambedkar Law University in Rajasthan
CLAT Scholarship Test 2023 by LegalEdge - Get up to 100% Off
These three are the law universities that have affiliated colleges. There are 82 affiliated colleges under Dr. Ambedkar Law University in Rajasthan. So, in terms of influence and the extent of work that law university will have is much more than a National Law University, which has a small number of students on campus.
But, National Law Universities being fully residential, selecting the best students for the BA LLB program will enhance the prestige of legal education. Many students who are in older NLUs prefer to do corporate jobs, and they will get very attractive packages.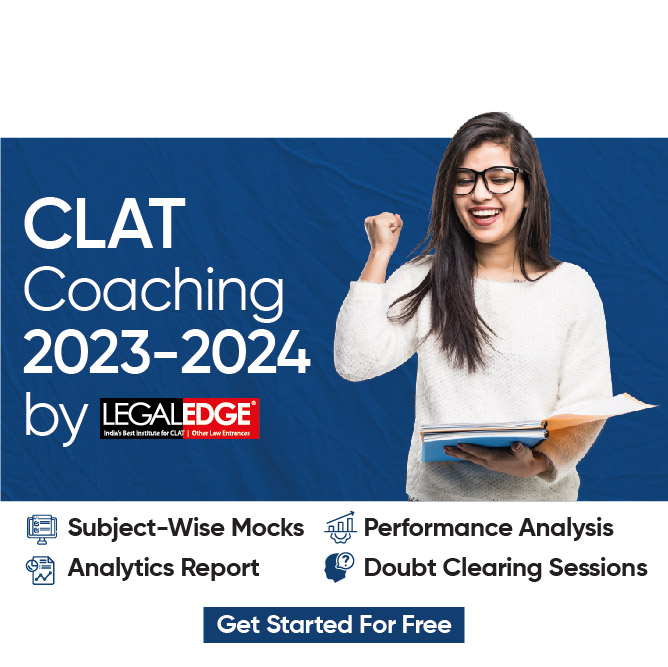 Question: How is the career for a law student?
Answer: Law opens a lot of opportunities to students. The law is a good option if they want to write the civil services examination. If you want to be a judge, nobody other than you is eligible to write the Judicial Service Exam as the best option. I always say the judicial services exam will have easier competition in India. If you are writing civil services, people from all disciplines will appear for the exam, so that the competition will be pretty high. As we all know, every corporate industry needs a legal advisor; banks and insurance companies need legal advisors. Lawyers make money when business is flourishing, and companies are widening.
Read more: Law career after graduation
Question: What is the future of law?
Answer: In the 19th century and first half of the 20th century, the law was the most prestigious course. In the decades of the 60s, 70s, and 80s, many law colleges and evening classes started. Some of my teachers had done LLB and MA simultaneously because one could do two courses simultaneously. The seriousness which is required for legal education was somewhere lost. With the establishment of the National Law University School of Law at Bengaluru and subsequent NLUs, the system has changed. Law as a course has acquired huge prestige, and the kind of job opportunities make the law a very interesting discipline. Compared to MBBS, all National Law Universities students will be placed in good companies. In my opinion, Law as a Career has the most secure option in the future.