Students of this generation explore their career options beyond medicine and engineering, which is a progressive way of thinking.
Law as a profession is one of the most popular career options among students in recent years, as there are many opportunities available after completing a law degree.
When you choose law as your career, you might have queries like how life is in law school and how to enter law school, the scope after the law, and more.
Read through the post that will give you a complete insight on why Law as a Career, which entrance exam to take up to pursue law, the salary of a lawyer, and more.
The trend of Choosing Law as a Career
Before 1987, you had to join B.A. or B to become a layer. Com after 12th and later join LLB degree to pursue a law course.
There wasn't any entrance exam earlier; however, after 1987, Prof N.R.Madhav Menon bought the concept of merging B.A. and LLB to form a separate degree course that is specific to the law i.e., BA LLB (Hons).
This new degree is for a duration of 5 years and was initially introduced in NLSIU Bangalore, known as the top law college in the country.
Download FREE Study Material for Law Entrance Exams by LegalEdge
Later, many other law schools followed the same concept of 5 year BA LLB degree. Currently, both 3 years and 5-year law degrees exist, but very few choose a law degree after pursuing a BA.
Law Entrance Exams
To pursue a law degree, you must appear for law entrance exams conducted every year across the country.
These Law Entrance Examinations are further classified into three levels :
National Level
State Level
Institutional level exams.
There are various entrance exams for law courses, out of which the most popular entrance exams are explained below.
CLAT (Common Law Admission Test)
CLAT Entrance Exam

is India's top-most exam for UG and PG courses.
It is conducted by a consortium of National Law Universities across India. Through CLAT, you will be provided admission to any of the 22 NLUs.
The question paper includes a total of 150 questions. There are five sections: Logical Reasoning, Legal Aptitude, Quantitative Aptitude, English language, Current Affairs & General Knowledge.
The exam is conducted in offline mode.
| | |
| --- | --- |
| Name of Examination | Common Law Admission Test |
| Short name | CLAT |
| Conducted by | The Consortium of National Law Universities |
| Mode of Examination | Offline |
| Language options | English |
| Courses Offered | BA LLB and LLM courses |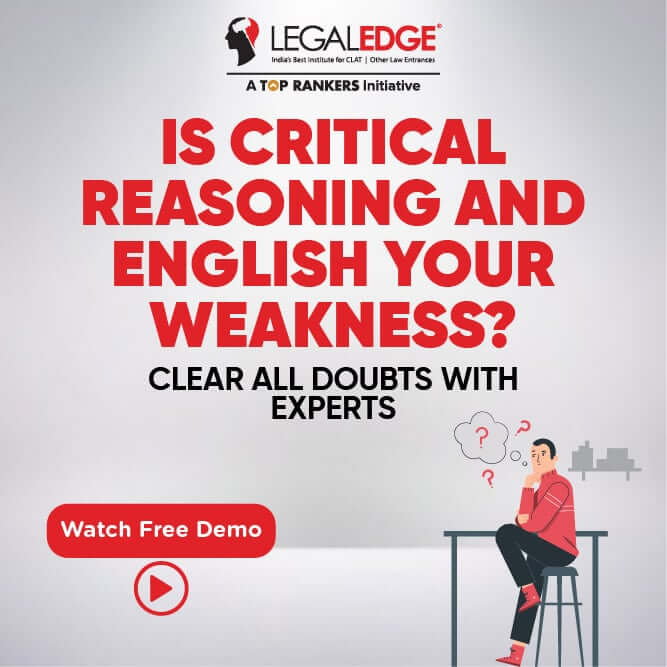 AILET (All India Law Entrance Test)
All India Law Entrance Test is also a national-level exam conducted by NLU Delhi for admission into UG and PG courses.
A total of 3 sections are included in

AILET Entrance Exam

: Logical Reasoning, English language, Current Affairs & General Knowledge.
The question paper consists of 150 questions. The total time duration of the exam is 1 hour and 30 minutes.
| | |
| --- | --- |
| Name of Examination | All India Law Entrance Examination |
| Short name | AILET |
| Conducted by | National Law University Delhi |
| Mode of Examination | Offline |
| Language options | English |
| Courses Offered | BA LLB and LLM courses |
SLAT
Symbiosis Law Admission Test is conducted for admission into Symbiosis Pune, Noida, Hyderabad.
As per the SLAT paper pattern, the entrance test shall be conducted in online mode. The question paper consists of 60 questions for 60 marks.
The SLAT exam is conducted in 3 sections: Symbiosis Law Admission Test (SLAT), WAT (Writing Ability Test), and PI (Personal Interview).
| | |
| --- | --- |
| Name of the examination | Symbiosis Law Admission Test |
| Common name | SLAT |
| Conducting Body | Symbiosis International University, Pune (SIU) |
| Mode of exam | Online |
| Courses Offered | BA LLB, BBA LLB |
| Total Seat Intake | 840 |
| Participating Institutes | SLS Pune, SLS Noida, SLS Hyderabad |
Maharashtra Common Law Entrance Test
MH CET Law Exam is a state-level entrance exam conducted by Maharashtra to get admissions into law programs like LLB and Integrated LLB that have a course duration of 3 and 5 years, respectively.
To crack this exam, one must prepare Legal Aptitude & Legal Reasoning, GK & Current Affairs, Logical & Analytical Reasoning, English, and Maths.
The exam is conducted in online mode and has 150 multiple-choice questions to be answered in 120 minutes.
Look at the table below to know the brief highlights of the MH CET Law Exam Pattern 2022.
| | |
| --- | --- |
| Exam Name | Maharashtra Common Entrance Test - Law |
| Exam Frequency | Once a year |
| Courses Offered | BA LLB |
| Exam Mode | Offline |
| Exam Duration | 2 hours |
| Test Takers | 18112 |
| Accepting Colleges | 160 |
| No. of Seats | 10920 |
Law School Admission Test
The LSAT India exam is administered by the Law School Admission Council (LSAC) on behalf of Pearson VUE once a year.
The

LSAT Entrance Exam

is required for admission to BA LLB, LLM, or LLB programs in India's law schools.
The Law School Admission Council (LSAC) administers the test, which is accepted worldwide. Aside from marks in the 12th grade, the LSAT score is required to pursue an LLB.
To crack this entrance exam, you must prepare for Analytical Reasoning, Logical Reasoning, and Reading Comprehension.
| | |
| --- | --- |
| Conducting Body | Law School Admission Council |
| Medium of Exam | English Only |
| Question-type | Multiple Choice Questions |
| Number of Subjects | 3 |
| Courses Offered | BA LLB, LLM, or LLB |
Several other law programs are also conducted at the college, national, and state levels.
Life in Law School
After getting admission to law school across India, you need to study BA LLB (Hons) for 5 years.
Along with academics, there are various co-curricular and extracurricular activities.
In these five years, you study all the laws present in academics. You might be aware of a few, but you will study in-depth all the laws in your academics.
You can experience the real court known as mooting in co-curricular and extra-curricular activities.
The room is designed as a real courtroom. You are given a situation or case and judged practically here.
Not only the theory, but you also need to be strong in your practicals.
Next is client counseling which lets you experience counselling for clients.
Article writing is another activity trained during the 5-year course and academics.
Debating is also an activity that can be experienced in the course. Depending on the situation, your debating skill is tested.
Mediation is slightly different from the court. Out of the court, this mediation happens. Two parties come to you, and you need to solve the situation.
An internship is a must for law students. You can go to law firms, NGOs, or any other law-related office to understand the work.
Career after Law
Here are a few prominent careers that have been chosen by most students after pursuing a law degree. There are many more to choose, but most commonly, students tend to have their careers in the following fields.
Litigation: You can start practice from the lower courts or higher courts. Most of the students choose lower courts as their preference.
Judicial Services: If not practiced, you can go to judicial services. Judge post has a lot of pride and honor. Learn more about

Upcoming Judiciary Exams

.
Corporate Law: Here you will be working for a big firm. You have to handle all the law issues and litigations associated with the company. You can earn more from the first month, but the job is hectic.
Civil Services: You need to clear UPSC, state-wise PSC to join civil services. You need to be well versed with all the laws to clear the entrance exams.
Academia: You can also work on research papers (Ph.D.), academics, and writing books. Around 10-15% take up core academics.
Legal Process Outsourcing: Other countries give work to outsourcing as they charge less amount comparatively.
Entrepreneurship: Many of you can open your companies. It depends on self-satisfaction.
Law as a Career - Myth vs. Reality
There is a lot of reading involved in law:
This is a myth revolving around law courses, but in reality, the law involves a minimal amount of reading and researching. Just by seeing the books behind a lawyer, you may come to the conclusion that law involves a lot of reading.
But, this is not true. A lawyer does read for their cases and make arguments, but this is almost in all careers like Engineering or Medicine. Even they do involve reading.
Reading doesn't mean for life long, but it enhances your skills and improves knowledge about the subject. Thus, if you wish to become a lawyer, then you must like reading.
Let us go through the Steps to becoming a Lawyer.
You need to have huge argument skills:
This is not true. You need to make a point argument, not lame points which are meaningless. Arguments involve speaking at the right time and a fact-based argument with correct evidence.
If you think you are good at arguing at home, then it is not in the case of a lawyer.
Lawyers always spend time outside the court without any job:
Well, in the current generation, this is not the situation. We have come a long way in the journey of law as a career. As soon as completing the degree, law students work in higher courts, go towards corporate law, and work in MNCs. This is the reality.
Only Humanities stream students take up Law:
This is another most common myth. But, any student who is interested in this field can take up law as their course. In fact, every year, 30-40% are from Humanities, 30-40% from commerce, and 20% from Science background will opt for law courses, as there are many law career opportunities after completion of graduation.
Law doesn't have connections with the stream. Anyone with an interest can choose this career.
Don't go by any movie and think lawyers do this kind of job. You can watch real-time videos of how a lawyer works or seek expert suggestions about the career to know more in detail if you have any doubts.
Salary of a Lawyer
Any career chosen in law has its own responsibilities and pay scale. As said above, being a lawyer is one of the most opted careers.
Salary or payscale is definitely one of the common questions running in your mind. Well, the salary of a lawyer varies according to specialization and experience.
To give you an idea of the salary range, the below table shows the pay scale of lawyers at different levels:
| | | | |
| --- | --- | --- | --- |
| Job Profile | Starting Salary per annum (in INR) | Mid Level Salary per annum (in INR) | Senior Level Salary per annum (INR) |
| Lawyer/ Attorney | ₹1,56,000 | ₹4,68,000 | ₹40,00,000 |
Check: Best Law Colleges in India
Does Law as a career suitable for me?
A career is mainly decided based on your interest and skills. If you are studying in 10th standard currently, then you must decide what your skills are and where your interests lie.
There are two ways that can help you realize if you should study law as a career or not.
Do you love or like reading? Just reading doesn't decide your skills. However, reading is very important if you choose law as your future. Law includes a lot of reading and research. If you get bored after a few minutes of reading newspapers or books, then maybe law is not your career.
Do you like making sounds? You should love making sound arguments that don't mean loud answers or not continuation of arguments. Give your opinion, which gets a back answer, not an ending opinion.
These are just two major parameters required to pursue law as your career.