As you are all aware, the Common Law Admission Test is one of India's most competitive law entrance exams. If you want to attend the top-ranked NLU, you'll need to score well on the CLAT exam.
A well-thought-out preparation strategy and meticulous execution will help you achieve a higher score on the upcoming exam. Most of you are probably concerned about preparing for the entrance exam to get decent grades.
Well, read through the post that will give you a complete insight into scoring 150 marks in the CLAT exam, subject-wise preparation strategy viz
Verbal Ability
General Knowledge and Current Affairs
Quantitative Aptitude
Logical Reasoning
Legal Aptitude and more.
Tips to Score 150 in CLAT Exam
Each of your preparation strategies may vary. However, make sure it is correct and in the proper order. Let us understand a few essential tips to remember while you prepare for the CLAT Exam.
If you are aspiring to write CLAT next year, ensure to begin the preparation now. At least a year is required for perfect preparation.
Before starting with preparation, go through the detailed syllabus and exam pattern, as this will help you get an idea about how to plan your practice.
Clear your basics and be thorough with all the concepts of English, Legal Aptitude, Logical Reasoning, General Knowledge, and Mathematics.
Prepare a proper

Study Plan for CLAT

that suits your comfort. Try to plan out the schedule to get time for revision at the end of the day.
Allot at least 2 hours for each subject so that you can study and complete all subjects on time.
Make notes while studying. You can refer to these notes during revision for enhancing preparation.
Make sure to solve as many questions as possible from the previous year's papers.
Subject-Wise Preparation Tips to score 150 in CLAT Exam
As per the new pattern, the entire question paper includes comprehension-based passages. Hence if you are wondering how to score 150 in CLAT, the most important point to remember is "reading is the key to success." Make sure to improve your reading along with subject preparation.
We have provided the subject-wise Preparation tips for CLAT in the post below to ease your preparation.
Following these tips would help you score 150 in the CLAT exam.
CLAT Verbal Ability Tips
This section includes passages with reading comprehension and Vocabulary questions.
Around 4-5 short passages followed by five questions are included in the question paper.
Try to learn at least 5-10 daily to improve your vocabulary.
The main trick to crack this section is that you must be quick in reading and understanding the passage in one go.
Try to improve your reading skills by reading newspapers, magazines, or novels.
CLAT Quantitative Aptitude Tips
This section has the least weightage in the CLAT Exam. Around 10-13 questions are asked from this section.
The

Syllabus for CLAT

for Maths includes topics from class 10 and 12 standards.
Ensure to be perfect in all concepts of these two standards. Try to solve as many problems as possible to know the type of questions asked in the exam.
This section also includes passages followed by 4-5 questions. Hence, ensure to read the passage carefully to attempt the question correctly.
Download FREE Study Materials For CLAT Exam by LegalEdge
CLAT General Knowledge and Current Affairs Tips
This is one of the important sections in the CLAT examination. You can score full marks in this section if prepared well.
The main trick of cracking this section is to be aware of the latest current affairs.
Read

Daily Current Affairs

to stay updated about the latest issues and happenings across the globe.
This section includes around 35-39 questions from Static GK and Current Affairs.
Focus more on topics related to Art & Culture, Economics & Technology, Books & Authors, and General Science.
CLAT Logical Reasoning Tips
Around 28-32 questions appear from this section.
Practice is the key to scoring full marks in this section.
The reasoning section tests your logical thinking and reasoning skills.
The more you practice, the better you get it. Ensure to solve more and more

Question Papers for CLAT

to know the difficulty level and questions asked in the exam.
Some of the important topics in this section are Number Series; Alphabet Series; Coding-Decoding; Blood Relations; Directions; Deductive Logic; Logical Consistency; Statement Assumption; Statement Deduction.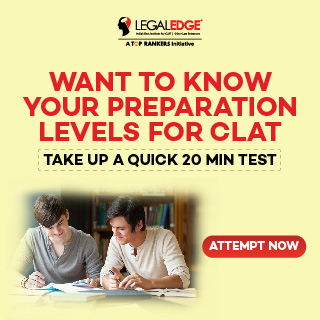 CLAT Legal Aptitude Tips
This is an introductory section as you are studying law in the future. Please do not neglect this section as it is considered for the tiebreaker.
Around 35-39 questions are asked from this section. You can score full marks if you are prepared for all topics that can appear in this section.
Try to read the given passage carefully and derive the answer correctly.
Some of the critical topics to be studied in this section include Law of Torts, Law of Contract, Constitutional Law, Criminal Law, and some understanding of Family law.
Will solving the Mock Test help Score 150 Marks in the CLAT Exam?
Practicing mock tests will help improve your time-management skills and build your confidence levels. Also, you can enhance your speed and accuracy and perform well in the final exam.
With the help of mock tests, you can test your preparation level as well.
You are advised to solve at least 1-2 mock tests for CLAT regularly.
Try to analyze your performance after the completion of each mock and improve in weaker areas.