This year, the IPMAT exam results are excellent. With all the hard work, dedication, and preparation, students have cleared the exam with good ranks. The IPM Interview Experience of IPMAT AIR 1 is a crucial breakthrough for all aspirants aiming for IPMAT 2023.
Now, most of you might be thinking about how to crack the interview round, as the results are already out. This glimpse through the IPM Interview Experience of IPMAT AIR 1 will help you with your journey.
Rahul Vaswani, Product Head at SuperGrads, discussed with the students who completed the interview and currently pursuing the IPM program at IIM Indore.
So, let us know what Debarnab Chatterjee, who secured AIR 1 in the IPMAT exam last year, and Mitransh Bhardwaj, an IPM Indore student, have said about their interview experience and how was SuperGrads part of their success.
Here is a glimpse of the IPM Interview Experience of IPMAT AIR 1:
Rahul: The first question is to Debarnab. What was unique in the experiences shared by your friends about the IIM Indore interview?
Debarnab: The panels were very different for each one of them. A few of my friends said they had fun at the interview, and the panellists were very relaxed throughout the interview.
But on the other side, a few of them said they had a rigorous panel, and panellists were very strict during the process. Across everyone's interview, one thing common was that everyone held on to their nerves although they hadn't shown up in front of the panellists.
Mitransh said he had a very delightful experience, and I, on the other hand, were on a strict panel.
Rahul: Are panellists deliberately putting students under pressure during the interview?
Debarnab: I think they do that because it shows our character, what you say, how you say when we are under pressure. Panellists deliberately put students under pressure to check the status of their minds when they are under pressure. So, if one can maintain calmness and compositeness during the interview, that reflects very positive results.
Read more: IPM Mock Interview Preparation Tips By Supergrads
Rahul: Now, I will ask the same question to Mitransh. What is your answer to this? Do you also feel the same as Rahul?
Mitransh: I agree entirely with Debarnab, and the thing is that panellists try to break you. My Rohtak interview was extensively question-heavy, and they asked me back-to-back questions and didn't give me time to recover. However, a lot of panellists were chill.
For example, my IIM Indore interview was just like a conversation. They asked me about how am I, where am I from, what things I had been doing these days, what books I had read recently, and something like that. So, stress management is very crucial during the interview.
Rahul: Is IIM Indore interview online or offline this year?
Mitransh: IIM Indore is a bit strict regarding rules and regulations. As there is still a threat across the country, I don't think interviews will go offline. However, there might be a possibility to conduct the interview online because the rules are getting a bit normal. In my view, it might be an online interview this year.
Rahul: Debarnab, how did you prepare for the interview, and what will you suggest for the students coming to your campus?
Read more: Short tricks to manage IPMAT exam with board exams
Debarnab: I always feel that interviews will check our meta-skills, like your ability to communicate, give answers, etc. Developing your communication skills, speaking fluently in English, going through current news, school academics, latest developments in the particular sector in which you are interested. Also, just knowing international news won't help you crack the interview. Instead, you should know all the information closest to your town.
Rahul: Mitransh, how should students be preparing for interviews?
Mitransh: Preparing for the interview is a long-term process because you can't develop your communication skills and speaking skills overnight. What you can do short-term is you can prepare your content. Firstly, prepare content for a question like tell me about yourself. Whatever you are answering for this question, panellists will ask you the questions related to the same. You should be strong in whatever you are going to say during the interview.
Read more: Short tricks to prepare for IPMAT exam in one month
Rahul: What advice would you people like to give students to avoid nervousness during the interview?
Debarnab: Personally, I feel that there is no need to feel nervous. You must think that panellists are looking for an interesting conversation. We all love having good conversations with our family or friends. Maybe the audience is different, but the conversation will be almost the same. If you have prepared honestly, then there is nothing to worry about. Try to answer every answer as best as you can. Don't think about whether you have answered the last question correctly or not, as it will simply create new problems.
Read more: Right time to start preparing for the IPMAT exam
Mitransh: Feeling nervous during exams or interviews is most common, and you can't stop being nervous. But think that you know yourself and can answer correctly only when you are confident. Try to build your confidence levels before going for the interview.
Rahul: Mitransh, what will you suggest for the people who are not good at English?
Mitransh: I will suggest preparing general questions like why IPM, your introduction, and your achievements. Talk to yourself in the mirror, as it will help build your confidence levels. Watch mock interviews and write answers yourself.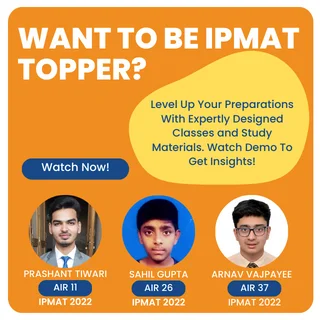 Read more: Short tricks for Commerce and Arts students to prepare for the IPMAT exam
Rahul: How to prepare on the day of the interview?
Debarnab: The one thing you can do on the interview day is to be positive. Be honest and avoid being nervous during the interview. Even if you are nervous, don't show it to the panellists.
Mitransh: I think dressing is very important. There won't be any positive marks if your dressing is good, but there will be negative markings if your dressing is not good. For example, if you have a decent background and wear formal, it will create positive vibes. Revise commonly asked questions like the president, chief minister of your state, etc.