The personal interview is an integral part of the IPM admission process at IIM Indore and IIM Rohtak. Knowing the IPMAT interview questions will help you prepare for upcoming challenges during the interview process.
You are likely to be questioned on academic-related topics and general knowledge.
Therefore, it is essential to do background research about your field and surroundings while appearing for the IPM interview.
It will help you fetch more marks over others if you know the recent developments in the corporate world and the industry.
Read through the post that will give you a complete insight into the most commonly asked IIM IPM Interview questions with answers, strategies to crack the personal interview round, and more.
Commonly Asked IIM IPM Interview Questions with Answers
As mentioned above, you can expect easy to difficult IIM IPM interview questions based on current affairs. So, keep yourself updated with current daily happenings and brush up on key management fundamentals.
Here is the list of IIM IPM interview questions and answers asked in the mock interview of the entrance exam.
Go through the given points carefully to understand better how to answer the questions during the interview.
Check out the Interview questions for IPM IIM Indore/ questions asked in IIM Indore IPM interview:
Q) Tell me something about yourself?
Create a brief introduction and practice in front of the mirror to overcome your fear.
You can start by mentioning your name and where you are from.
Give a brief about your parent's occupation.
Mention your percentage secured in class 10th and 12th.
List your recent achievements and also your leadership qualities.
Let them know about your hobbies as well.
Q) Elaborate on your participation in International Competition, and what was your stand there? (In case you have participated in any unique event or competition, interviewers could ask these questions)
Explain the event or competition clearly. Let them know when and where it was conducted.
Tell the interviewer if you have secured any prize or which place you received it.
Give a brief on the competition and your learning from there.
Q) What are your strengths and weaknesses?
First, explain your strengths.
Explain about true weakness from the past and what you are doing to overcome it.
Q) What are your plans after completion of the course?
Mention your career options.
List out the development goals that you have in your mind.
Travel plans (if any).
Q) What skills do you hope to develop in college?
To ace your preparations, check out Important topics for the IPMAT exam and prepare according to that.
Explain your skill sets
What are you doing to implement those skills
Justify the skills with valid examples
Q) Do you plan to participate in academic activities?
Show your interest in participating in academic activities
Explain how you coordinate with other classmates to start a new activity
Mention some activity examples that you participated in past.
Q) Why should I select you?
List your qualities and how they are going to help them
Explain how creative you are
What will you do to bring out the best in your colleagues
Q) Why did you choose IPMAT as your career?
Highlight the positive influences that lead you to choose IPM
mention the relevant skills
Stress your interest in choosing IIM
Be completely positive while answering this question
Q) Why do you want to join IIM Indore?
Tell me about your interest in management and relate it to the good facilities at IIM Indore.
Benefits of the IIM program at the campus
Campus life and facilities
Mention academic facilities
Read more: Right time to start preparing for the IPMAT exam
Q) What are your hobbies?
Highlight your skills and qualities
Give some examples to show your skills and qualities
Answer the question directly
Discuss possible opportunities to use your extracurricular activity on the campus
Q) What makes you unique?
Mention your skills
Provide examples of your prior accomplishments
Avoid generic answers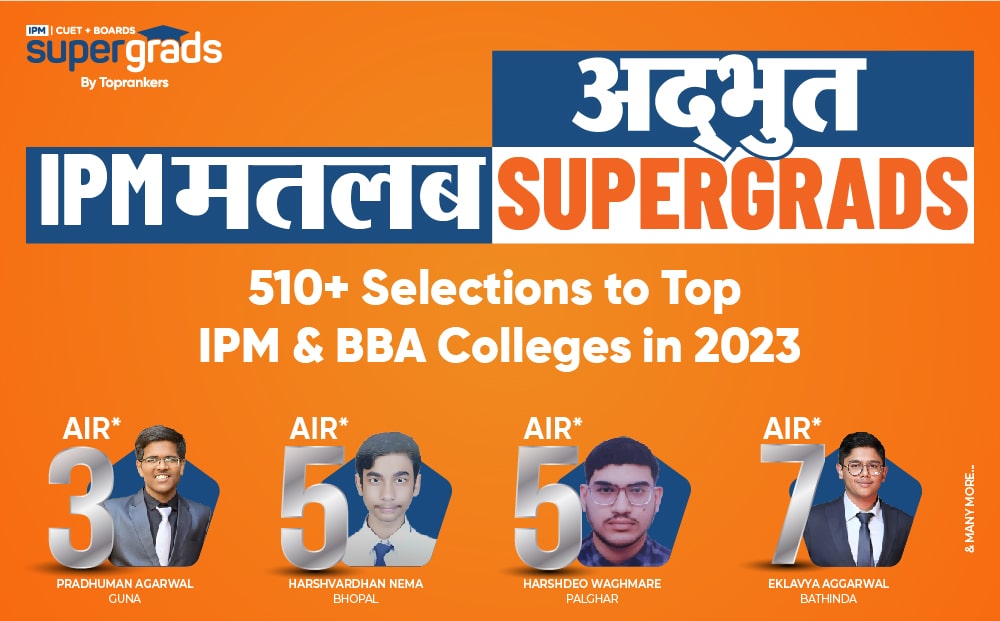 Q) Why do you prefer IPM over other courses?
Answer the question by comparing BBA+MBA with IPM
Explain what makes you choose IPM
Give specific examples to explain why IPM is better than other courses
Read more: Short trick to managing IPMAT exam and board exams
What Questions Can be Expected in IIM IPM Interview 2023?
Firstly, the IPMAT interview questions are centred around your introduction. The second part of IIM IPM interview questions will enquire about you from your respective streams, such as science, commerce, or arts.
The third part of the interview will have questions from GK and will be about awareness based.
To help you get an idea about the type of questions that can be asked in the IIM IPM interview, we have curated a few sample questions for your reference here.
Check out the IIM Indore IPM interview questions below:
Which is your favourite subject and why?
If you move from Kanyakumari to Srinagar, which states will you pass through?
What is leadership according to you?
Explain the importance of an organization.
What is the lead of a pencil made of?
When you sit in a car, what are the forces that are acting?
Name two women chief ministers of India and their parties.
How to Answer IIM IPM Interview Personal Questions 2023?
We have provided a few tips below to ease your preparation for IIM IPM interview questions. Following these Preparation Tips for IPMAT Interviews will definitely help you crack the interview easily.
Make sure to include points in the introduction that you have done or like.
Further questions are usually based on these subjects. For instance, if you like reading, talk about that else, but don't mention it.
Even if you are not questioned about "Tell me about yourself", try to bring in the points so that further questions will be based on that.
If you are a fresher with less than a year of experience, the interviewer will likely question you about your academics. So, be prepared for at least two topics from the UG that you are comfortable with.
If you don't know any answer, say politely that you don't know, or you can tell what you learn in brief. Don't stay quiet without answering or pretend you know.
Be honest while answering.
Don't let your emotions and biases ruin your interview.
Attempting

mock IIM IPM Interviews

can help in enhancing preparation.