IPMAT Exam is over, and now the second phase, the interview process, is ongoing. Students are getting anxious about what questions they will face in the interview process.
Obviously, no one except the interviewer knows exactly what you will be asked. But there are some basic questions that probably every student has to go through.
Remember-
the interview process is almost the same for all the IIMs
answer every question with confidence
never flaunt or answer unknown topics
questions can be formed from your last answers, so be mindful of your answers
Here you will learn the basic IIM IPM questions and tips to answer them properly.
Scripting HR Questions
There are some basic questions that almost every interview starts with. This part is called the introductory part, where you inform the interviewer about yourself.
What are the questions that can be asked you regarding the introductory part-
Q- Tell me something about yourself.
Here you might have many things to say but note the important points and formulate them into an interesting paragraph. Make sure to revise that daily until your final interview.
Q- Tell me your strength and weaknesses.
Write down 3 of each strength and weakness and revise them daily.
Q- Why do you wish to build a career in Management?
This question is a tricky one, and you must be able to create something unique for yourself. The interviewer wants to know exactly your aim and purpose for choosing this field. You should mention every detail to better convince the interviewer about your choice.
Q- How do you spend your leisure time? Or What are your hobbies?
Don't make up a long list of hobbies. Be true and state at least one or more than two of them. They might go deep with more questions coming regarding your hobby.
Q- Why should we select you and not others?
Answer this question with the best possible answer you can come up with. You should be clear and straightforward with this answer as you need to convince the interviewer to prefer you over others. Formulate unique answers and make sure to be ready with practice.
Q- What if we reject you?
In this answer, you need to be positive and answer them positively about what you will probably do if you get rejected. The interviewer expects a positive answer here, so formulate an answer in that context.
Read more: Best study timetable for the IPMAT exam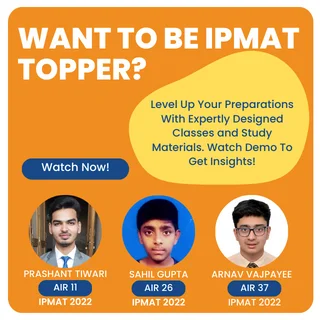 Find and Study Frequently Asked Questions
Mostly these questions will help you gain an overview of what can be asked in the interview and what others have faced in their interview. Do not rely on the same question as you might not get the same question put up infront of you. But to keep an overview of the process, make sure to find and prepare for as many questions as you can find.
Here is a table showing what are the probable topics from which questions can be formulated-
| | |
| --- | --- |
| Maps | Your City,State, Country, Rivers, National Parks, District, Countries of World |
| politics | Cabinet Ministers,State Ministers, Recent Elections |
| Top 3 stories of last 1 year | In Depth studies of top 3 stories at National and/or International Level |
| Website Pages | Website Pages of IIMS. In depth study of course you are applying for |
| Subjects | Have you browsed subjects you studied in Std 12th and Std 11. |
| Newspaper of Week | Did You Check last week newspaper? |
Read more: Right time to start preparing for the IPMAT exam
Interview Day Tips
Remember the interview's main motive to check how you perform under an stressful condition. So staying calm is the biggest advantage for you over others.
Do remember these points while appearing for your interview process and also do not loose confidence while answering any question.
| | |
| --- | --- |
| Never Lose Confidence | Tough questions may be asked to check your reaction on stress |
| Stay Humble and Stay Calm | Use thankyou,sorry often. Stay focused and calm. |
| Listen before you speak | Let interviewers finish the question before you answer. |
| Read the Newspaper | Check gold price,Check Sensex and Top Stories of the Day |
| Say no to nervousness | It is just another day |
| Greet when you start and finish | Greet your interviewer before you start and when you finish |
Be Prepared for Online Interviews
Probably this year the interview process might be online and you need to be prepared according to it. You must check all the technicalities before proceeding with the interview.
Make sure to keep these points in mind before proceeding-
Sit on a proper table and chair with upstraight position and make sure half of your body is visible to the interviewer.
Check your audio and video before proceeding with the interview.
Make sure to keep your background clear, do not use any background that might distract the interviewer.
Check your internet speed and make sure it is working fine and above the required limit.
make sure your camera is of a good quality, if not, purchase an external camera for the interview.
Your environment should not be dark, make sure to have a proper lighting on the place you are going to sit for the interview.
Read more: IPMAT Fee structure and scholarships
Attire is Important
Wear proper clothing for the interview.
A formal attire with tie and blazer will best suit the condition.
Make sure your clothes are well ironed and is of a plain colour as well.
Attempt Mock Interviews
Mock Interviews will definitely help you gain confidence for the final interview phase.